Are you setting up a dog grooming business and want to know which clippers to buy? Or do you just want to save money by grooming your dog at home? If so, buying professional-standard clippers is essential. Keep reading for my top 5 recommendations and a quick guide to choosing the right model.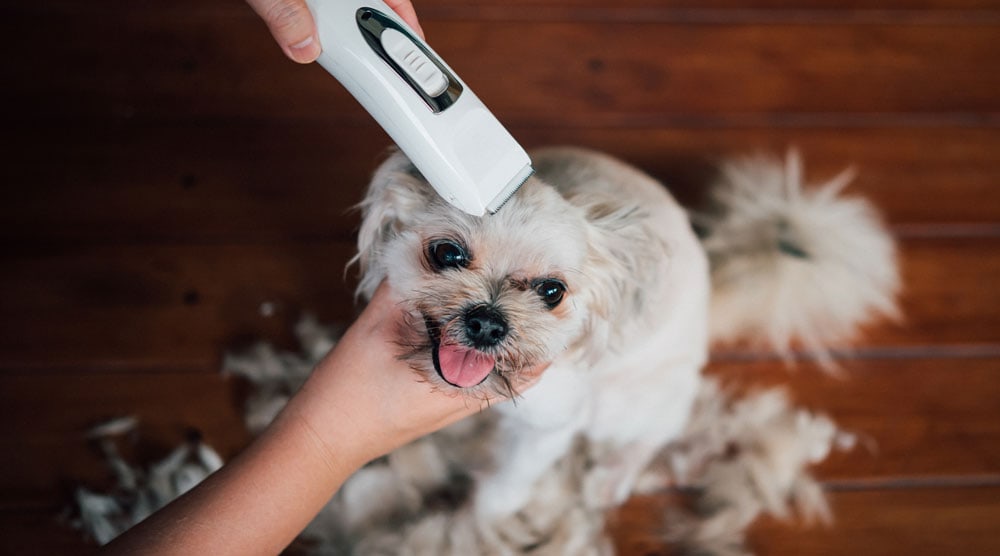 Human clippers or shavers aren't strong enough for dog grooming though. Canine hair is thicker, so cutting it requires a powerful motor. Using scissors can also be dangerous – not to mention slow!
For this reason, dog clippers are an essential tool if you want to groom dogs.
Not all pet clippers are up to the job though. It's vital to buy clippers that are durable, efficient and not too noisy. They must also be suitable for the breed (or breeds) you'll be grooming, whether that's a Golden Retriever, Yorkie, Goldendoodle or Cocker Spaniel.
To help you make the right choice, I've put together a list of the best dog clippers on the market. Let's start by looking at the differences between professional and low-quality clippers though.
Our #1 Pick: Andis UltraEdge 23275
Strong motor and suitable for almost any breed
My favorite dog clippers are the excellent Andis UltraEdge 23275. This model features a powerful motor and is suitable for any breed or coat. If you want durable clippers that provide professional-standard cutting efficiency, these are the ones to get.
Choosing the Right Professional Dog Clippers (Buying Guide)
Before I get to my top picks, let's get one thing clear: there's a huge difference in quality between the best and worst dog clippers.
Yes, there are plenty of cheap clippers on the market. And they might be good enough for small dogs with short hair and no matts. But if you want to cut thick or matted dog fur efficiently, it's worth paying extra for a professional-standard model.
This goes for both amateur and professional groomers. Avoid cheap clippers – even if the low price is tempting. These models are likely to be flimsy, will struggle to cut hair and quickly overheat.
What makes great clippers for your pup though? Here's a quick overview of factors to consider.
Motor Power and Speed (SPM)
The primary function of clippers is to cut pet hair quickly and efficiently. The more powerful a motor is, the higher the strokes-per-minute and the smoother the machine can cut a dog's coat.
Unfortunately, higher powers also mean more noise, vibrations and heat, so you need to balance cutting efficiency with these other factors.
Fixed or Variable Speed Dog Grooming Clippers
As the name suggests, single speed pet clippers only have one speed setting. They are often cheaper and may be easier to use.
Variable speed dog clippers allow you to reduce or increase the SPM, depending on the amount of noise and vibrations the dog is comfortable with. Lower speeds are also useful for precision work, while large areas can be cut at higher SPMs.
Noise, Heat and Vibrations
All electric clippers are powered by a small internal motor. As with any motor, this generates heat and vibrations. The more powerful the motor, the more heat is generated, which can be uncomfortable for a dog. The longer clippers are running the hotter they are likely to get.
A clippers motor can be relatively noisy. Some dogs don't mind this, but others get scared by the noise which can make grooming difficult. Professional groomers may want to buy two sets of clippers: a quiet option with low vibration and a higher-powered model. If you're just cutting your own dog's coat, choose a model that's not too loud for his temperament.
Ergonomic Design and Weight
There are several factors that affect how easy clippers are to use. These include the length of the cord, grip comfort and weight of the machine.
Weight is particularly important for professional groomers who'll be trimming multiple dogs in a day. You should also choose a lighter model if you have a bigger breed.
The ease of switching blades is also something to consider, although this is more important for professional groomers who need to switch blades regularly.
Corded or Cordless Dog Hair Clippers?
It's true that cordless models make it easier to cut awkward areas of hair. There are a few downsides though, including limited battery life and reduced cutting speed. If you're going to tackle thick coats and matts, I recommend choosing a corded model.
If you decide to buy cordless dog clippers, make sure you check the battery life and recharging time. The latter is often overlooked!
Understanding the Importance of Dog Clipper Blades
The clipper blades you use make a huge difference to the quality of cut, so it's important to choose the right type. The good news is that dog clipper blade technologies has come a long way over the last few years.
One of the most important considerations is blade compatibility. A lot of the best dog clippers use proprietary blades, which means you can't use those made by other brands. This often leads to pricier blades, although the quality is often high too.
There are also different blade materials, such as ceramic or steel blades. Ceramic blades are the best option if you can afford them, as they don't conduct heat, although they probably aren't required if you only need dog clippers for quick touch ups.
Included Attachment Combs
Some clippers come with several attachment combs for different length hair. These can be useful for different areas of the body, although for home use you'll probably only use a few comb lengths.
Other models don't include an attachment comb clipper kit, so you'll need to buy them separately. If you need to buy separate attachment combs, make sure you check which brands are compatible with your dog clippers.
Other Considerations When Choosing Dog Clippers
Durability. A high-quality clipper set can cost a reasonable amount of money. You certainly don't want to be replacing it after a few months. The best models have a strong casing and reliable motor, so they should last a long time.
Brand. There are two undisputed queens of the dog clipper world: Andis and Oster. Every groomer has their "favorite," so you'll often hear passionate arguments over which is better. The reality is both produce fantastic clippers, so the right choice depends on your requirements. Wahl are also known to produce decent clippers, but it's best to avoid other brands that don't have a proven track record. Even well-known brands such as Sunbeam can't match the quality of the Oster or Andis.
As you can see, there are quite a few important factors when buying professional dog clippers. This can make choosing confusing – especially if you're on a tight budget.
The good news is…I've done the hard work for you! Listed below are five of the best dog clippers on the market, including models from brands such as Oster, Andis and Wahl. If you're not sure which clippers to buy, read each review to see which best matches your requirements.
5 Reviews of the Best Professional Pet Clippers
Keep in mind that this is a list of the best professional dog clippers. For this reason, I haven't included any cheaper models that aren't durable enough for regular use.
Even if you're just buying clippers for your own dog, however, I still recommend getting a professional model. They aren't that much more expensive, but the difference in speed, quality and durability is huge.
1. Andis UltraEdge AGC 2-Speed 23275
VIEW PRICE
My top pick for a professional dog clipper is the Andis UltraEdge AGC 23275. It's a two-speed model with settings for 3400 and 4400 SPM. It also comes with a detachable blade for easy changing, a 14' heavy duty cord and a locking switch to avoid accidentally turning it off.
What makes the 23275 worthy of my #1 spot though?
To kick things off, the 23275 is a powerful clipper. The highest setting boasts an impressive 4400 SPM, which is great for tackling large areas and cutting thick hair. There's also a 3400 option for precision grooming or for dogs that need a quieter mode.
As you would expect from a professional clipper, it can handle any type of fur and coat. You might need to invest in additional blades or a kit, such as the #7FC if you want to shave your dog, but the motor itself can handle any breed (including everything from German Shepherds to Poodles to Shih Tzus).
It's also compatible with all CeramicEdge, UltraEdge and ShowEdge blades – and even works with Oster's A-5 blades. If you combine it with the included #10 blade, it's great at getting rid of matted fur.
One of the best features of the Andis 23275 is how quiet it is when in operation. It's not silent, but it's quieter than you would expect from a clipper with such a powerful motor. This makes it suitable for dogs that are wary of loud noises.
There are a few downsides to this model though. It's heavier than the SMC range produced by Andis, which is something to keep in mind if you want to use it for extended grooming sessions (read our Andis dog clippers page for more information).
The 23275 is designed to keep cool even during prolonged operation. Instead of vents and fans, which can become clogged, the Andis has a "smart" design so it doesn't get too hot. This is despite the powerful motor that can quickly cut thick hair, including coats such as those found on poodles or spaniels (we also have a page dedicated to clippers for poodles).
Even with this design, the blade gets hot when in operation though. This is unavoidable with powerful clippers, but means you'll need to have some cold water or cooling spray on hand to occasionally cool the blade. Fortunately, the detachable blade design makes this quick and easy.
Despite these minor drawbacks, the Andis 23275 is an excellent choice for grooming almost any breed. It's powerful, easy to use and relatively quiet when in use. If you want a professional-standard animal clipper for shaving or grooming almost any dog, it's a great option.
Note: A bonus is that this model is available in several colors. These include blue, burgundy, green, orange, pink and purple.
Why We Recommend It:
The Andis 23275 is my top pick for a pro clipper. This is a powerful model that's comfortable to use and relatively quiet. It's not perfect – the blade still gets hot despite the smart design – but is great for almost any coat.
Key Features:
Type: Corded
Speeds: 3400 SPM & 4400 SPM
Price Range: $$$$
Pros:
Powerful motor that's suitable for any coat
Relatively quiet
Two speed settings
Cons:
Blade gets hot during extended grooming
VIEW PRICE
2. Oster Professional Turbo A5 2-Speed
VIEW PRICE
One of the most popular dog clippers is the excellent Oster A5. It's a heavy-duty clipper that's designed for professional use, so you can be sure it's built to last. The A5 is also capable of handling almost any type of mat or coat.
The powerful motor of the A5 has two speeds: 3000 and 4000 SPM. The 4000SPM mode is great when you need more power, while the lower option is handy for precision grooming or as a trimmer. As you would expect from an Oster clipper, the top mode makes quick work of even thick hair.
Like the Andis, the A5 comes with a #10 blade. Oster blades are cryogenically treated, which increases their hardness and durability. You can also buy a set of universal guide combs for extra control.
It's also a well-designed model. The A5 is easy to disassemble when you need to clean it, for example, and the cord is thick. Like all powerful clippers, it will get hot when in use, so you might need to have a cooling spray on hand.
Despite being an excellent clipper, there are a few reasons why the Oster A5 is #2 on this list instead of getting the top spot. Firstly, the cord is only 12' long, which is 2' shorter than the Andis. This might not sound like much of a difference, but the longer the cord, the easier the clipper is to use (especially when giving big dogs a trim).
It's also slightly less powerful. The top mode provides 4000 strokes-per-minute compared to 4400 from the Andis. Again, this isn't a major difference, but makes the Oster slightly slower at cutting large areas of hair.
On the other hand, the Oster A5 has some advantages over the Andis. The biggest is the price: the A5 is significantly cheaper than the Andis 23275. It's also a highly durable clipper and extremely robust. If you want a clipper that's built to last, the A5 is a great choice.
Note: Oster also produces a single-speed version of the A5. This only has a 3100 SPM mode. While the single-speed version is still an excellent clipper, I recommend choosing the two-speed option as it's more versatile.
Why We Recommend It:
The Oster A5 is a close second to the Andis. It's not quite as powerful, but still does a great job and is much cheaper. If you're on a tight budget but want a quality clipper, go for the A5.
Key Features:
Type: Corded
Speeds: 3000 SPM & 4000 SPM
Price Range: $$
Pros:
Outstanding value for money
Two speed settings
Cons:
VIEW PRICE
3. Andis ProClip 2-Speed 22340
VIEW PRICE
The second Andis clipper on this list is the 22340. It has many of the same features of the 23275, as it's also part of the AGC range that's designed for professional groomers. These include the corded design, cool-running casing, rotary motor and a "super duty" durability rating.
There are a few differences though. The biggest is that the 22340 has modes for 2700 and 3400 strokes per minute. These are less powerful than the 23275, so the clipper might not cut thick hair as smoothly (although it still does a great job).
With that said, the Andis 22340 is cheaper than its more powerful cousin, and still makes quick work of most coats. It also has several useful features, such as break-resistant casing, relatively quiet operation and a detachable blade.
There's also an advantage to a lower powered motor: reduced heat generation. The 22340 will still get hot, but you probably won't need to cool it as quickly. You'll either need cooling spray or a replacement blade if you want to groom continuously without waiting for the blade to cool though.
The 22340 is also quieter than the Oster A5. This is mainly because it's less powerful, but could make it a better choice if your dog gets scared of noisy clippers.
Overall, the Andis 22340 is an excellent choice if you like the quiet operation of the Andis AGC range but don't want to pay extra for the 23275. It's less powerful, but makes up for this with a sturdy design and quiet operation.
Why We Recommend It:
If the 23275 is too expensive but you want an Andis clipper, the 22340 is my second recommendation. It's a reasonably quiet model and is highly durable, so it'll last a long time.
Key Features:
Type: Corded
Speeds: 2700 SPM & 3400 SPM
Price Range: $$$
Pros:
Cheaper than the Andis 23275
Two speed settings
Cons:
Less powerful than the other Andis on this list
VIEW PRICE
4. Oster A6 Cool Comfort
VIEW PRICE
If you want more versatility and power from a clipper, the Oster A6 Cool Comfort could be a great choice. It's a heavy-duty clipper that comes with three speeds, which can be useful when switching between broad and precision grooming. It's also compatible with all A5 blades and available for a reasonably low price.
In terms of cutting efficiency, the A6 is a powerful model with a maximum speed of 4400 SPM. This makes quick work of even thick hair, as long as you use the right blade, and it can handle any breed or coat. There are also options for 3600 SPM and 3100 SPM. While you might not need these settings for grooming your own dog, professionals will enjoy having more control over the motor speed.
Aside from the motor itself, the A6 is made with soft-grip material. This makes it more comfortable to hold and prevents the handle from overheating. Like the A5 Turbo, it has a 12-inch power cord and comes with a #10 CryogenX blade.
Who should choose the A6 over the A5 though?
The A6 is lighter and slimmer. At just 13oz, compared to 2lbs for the A5 Turbo, it's less tiring to use for a long period. It also comes with vibration isolators to reduce noise.
Not everyone will prefer the slimmer design though – especially as the A6 is more expensive. If you have large hands, you might prefer the thicker A5 Turbo. The extra SPM compared to the A5 can make it easier to cut large amounts of hair though.
Like any clippers, the blades get hot with extended use. You can counteract this with cooling spray or a backup blade. I don't think the A6 gets any hotter than other models though, so this isn't a drawback of this specific machine.
Overall, the A6 Cool Comfort is an outstanding model. Whether it's truly an upgrade to the A5 is up for debate, as it largely depends on whether you prefer the ergonomic feel of the A6 or chunkier design of the A5. The A6 is more powerful and lighter though – although this comes with a higher price.
Why We Recommend It:
The A6 is more powerful than the A5 and is also lighter, so it's a significant upgrade from the classic model. The downsides are that it's more expensive and people with big hands may not like the smaller design. Even so, this is an excellent machine that can cut any coat.
Key Features:
Type: Corded
Speeds: 3100 SPM, 3600 SPM & 4400 SPM
Price Range: $$$
Pros:
Higher SPM than the A5
Three speed settings
Cons:
More expensive than the A5
VIEW PRICE
5. Wahl Animal KM10 2-Speed
VIEW PRICE
Wahl has a reputation for producing cheap clippers that are too weak to cut hair efficiently. While this might be true of the average Wahl animal clipper found in Walmart or other mainstream stores, the company produces some more expensive models that are more effective.
A good example is the Wahl Professional KM10. It's a 2-speed clipper with 3000 and 3700 SPM modes. It also has a 14 feet cable, has a detachable blade and comes with a five-year warranty.
One of the most interesting things about the KM10 is that it's built with a brushless motor. Wahl claims this reduces heat output and vibrations, which can be helpful if your dog doesn't like loud clippers. In reality, the difference isn't huge, but the KM10 is noticeably quieter than the average model.
It's also great at cutting thick hair. While it isn't quite as powerful as the Andis 23275, the motor and blade make quick work of most coats.
Despite being a solid clipper that does a decent job most of the time, it's hard to recommend the KM10 over the others on this list. The brushless motor still heats up fast, so for long grooming sessions you'll need to cool it regularly. There are reports that it's not as durable as other models – especially the power cord connection – which you don't expect from premium clippers.
It's also expensive. This is probably due to the brushless motor, which does have advantages, but I don't think it's that much of an improvement – especially compared to the best clippers for dogs.
The KM10 clipper isn't terrible, but it has several flaws. The model does a good job of cutting thick hair, so it's not performance that's the issue. It quickly gets hot and is less durable than other options, so I only recommend buying the KM10 if lower vibrations is a priority.
Why We Recommend It:
The Wahl KM10 is probably the company's best clippers. This model cuts hair and fur efficiently so it's great for almost any coat. It's hard to recommend it over the other models on this list though, especially at this price, although the brushless motor helps reduce vibrations.
Key Features:
Type: Corded
Speeds: 3000 SPM & 3700 SPM
Price Range: $$$$$
Pros:
Excellent cutting efficiency
Brushless motor reduces vibrations
Cons:
Unreliable
Brushless motor still heats up fast
VIEW PRICE
FAQ
What About Cordless Grooming Clippers?
I didn't include any cordless clippers or trimmers on this list, as they aren't suitable for all coats and breeds. The limited battery life and motor power means most cordless options struggle with matted hear or thick coats. If you're looking for a professional standard clipper, corded is the only option at the moment.
With that said, cordless dog clippers can be useful for smaller breeds with shorter coats. For this reason, I've created a separate page listing the best cordless models.
Can I Use Human Clippers on My Dog?
Dog clippers are designed specifically for canines, so you should only use these on your dog and not human hair clippers.
Dog clippers tend to have lower vibrations, heat output, and noise output, making them safer and more comfortable for dogs.
Do I Need to Sharpen Dog Clipper Blades?
The blades of dog clippers need to be regularly oiled and sharpened. This ensures that they cut hair through effectively, rather than pull it (which can be painful!)
It's also important to clean and oil the blades after each use (follow the manufacturer's instructions for this.)
Why Do Dog Clippers Get Hot?
Clippers need strong motors that rotate thousands of times each minute. Over time, this causes the motor, blade and clippers to heat up.
There's no way to avoid clippers getting hot, so you should be careful to avoid burning your dog's skin. Shorter grooming sessions, ceramic blades, and high-quality clippers that dissipate heat more effectively can reduce the problem.
Which Are The Best Dog Clipper Brands?
While there are many brands that produce dog clippers, most professionals would agree that Andis, Oster and Wahl three of the best options. All of these companies produce high-quality clippers and have many years of experience.
Should I Buy Ceramic Blades?
Ceramic blades are more expensive than other types, but if you can afford them they are recommended. Ceramic doesn't conduct as much heat, so the blades stay cooler for longer. While everyone can benefit from ceramic blades, they are particularly useful for professionals or long grooming sessions.
Do I Need Oils?
Yes, oils are important for maintaining the efficiency of your clippers. Blades that aren't oiled will lose their edge faster and won't cut as smoothly. This can make grooming uncomfortable for the dog and frustrating for you.
Make sure you follow your clipper's instruction manual when it comes to oiling the blades though. Each model has its individual requirements.
Where to Buy?
The best clippers are on sale in a variety of places – you don't need to buy them from the brand websites (in fact they are often on sale for discounts elsewhere). I'm a big fan of Amazon, as they have fast delivery and great customer service. Other options include Petco, Petsmart, Target and Walmart.
I recommend buying new clippers. While you can find used or refurbished models, it's worth paying extra to get a machine that's brand new.
Summary
When it comes to the best dog clippers, it's vital to go for quality over price. Even the best clippers rarely cost more than $200, so it makes sense to spend extra to get clippers that cut efficiently, don't get too hot and last a long time.
With this in mind, my top pick for professional dog clippers is the excellent Andis UltraEdge AGC 2-Speed 23275. It's a powerful model that's relatively quiet, has two speeds and detachable blades. The motor can handle any coat – although you might need to buy a different blade for long hair. While it's not the cheapest clippers on the market, it provides great value and should last a long time.
Do you have any questions about choosing dog clippers for home or professional use? Or do you have any feedback on the clippers listed in this article? Let me know in the comments section!