Grooming a poodle doesn't need to be difficult. With the right clippers, it can be a relatively straightforward job (with some practice). Here are three of the best dog clippers for poodles that can power through mats and leave a professional-standard finish.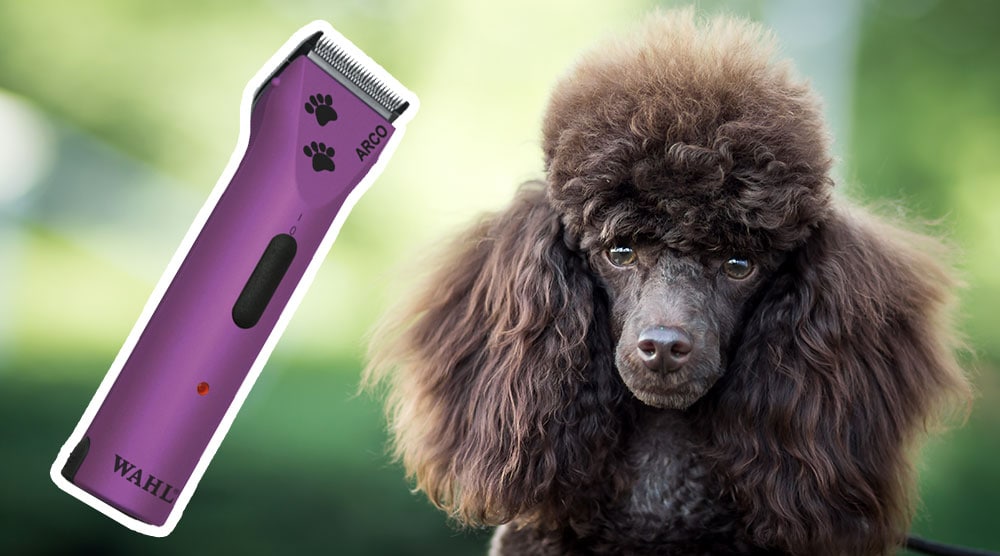 Poodles are a wonderful breed. And I'm not just saying that because I'm biased!
They are affectionate, agile and great fun to be around. Not to mention they usually don't shed much. It's no wonder they are the #7 on the AKC's list of the most popular breeds in the US.
Of course, every breed has downsides. And for poodles, one issue is that they need to be groomed regularly.
Many poodle owners take their dog to the groomers every 3-6 weeks. This can add up to a lot of money.
There's an alternative though: grooming your poodle at home. While this takes time and practice, it can save plenty of money (and time) in the long run. Your dog may also feel more comfortable at home than the groomers.
While practice is essential to properly grooming your pet, it's also vital to have the right tools. And the most important tool is high-quality clippers.
The best dog clippers for poodles make quick work of your dog's hair while also minimizing noise and heat output. They are also durable, comfortable to hold and versatile enough to handle the different cuts required to groom a poodle. The worst models, in contrast, often get burning hot after a few minutes, make a lot of noise and struggle with thick hair.
To help you make the right choice, I've put together a list of the best poodle clippers. Each of these clippers can cut a poodle's coat to a professional standard, while also providing great value for money. They are also suitable for poodle mixes, such as Goldendoodles, Cavapoos, Cockapoos and Labradoodles.
Our #1 Pick: Andis ProClip 22340
Powerful and easy to use
My top recommendation for a poodle clipper is the Andis ProClip 22340. It's a powerful clipper with great balance between performance and price. It can also glide through thick hair and mats (with the right blade). If you want a professional-standard clipper, it's an excellent choice.
3 Best Grooming Clippers for Poodles
The best clippers for poodles need to be able to power through dense fur and mats. They also need to be as quiet as possible, as some poodles are scared by loud noises. For these reasons, I don't recommend buying the cheapest clippers – they simply aren't up to the job.
It's also important to think about what you need clippers to do. If you just want to trim hair around your dog's toenails or "touch up" other areas, then you probably don't need professional dog clippers. A cordless model with a few blades is all you need. If you want to groom a large Standard poodle's full coat, then you'll need a powerful clipper that's corded so you don't need to keep recharging it.
Keep in mind that most clippers come with a single blade (this is often a #10). You'll probably want longer hair on the body than this, so you might need to buy extra blades depending on which are included. The lower the blade number, the longer the hair.
There are also different types of blade. Skip tooth blades are great for cutting matted or dense hair, while finishing blades are used to complete the groom and blend areas. There are also "T blades" that are wider (these are especially useful for larger Standard poodles). For leaving the hair longer, clip on combs are a good option. Andis has a cheat sheet of styles here if you want more guidance.
1. Andis ProClip 2-Speed 22340 AGC2
VIEW PRICE
One of the best clippers on the market is the Andis AGC2 22340. It's a professional-standard model with a powerful motor – and it does a great job on poodle coats.
The 22340 is powered by a two-speed rotary motor. This lets you switch between slow and fast modes depending on the area you're clipping. It's not quite as powerful as Andis' more expensive "23275" model, but it cuts through even thick hair with ease.
One of the great things about the 22340 is that it's very durable. It's made with shatter-resistant casing, heavy duty cord and a reliable motor, so it should last a long time.
Another advantage is that it's relatively quiet – especially on low powered mode. It's far from silent, but is less likely to scare your dog than other machines. The blade will get hot though, so you'll need to cool it several times during a long grooming session.
There are a few minor downsides to the 22340. Aside from not being as powerful as more expensive Andis clippers, it's also a relatively chunky machine. It's still comfortable to hold, but it's not as convenient as a cordless model.
Even so, the Andis 22340 is a great choice if you want a reasonably quiet clipper that can power through thick poodle fur. It's also sturdy and built to last, so it's worth paying a bit extra to buy.
Why We Recommend It:
The Andis 22340 is a powerful 2-speed clipper that's built for professionals. It does a great job on any coat, so it's a good option for poodles or poodle mixes. If you don't mind paying a bit extra for a clipper that cuts quickly and effectively, this is the one to get.
Key Features:
Type: Corded
Blade(s) Included: #10
Speeds: 2700 SPM & 3400 SPM
Price Range: $$$$
Pros:
Excellent performance due to the powerful motor
Relatively quiet when in use
Highly durable and built to last
Cons:
Expensive and blade can get hot
VIEW PRICE
2. Oster Turbo A5 Two-Speed
VIEW PRICE
Another clipper that does a great job with poodle coats is the Oster A5 Turbo. It's a two-speed model that's powered by a universal motor – and it's powerful enough to cut thick hair and tough mats.
Like the Andis, the A5 has two speeds. The lower speed is useful for clipping sensitive areas or for quieter performance, while the higher option is perfect for large areas. It gets hot during use, like all clippers, but it's not the loudest on the market and provides great value for money.
The A5 also has a higher top speed than the Andis, with the "Hi" setting reaching 4000 SPM. This makes it great for tackling mats or thick coats. Other features include a detachable blade, 12′ cable and heavy-duty design.
As with any product, there are some drawbacks. The Oster A5 is relatively heavy, so it can get tiring to use during long grooming sessions. The cord is also slightly shorter than the Andis.
On the other hand, the Oster is cheaper and still does an excellent job. It glides through hair and mats, so you can groom your dog quickly and with minimal stress. As with the Andis, you'll probably need to buy additional blades to handle the curly coat of a poodle though.
Why We Recommend It:
The Oster Turbo A5 is one of the best clippers on the market. It's great for poodles, as the powerful motor glides through thick hair and mats. You'll probably want to buy a couple of extra blades (possibly a #5 or #3 skip tooth) as it only includes a #10 though.
Key Features:
Type: Corded
Blade(s) Included: #10
Speeds: 3000 SPM & 4000 SPM
Price Range: $$$
Pros:
One of the most durable clippers
Great cutting performance on thick hair
Excellent value and affordable price
Cons:
Shorter cord than the Andis
VIEW PRICE
3. Wahl ARCO SE Cordless
VIEW PRICE
If you want a powerful and professional-standard clipper, the Andis or Oster are the best options. For grooming smaller poodles or crosses, however, a cordless option may provide enough power while also being easier to use. One of the best models in this category is the Wahl ARCO SE.
The ARCO is described as a "medium-duty" clipper. It's not suitable for a professional groomer, but for clipping your dog's hair at home it's a good choice.
It's a cordless model with a 80-minute run-time. This makes it better suited for trimming the face and paws, or touching up rough areas, but it can also handle full body clipping of small dogs.
One of the most interesting features of the ARCO is the 5-in-1 detachable blade set. This allows you to quickly swap between #9, 10, 15, 30 and 40 blades, which is useful when grooming a poodle. It also comes with a 30-day satisfaction guarantee and a limited warranty.
Who should choose the ARCO over the other two clippers on this list though?
If you have a toy poodle or a small cross breed, the ARCO may be suitable for a full body clip. I don't think it's the best choice for full grooming sessions though, and it certainly isn't enough for a large standard poodle. For this, you need a heavy-duty clipper.
With that said, the ARCO is great for trimming the tail, feet and face. The blade stays relatively cool and the quick blade switch is a fantastic feature. So, if you want a clipper for maintaining your dog's coat between going to the groomers, the ARCO is a great choice.
Why We Recommend It:
The ARCO isn't powerful enough for full body clipping – especially for big standard poodles. The cordless design and 5-in-1 blade set make a great choice for grooming the face, paws or touching up other areas though.
Key Features:
Type: Cordless
Blade(s) Included: 5-in-1 adjustable blade set (#9, #10, #15, #30, #40)
Speeds:: 5500 SPM
Price Range: $$$$
Pros:
Cordless design and 80-minute battery life
Great for face, tails and feet
5-in-1 blade set
Cons:
Not the best choice for full-body clipping
VIEW PRICE
Tips for Safely Grooming a Poodle
Grooming a poodle isn't just about choosing the right clippers and getting to work. It's important that both you and your dog feel comfortable, otherwise the groom could end in frustration. Here are a few tips for beginner groomers:
Create positive associations. It's natural for a dog to be wary of clippers. If you don't give your pet a chance to become accustomed to the machine, he might develop a fear which can make grooming difficult. Let your dog sniff the clippers (while off) and provide plenty of treats. Gradually progress to turning the clippers on, then holding it near your pet, then cutting a small amount of hair. If you make this process fun, your dog will learn to enjoy – or at least tolerate – the clippers.
Know your goal. It's a good idea to know the style of coat you want before you start grooming. Some of the most common clips include kennel, sporting, lamb, puppy and teddy bear. Choose whichever you like the most, but keep in mind that the longer the hair the more it needs to be brushed.
Regularly check the temperature of the blade. All clippers heat up, but some get hot much faster than others. If the blade is very hot, either wait for it to cool or use a cooling spray. Using a hot blade could potentially burn the skin.
Brush the coat first. Always brush the coat before clipping to get rid of as many knots, mats and tangles as possible. This makes clipping faster and less stressful for the dog. When you find a mat, gently hold the hair away from the skin and comb inwards. Make sure you don't pull the hair though. If you've given your dog a bath, make sure he is dry before clipping.
Summary
Buying high-quality dog clippers can be a great way to save money – at least in the long run. This is especially true if you have a poodle or poodle cross, as these dogs need to be groomed regularly.
My top recommendation for a poodle clipper is the excellent Andis ProClip 22340. It's a powerful clipper that glides through poodle hair and mats. It's also durable, relatively quiet and provides great value for money.
Do you have any questions about choosing the best clippers for poodles? Or do you want to give feedback on one of the clippers mentioned in this article? Let me know in the comments!