Are you struggling to keep your long-haired dog's coat clean and tangle-free? In this article, I'll help you find the best brush for preventing mats and tangles in long coats.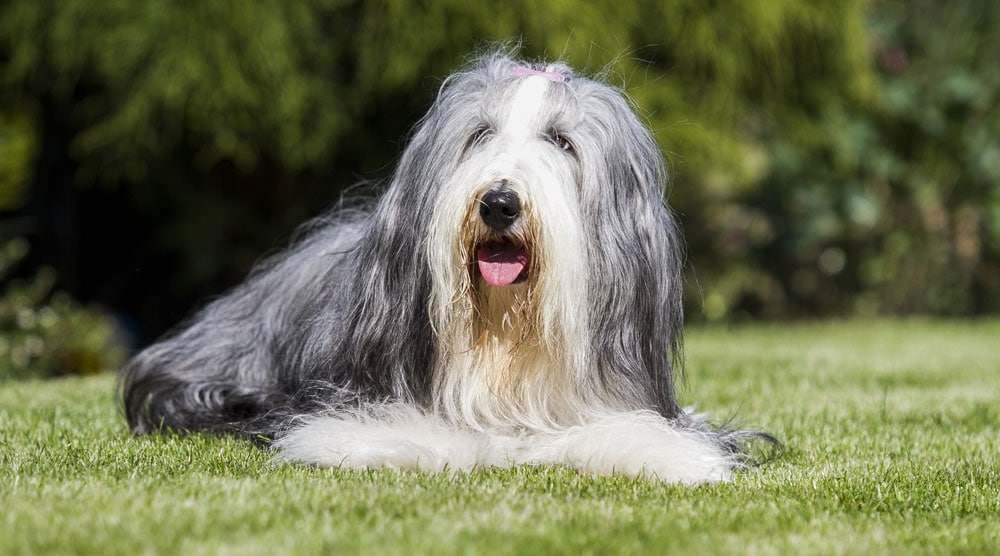 Do you want to keep your dog's coat in top condition, but are confused about which brush to buy?
If so, you're not alone. With hundreds of brushes on the market, it isn't always easy to know which is best for your dog's coat.
This is especially true for long-haired breeds. These breeds have beautiful coats – but they require a lot more maintenance than those with short-hair. It's also essential to get the right type of brush for preventing mats and tangles.
For this reason, I've tried to make the process of choosing a long hair dog brush a bit easier. Before we get to my top picks, let's look at which types of brushes you should consider.
Which Types of Brushes Work Best with Long Coats?
In a broad sense, there are three types of dog brush: slicker, bristle and wire-pin. There are variations within these categories, but mainly only in shape, size and strength (for bristle).
The right type of brush depends on your dog's hair length and coat type. If you have a long-haired dog, some of the best brushes include:
Medium or Long coats with Flowing Hair (Setters, Spaniels, Golden Retrievers etc) – For this type of coat, a wire-pin brush is useful for general maintenance. You can also use a soft bristle brush with wide bristles. Slicker brushes are great for getting rid of mats.
Long and Thin Coats (Maltese, Yorkshire Terrier) – For these breeds, use a soft slicker brush to prevent mats and tangles, along with a wire-pin brush for daily maintenance.
If your dog has an undercoat, a rake is designed to remove mats deep below the surface hair. Rakes are similar to pin brushes but have longer pins.
Note: Make sure you're careful when using a slicker brush or rake. The wire bristles may be sharp on your dog's skin, which can cause irritation. As long as you're careful not to push too hard there shouldn't be any problems though.
Top 5 Best Long Hair Dog Brushes (+ Mini Reviews)
The products below are amongst the best brushes for long haired dogs. It's important to read each review to find the brush that's best suited to your pet though.
Note: If you want to know the best dog brushes for all breeds, check out my guide here. I've also written a guide to short hair brushes. Dogs with long hair may also benefit from a detangling conditioner, such as these, or even a detangler spray.
1. Hertzko Self-Cleaning Slicker Brush
VIEW PRICE
One of the best slicker brushes for long haired dogs is the Hertzko Self Cleaning brush. It's a relatively inexpensive brush that's great for getting rid of mats, tangles and trapped dirt.
The Hertzko features a flat-headed design with a number of small pins. Like other slicker brushes, these are designed to untangle mats while getting rid of loose hair.
One of the things I like about the Hertzko is the one-click bristle retraction. If your dog sheds a lot, this can save time spent untangling hairs from the brush. It also has an ergonomic design and feels comfortable to hold – even during long grooming sessions.
While the Hertzko is a bit more expensive than the cheapest slicker brushes, I think it's worth paying extra for the retraction feature and relatively wide head. It's also far from the most expensive on the market, so I think it provides good value for money.
It's not the best choice for small dogs though. It has a wide head which can be awkward when grooming small breeds or puppies. As with all slicker brushes, avoid using too much pressure as the pins can dig into a dog's skin.
Why We Recommend It:
If you need a slicker brush for grooming a long hair dog, the Hertzko Self Cleaning brush is a great choice. It's comfortable to hold, has a useful pin-retraction button, and does a great job of preventing mats.
Key Features:
Type: Slicker
Brand: Hertzko
Price Range: $$
Pros:
Effective tool for preventing mats and tangles in long-haired breeds
Great value for money
Pins retract for faster cleaning
Cons:
May be too big for puppies or small dogs
VIEW PRICE
2. Furminator Deshedding Rake for Long Hair
VIEW PRICE
A popular tool for dog grooming is the Furminator Deshedding rake. It's available in a range of sizes and types, although for this article I'm going to talk about the "Long Hair" version.
The primary purpose of the Furminator is to remove loose hair from a dog's undercoat. This layer is difficult to groom with a regular brush, but is a major source of the pet hair that often covers carpets and furniture.
The rake is made with a stainless steel edge. This passes through the topcoat without damaging the dog's skin. Like the Hertzko, it also has a button for removing loose hair once you've finished grooming.
Most importantly, the Furminator does an amazing job at removing hair. Furminator estimates it can reduce shedding by up to 90% without damaging the top coat. It's not the cheapest deshedding brush, but it'll save you a load of time if your dog sheds a lot.
One of the great things about the Furminator – aside from the scary amount of hair it removes – is that it's available in five sizes. The "Extra Small" is great for puppies or miniature breeds, while the large is designed for a 50-90lbs dog.
As with all grooming brushes, it's important to be careful when using the Furminator as it could potentially damage the skin. You also shouldn't use it on matted or wet fur.
Tip: You may also want to use a shed control dog shampoo to help manage excess shedding.
Why We Recommend It:
A deshedding rake can greatly reduce shedding if your dog has an undercoat. The Furminator for long hair is my top pick in this category. Be warned that it can remove a huge amount of hair though, so you may want to groom outside!
Key Features:
Type: Deshedding Rake
Brand: Furminator
Price Range: $$
Pros:
Great at removing loose hair
Glides through the topcoat without damaging it
Hair ejector button
Cons:
Not the cheapest deshedding rake
VIEW PRICE
3. GoPets Professional Double Sided Pin and Bristle Brush
VIEW PRICE
Deshedding brushes are great for reducing shedding, but they aren't designed for everyday maintenance. For long haired breeds, a wire pin brush is often the best choice for preventing mats and spreading healthy oils across the skin (along with a slicker brush.)
One of my favourites is the GoPets Professional. It's a 9.5″ brush with wire pins and a non-slip handle – and it's great at removing small tangles without causing discomfort. The pin side is also excellent for leaving a shiny and soft finish to your dog's coat.
Despite the somewhat "spiky" appearance, the GoPets has rounded pin ends to avoid causing pain on the skin (although you still shouldn't press too hard.) It's also comfortable to hold and built to last.
It also has a bristle side. While this is less useful for long haired breeds, a bristle brush can be used to remove loose dirt or hair on the outer layer of hair.
One complaint I have about this brush is that the gel-filled handle isn't suitable for inquisitive pups. One bite could puncture it, which is something to keep in mind when brushing puppies or dogs that are prone to biting grooming tools. Sometimes the rounded balls at the end of pins can catch on silky-haired breeds too.
Aside from this, it's an excellent brush that matches the quality of many more expensive options.
Why We Recommend It:
The GoPets Professional is my top pick for a long-haired pin brush. It's great for removing tangles and won't irritate the skin (if used correctly), yet doesn't cost a fortune. The bristle side is a handy extra for removing loose dirt from the outer coat.
Key Features:
Type: Wire Pin Brush & Bristle Brush
Brand: GoPets
Price Range: $$
Pros:
Rounded pin heads for added comfort
Non-slip handle
Great for removing mild tangles and daily grooming
Cons:
Gel-filled handle is easy to puncture if bitten by a puppy or dog
VIEW PRICE
4. Safari Pin Brush
VIEW PRICE
If you're looking for a cheaper option than the GoPets, the Safari Pin Brush is an option to consider. It's a simple brush with a plastic handle – and it's great for removing tangles gently and without hurting the dog.
One thing to note about the Safari Pin Brush is that it has small balls on the end of each pin. These are great for protecting the dog's skin – although some groomers find they make grooming more difficult (especially with silky-haired breeds).
For many medium-haired dogs, the balls provide a more comfortable grooming experience. Even so, if you have a silky haired breed, sometimes the balls can cause the brush to get stuck, which is something to keep in mind.
There are also two sizes available: small-medium and large. The large size is great for grooming more hair in less time, but if you have a small dog or puppy go for the small-medium option.
Why We Recommend It:
The Safari Pin Brush has a plastic handle, so it doesn't feel as comfortable to hold as the GoPets (and it's not a double sided grooming tool.) It does a great job at removing tangles without pulling hair or scratching the skin though. It also provides excellent value for money – although for silky-haired breeds go for a brush without balls on the end of each pin.
Key Features:
Type: Wire Pin Brush
Brand: Safari Pet Products
Price Range: $
Pros:
Relatively cheap
Great for removing tangles
Comfortable to hold
Cons:
Plastic handle feels cheap
Balls at the end of the pins aren't suitable for silky-haired breeds
VIEW PRICE
5. Paw Brothers Extra Long Slicker
VIEW PRICE
For dogs with double coats or long and thick hair, the Paw Brothers Extra Long slicker is an excellent choice for removing loose hair.
It's built with a rectangular pin area and plastic non-slip handle, so it's comfortable when used for long periods. It's also durable and has longer pins than most slicker brushes to handle thick coats.
For many dogs, the Hertzko above will do a perfectly acceptable job. But if your dog has a thick coat, the Paw Brothers is great for getting into the undercoat without damaging the top layer. It's also useful for dogs with long and curly coats.
It's also surprisingly cheap for such a durable slicker brush. Just make sure you're gentle when touching the dog's skin with this brush, as the stiff wire pins could irritate if you use too much pressure.
Why We Recommend It:
The Paw Brothers is an excellent slicker brush that provides great value for money. It's particularly effective on dogs with long and thick coats.
Key Features:
Type: Slicker
Brand: Paw Brothers
Price Range: $$
Pros:
Makes it easy to brush the undercoat
Relatively cheap
Non-slip handle
Cons:
Stiff pins could irritate the skin if used incorrectly
VIEW PRICE
Summary
Long haired coats can be challenging to groom, but the right type of brush can make a big difference. It's also important to choose a high-quality brush that's effective at removing tangles and won't damage the skin or coat.
If you need a slicker brush, my top recommendation is the Hertzko. It's a highly effective brush that provides great value – plus the "pin retraction" feature makes cleaning it much easier. If you need a pin brush, I recommend the GoPets Professional Double Sided Brush.
I hope this article has helped you find the best brush for your long haired dog. If you have any questions or comments, please use the form below.