Yorkshire Terriers have a long and hair-like coat. It looks stunning, but requires lots of grooming to keep it in good condition. Here's our guide to choosing the best brush for Yorkies, along with tips for grooming this popular breed.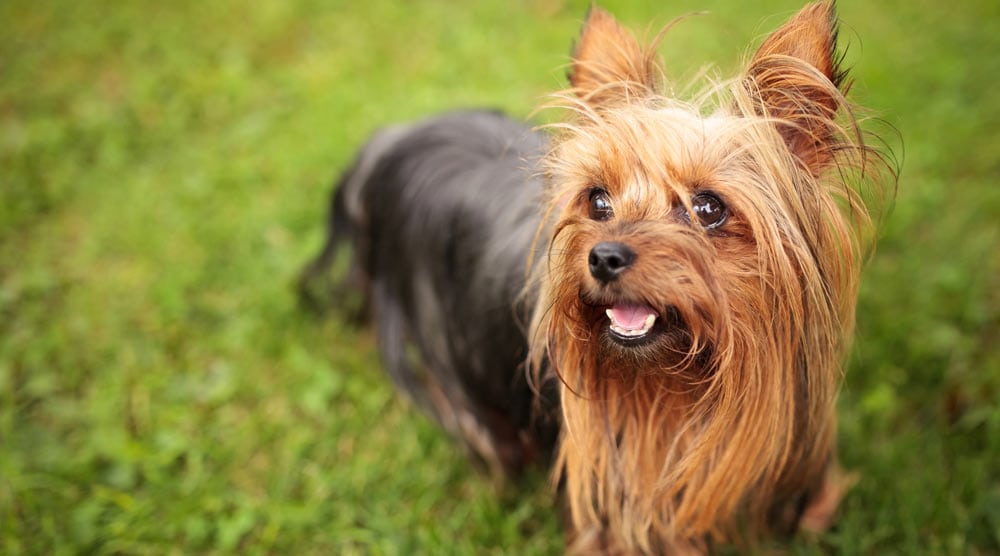 A regular grooming routine is essential for keeping the coat tangle-free. It's vital to use the right types of dog brush though, as the wrong options may not have the desired effect.
In this article, we'll talk about the Yorkie's coat and how to keep it mat free. I've also recommended 5 of the best brushes for Yorkies, to help you make the right choice for your pup.
Our #1 Pick: Chris Christensen Oval Pin Dog Brush
High-quality brush that's great for Yorkies
My top pick for a Yorkie brush is the excellent Chris Christensen Oval Pin Dog Brush. It's made with a durable hardwood handle, so it's built to last, and has polished pin tips for extra comfort. It's best suited to medium or long-haired Yorkies (for short haired dogs a bristle brush is a better choice.)
What Type of Coat do Yorkies Have?
Your Yorkie's coat type and cut affect which types of dog brush are most effective, so it's important to understand the most common variations.
There are two types of Yorkie coat. The long or silky variety is the most common, but some Yorkies have a fluffy cotton coat. Regardless of the type, Yorkies don't have an insulating and shedding undercoat.
Breed Standard Long Coat
The most common Yorkie coat is the "silky coat," which meets the AKC breed standard. It's long, glossy and straight.
This type of Yorkie coat requires daily grooming and frequent trimming to keep it under control. Without trimming, it'll continue to grow longer.
Cotton Coat
Some Yorkies have a cotton coat, although it's also referred to as wavy, wooly or wiry. This type of coat is considered to be a fault, according to AKC standards, but it's still often seen in the breed.
The cotton coat texture is thicker and fluffier than the silky coat. It doesn't tend to grow as long, but sheds more and is prone to matting.
Types of Cut
The type of cut your dog has affects the best brushes to use (see the next section for more details.)
Some Yorkies have what is referred to as a 'Teddy Bear' cut. The hair is clipped relatively short, so the dog looks more like a puppy. Others may be shaved even closer, as shorter hair is easier to maintain and more comfortable for active dogs.
Of course, there are also many Yorkies with the iconic long coat. As a general rule, the longer the coat, the more brushing is required to prevent mats.
What Type of Dog Brush Should You Use on a Yorkie?
Regular brushing provides lots of benefits to a Yorkie. These include:
Prevents mats from developing
Distributes healthy natural oils found on the coat
Promotes a healthy shine
Develops the bond between you and your dog
Gives you the opportunity to check for any lumps or abnormalities on the skin
Choosing the right brush is key if you want to maximise the benefits of brushing though. Using the wrong brush could even damage healthy hair, which should be avoided at all costs.
Here's an overview of the types of brush to use for short and medium/long Yorkie coats.
Short Cut Coats
If your Yorkie's coat is kept shaved to under an inch in length, they'll likely only need a gentle bristle brush.
This will stimulate the hair follicles, remove dirt and debris, and give the coat a healthy shine. If the hair is left longer around the ears or tail, then a comb may be helpful for teasing out tangles or mats.
Medium/Long Coats
For a Yorkie that has a medium or a long coat, it'll be helpful to have more than one grooming tool.
Here's a quick breakdown of the brushes you'll need. But if you're in a rush, the essentials are a stainless steel comb and pin grooming brush.
Stainless Steel Comb
Start by selecting a steel comb with dual teeth spacing. One side should have finely spaced teeth and the other a wider spacing.
You can use the fine tooth side to comb delicate areas around the face, paws, tails and top of the legs. The wider spacing will work better across the rest of the body.
Make sure you work through the coat in segments. If you come across a knot, tease it out very gently, rather than dragging the comb through. This can cause it to pull uncomfortably on the skin.
Pin Brush
After teasing out obvious tangles, you can follow up with a pin brush. This will help catch any stray tangles and give the coat a nice finish. Pin brushes also lift out loose hairs and distribute natural oils.
It's best to select a brush with rounded tips to make brushing more comfortable for your dog. Pins with ball endings can also prevent scratching, but they may catch long hair and cause breakages.
The pins should be firm but flexible, so they mould to the body rather than digging in too much. Avoid using too much pressure when grooming your Yorkie.
Tip: Many pin brushes have a bristle brush on the reverse side. Bristle brushes are useful for promoting a healthy shine and grooming puppies with a soft coat.
Other Tools You May Want to Buy for Your Yorkie
For tightly wound mats, you may need a dematting comb or scissors. Great care must be taken not to damage the skin when using these tools though. If in doubt, seek the advice of a professional groomer.
Some Yorkie owners like to use a fine flea comb around the delicate areas on the face. Scissors are also useful for trimming around the face and sometimes the paws too.
5 Best Brushes for Grooming a Yorkie
Listed below are my top five brushes for Yorkies. The right option depends on the coat type and length, so I've indicated in my reviews which hair the brush is best suited for grooming.
1. Chris Christensen Oval Pin Grooming Brush for Dogs (20mm)
VIEW PRICE
The Chris Christensen range of grooming tools are known for being excellent quality – and this oval pin brush is no exception. It's a brilliant brush that's great for medium or long-haired Yorkies, due to the polished tips and durable design.
There's no doubt that the quality of this brush is a level above many other options. Unlike lesser pin brushes, the pins are durable and don't tend to fall out of the cushion with frequent use. It also has a solid beech handle and a lightweight design.
An important feature is the polished pin tips. These glide through the dog's coat without causing scratching or discomfort. You'll also find that the flexible pins mould to the shape of your dog's body as you're grooming, while still being effective at removing light knots and tangles.
Given its size, this pin brush is probably too clumsy to use around the face and ears. But for the rest of the body, it's a great choice. The biggest drawback is that it's more expensive than many other pin brushes – but I think it's worth the extra money and is probably the best brush for Yorkies.
VIEW PRICE
2. Andis Steel Pet Comb
VIEW PRICE
The durable Andis Steel Pet Comb is perfect for daily grooming. It's particularly useful for teasing out knots and tangles in the coat of medium or long-haired Yorkies. The dual teeth spacing also makes it more versatile than single-spacing combs.
As you would expect from an Andis grooming product, the comb is well-made and durable. While it's not the cheapest dog comb on the market, the steel construction means it'll last a long time.
Although the Andis is smaller than the average metal dog comb, this makes it an excellent choice for small breeds like Yorkies. The size makes it easier to groom delicate areas that are more prone to matting, such as the ear, neck and armpits.
Featuring a square rather than curved back, this comb isn't as ergonomic as some models. It also doesn't have a non-slip grip. This is something to keep in mind for long grooming sessions, but it's not uncomfortable to hold.
Just be sure you're buying a genuine Andis product with the brand stamp on the comb. There are a number of companies irresponsibly selling knock-offs!
VIEW PRICE
3. Chris Christensen Soft Tufted Boar Brush
VIEW PRICE
The Chris Christensen Soft Tufted Boar Brush is an excellent brush for short-haired Yorkies. It's a high-quality bristle brush that promotes a healthy shine without causing discomfort, although it won't help much with tangles or mats.
For those that are looking for a sustainable and environmentally friendly option, this may be the best brush for Yorkies.
It features eight rows of natural boar bristles, instead of synthetic ones. They're gentle and flexible enough to avoid causing discomfort, but also durable and long-lasting. The brush body is also made from wood rather than plastic.
Like all Chris Christensen products, this dog brush is durable and well made. It's just a shame there's not a non-slip handle to keep a good grip.
Tip: The Chris Christensen Soft Tufted is also a gentle option for use on young puppies and dogs that are being introduced to grooming.
VIEW PRICE
4. ConairPRO Small Pin Brush
VIEW PRICE
If you're looking for a pin brush to run through your medium or long-haired Yorkie's hair, then the ConairPRO Small Pin Brush is an excellent choice.
This dinky pin brush isn't as durable as the Chris Christensen model, but it's the perfect size for grooming a small dog like a Yorkie. It also features a memory foam grip on the handle, offering great comfort and stability while you work.
The steel pins have rounded plastic ends. This is great for ensuring that brushing is more comfortable for your dog, but you need to be careful to avoid snagging. The pins may also start to sink into the cushion after a while, although this is to be expected from such a low-budget brush.
A drawback of the handle is that it's much less durable if bitten by an inquisitive dog. If your pet has a habit of biting the brush when grooming, it might not be the best option.
VIEW PRICE
5. GoPets Professional Double Sided Pin and Bristle Brush
VIEW PRICE
If you're looking for a versatile Yorkie brush that's suitable for both long haired and short haired dogs, the GoPets Professional Double Sided is a solid choice. The bristle side is also a gentle option for desensitizing puppies to being groomed.
With flexible nylon pins, the GoPets Pin Brush is great for removing loose hair and mats without causing discomfort. Despite having a certain amount of flex, the pins still penetrate a Yorkie's long coat to prevent matting.
The GoPets brush also has a comfortable silicone handle. It isn't as durable as a hardwood handle, but ensures you have a comfortable and secure grip. Just don't let your dog chew it!
VIEW PRICE
Frequently Asked Questions
How Often Should You Brush a Yorkshire Terrier?
The more you brush a medium or long-haired Yorkie, the better. It's just important to make sure you are using the right techniques, and you should work on ensuring your dog is relaxed throughout.
As we have already established, regular grooming has lots of benefits, not least keeping the coat from becoming matted and uncomfortable.
For Yorkies with a short or shaved coat, you should consider grooming them a minimum of twice a week. Medium or long-coated Yorkies need to be brushed at least three times a week, although daily brushing will make grooming much easier.
What Are Some Other Tips for Taking Care of a Yorkie's Hair?
Choosing the right brush is essential for grooming a Yorkie, but there are other things to consider too. Here are a few examples.
It's Better to Brush Your Yorkies Hair When it's Wet
Try to brush your Yorkie's hair when it's wet. Not only will this help the comb to move through the hair more easily, but it prevents split ends that can be caused by dry brushing.
You shouldn't give a full bath every time you brush though. This can result in your dog's skin and coat becoming dry and irritated. Using a water spritzer, providing it doesn't make your dog uncomfortable, can be helpful.
If you use a detangling or conditioning spray, make sure you use this in moderation. Overapplication can weigh the coat down and cause it to become greasy. Some groomers recommend diluting the spray with water to stop it becoming too heavy.
A Short Cut or Clip is Much Easier to Maintain
If you're not putting your Yorkie in the show ring, keeping their coat trimmed short may be a more convenient choice. Short coats are easier to groom and more comfortable for active dogs.
Taking your dog to a professional groomer is the easier option. But if you want to save money, or your dog hates going to the groomers, then investing in a set of dog clippers is an alternative.
Just make sure the clippers are specifically for dogs. Spending a bit more for a professional set will also ensure you get the best possible results.
GroomertoGroomer has useful pictorial guidance for clipping your Yorkie at home. If you have a friendly groomer, they may also offer you some tips, or you could look to see if there are any hobby grooming courses in your local area. Just be sure the course is run by a reputable, full qualified groomer that promotes low-stress handling techniques.
It's also important to spend time getting your dog used to the clippers before you use them. Make sure you take things slowly, with short sessions only to begin with, and that you build up positive associations.
What About a Slicker Brush?
It's best to avoid a slicker brush when grooming a Yorkie or other short-haired breeds with a single coat.
Slicker brushes are primarily for dog breeds with thick double-coats. Because a Yorkie's single coat is so fine, the pins of a slicker brush could cause discomfort and irritate the skin. Pin brushes are a much gentler option.
Summary
Yorkies have a high-maintenance coat, so it's vital to choose the right grooming brush. Ideally, this breed needs daily grooming to prevent tangles and mats, so the brush should be gentle on the skin and effective at brushing long hair.
My top brush for Yorkies is the Chris Christensen Oval Pin Brush. It's lightweight, durable and comfortable to use. The high-quality polished pins are great for removing light tangles and leaving a healthy shine.
I also recommend the Andis Steel Pet Comb. This comb has two spacing options and is excellent for teasing out tangles.
I hope this article has helped you choose the best brush for your Yorkie. If you have any questions, please use the comments form below.