Does your dog chew his collar? Or do you have several dogs who like to chew each other's collars? While there's no such thing as an indestructible or fully chew-proof collar, the five below are tough, durable and should last longer than most.
Nearly all dog owners know the sinking feeling of coming home to a destroyed cushion, ruined door frame or ripped bed – especially when their dog is a puppy. Some dogs grow out of destructive behaviour. Others don't!
If your dog is a chewer, collars are often an irresistible target. Some dogs find a collar uncomfortable or frightening to wear, so go to great lengths to chew it off. Others are just looking for entertainment.
Collars may have a harsher time in households with more than one dog. Even if your dog can't pull his own collar into a chewable position, his doggie friend might decide to chew it for him. This is particularly common when introducing a puppy – especially if the older dog is tolerant of his new companion's boisterous behaviour.
A chewed collar is more than just an annoyance though. If your dog destroys his collar before escaping, it's harder for someone to identify him. Some dogs have also been known to eat ripped collars, which requires an emergency vet visit.
More importantly, collar chewing is often a sign that your dog is stressed, anxious or bored.
Your first goal should be to understand why your dog is chewing, as resolving the underlying issue is the only way to stop the behaviour. Even if you manage to protect the collar, your dog's feelings of anxiety of boredom mean he'll probably just chew something else.
Durable collars are a useful temporary solution though. While they can't withstand a determined chewer and are never going to be unbreakable, they are stronger than the average collar.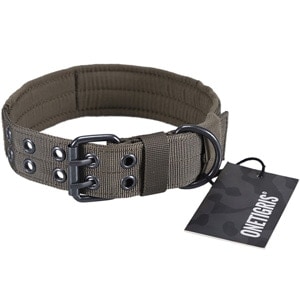 Our #1 Pick: OneTigris Military
Tough military-style collar with neoprene padding
My top pick for a durable dog collar is the OneTigris Military. It's not designed to be completely chew-proof, but it's one of the strongest fabric options on the market. I also like the neoprene padding for added comfort.
What Makes a Chew-Proof Collar More Durable?
Before we go any further, let me clear one thing up…
There is no such thing as a fabric collar that's truly indestructible or chew proof.
Some manufacturers might claim otherwise, but the idea of an indestructible collar is impossible. Some dogs can chew through metal fences, after all. No fabric is going to withstand persistent chewing.
Instead, the goal is to balance comfort, fit and durability:
If the collar is comfortable, the dog is less likely to be motivated to chew it off.
If the collar fits correctly, the dog is less likely to be able to chew it in the first place.
If the collar is durable, it can withstand more chewing before it needs to be replaced.
Of course, there are metal chain options that are stronger than fabric collars. These are often uncomfortable, heavy and loud though, so I don't recommend them. Metal links can also cause severe injury if a dog pulls.
Instead, look for a fabric collar with the following features:
Durable Materials. Rip-stop or ballistic nylon provides a compromise between comfort and strength. Some collars also have extra coating to increase durability.
Strong Hardware. Buckles, clips and D-Rings are chewing targets. Look for metal hardware, as plastic is much easier to break.
Flexible and Comfortable. Stronger material can be uncomfortable for a dog to wear – especially breeds with short hair. To prevent this, some collars have inner padding or neoprene interiors for extra comfort. If the collar is made with a combination of thin metal and fabric, make sure it's flexible enough to sit comfortably against your dog's neck.
Proper Fit. A properly fitted collar is much more difficult for a dog to chew. It shouldn't be too tight, but should sit snugly against the neck with space for two fingers.

What's Causing Your Dog to Chew His Collar?
Buying a stronger dog collar is only a temporary solution. Destructive chewing is often a sign of anxiety or boredom, so it's important to address the underlying problem. You should also microchip your dog, so he can still be identified without a collar.
5 Durable and Tough Dog Collars
Listed below are five of the toughest dog collars on the market. They can't withstand a strong dog's determined chewing – no fabric is unchewable – but are tougher than typical collars. Make sure you read each mini-review to find the best option for your pet.
1. OneTigris Military
VIEW PRICE
The OneTigris Military Dog Collar is one of the toughest fabric collars on the market. Made with thick nylon and neoprene padding, it's both strong and comfortable for your dog. It also has metal hardware for added durability.
As the name suggests, the OneTigris has a military-style design that looks great on almost any dog. The wide design complements the quality appearance, and there's even a hook and loop panel for adding a custom patch.
It's not just designed for style though. The OneTigris has both a thick nylon outer layer and inner padding for durability and comfort. The buckle and D-Ring are also both made of metal, which is essential if your dog is a chewer.
One thing to note is that it has a traditional buckle. Most modern collars have a quick-release clip, but you'll need to buckle the OneTigris manually. While this isn't as convenient, it helps improve strength and reliability.
A downside is that the OneTigris is only available in two sizes: medium and large. The D-Ring fabric attachment point is also weaker than I would like, although if your dog is a puller I recommend using a harness anyway (click here to read my full harness guide).
Why We Recommend It:
The OneTigris Military isn't designed to withstand persistent chewing. But if you need a tough, durable and comfortable option that's stronger than the average collar, it's a great choice.
Key Features:
Material: Thick Nylon
Sizes: Medium, Large
Price Range: $$
Pros:
Comfortable inner padding and wide design
Metal buckle and D-Ring
Thick nylon outer
Cons:
Only available in two sizes
VIEW PRICE
2. Tuff Pupper Heavy Duty
VIEW PRICE
The Tuff Pupper is another excellent collar with padding, ballistic nylon exterior, reflective stitching, and stainless steel hardware. If the OneTigris doesn't fit your pet, the Tuff Pupper is my next recommendation.
With an impressive 3mm ballistic nylon exterior and metal buckle, the Tuff Pupper is challenging for a dog to destroy. Of course, a determined chewer is going to rip through any fabric given time and motivation, but at least this collar can put up a fight.
An interesting extra is the stretchable bungee handle. Handles are often included on harnesses for extra control in dangerous situations, but it's rare to see them on a collar. While this feature could be useful – and the stretching design isn't too jarring – be careful when using it, as a sharp pull could place a lot of force on the dog's throat.
Like the OneTigris, the Tuff Pupper features a traditional buckle rather than a quick-release design. It's also made in the USA, which is unusual for pet products!
The biggest drawback to this collar is that it's bulky. If your dog already doesn't enjoy wearing a collar, asking him to wear one that's thicker and wider may make things worse.
Tip: Looking for more information about reflective collars like the Tuff Pupper? We have many more collar guides.
Why We Recommend It:
The Tuff Pupper Collar is a heavy-duty model with stainless steel hardware and ballistic nylon exterior. It's available in a range of sizes, but be aware that it's quite a bulky collar.
Key Features:
Material: Ballistic Nylon
Sizes: Small, Medium, XL
Price Range: $
Pros:
Tough and heavy-duty design
Reflective accent stitching
Stretchable handle
Cons:
VIEW PRICE
3. LupinePet Adjustable
VIEW PRICE
The LupinePet Adjustablemight not be as strong as the other options on this list, but there is a crucial difference: it comes with guarantee that covers chewing. This makes it an excellent choice for dogs that are likely to destroy their collar.
Don't let the simple design fool you – the LupinePet is a durable and strong dog collar. It's made with jacquard nylon webbing and bar tack stitching (usually found on outdoor adventure gear) for extra durability, along with a metal D-Ring for maximum strength. There's no inner padding, but the collar edges are smooth to prevent rubbing against your dog's skin.
A bonus is that the LupinePet is available in a wide range of colours. These include red, pink, orange and blue. If you don't like the "tactical" military style, it's a more traditional alternative to the Tuff Pupper or OneTigris. The collar is also available in three sizes, so there is likely to be a suitable option for almost any breed.
One downside is that the buckle is made from plastic. Metal buckles are the stronger option and my preference when looking for a tough collar, especially as many chewers like to target collar hardware. You should also expect the colour to fade after repeated washes.
Even so, if you have a chewer, it's hard to beat LupinePet's guarantee.
Why We Recommend It:
The LupinePet is a strong dog collar – there's no doubt about that. But the key selling point is that the company will provide a replacement if it's chewed. It's also stylish and has a metal D-Ring.
Key Features:
Material: Jacquard Nylon Webbing
Sizes: Small, Medium, Large
Price Range: $
Pros:
Guaranteed against chewing
Inexpensive
Available in a wide range of colours and styles
Cons:
Not as chew proof as other options on this list
Plastic buckle
VIEW PRICE
4. Black Rhino Comfort
VIEW PRICE
The Black Rhino Comfort has a similar design to the Tuff Pupper, but is available in five colours and three sizes. It's a strong, heavy-duty collar that looks fantastic, so it's a solid alternative to the top three options on this list.
With a combination of neoprene inner padding and strong exterior, the Black Rhino is a good choice for withstanding the occasional chew. It's not designed to cope with heavy chewing – no fabric can last against a determined dog – but it's stronger than most. The strength of the Black Rhino makes it a good choice for big, strong breeds, such as pit bulls – although pullers should be placed on a harness to protect the throat.
The collar also includes durable metal hardware. If your dog tends to target the buckle, this is an essential feature. Like most models on this list of indestructible dog collars, the Black Rhino also has a traditional buckle rather than a quick-release clip.
There are five colour schemes to choose from. These include Red/Black, Aqua/Grey and Black. Black Rhino also sells the collar in three sizes, ranging from a neck girth of 11″ to 22″. This doesn't cover all breeds, so if your dog falls outside the range one of the other collars on this list is the better option.
If I had a complaint, it's that the size ranges can be a bit confusing. This can lead to some dogs being between buckle holes. I'm also not a fan of the big "Black Rhino" writing on the back. This is a minor complaint, but I'd rather not have my dog be a walking advertisement!
Despite these drawbacks, the Black Rhino is a strong and durable product that's great for big breeds. It also provides excellent value for money, especially considering the quality construction.
Why We Recommend It:
The Black Rhino is a high-quality product with neoprene padding, strong exterior and metal hardware. It's great for big dogs and has a range of colours to choose from.
Key Features:
Material: Strong Material with Neoprene Padding
Sizes: Small, Medium, Large
Price Range: $$
Pros:
Strong exterior and padded interior
Range of colours
Metal hardware
Cons:
Large written logo
Sizing can be confusing
VIEW PRICE
5. Furbaby Biothane
VIEW PRICE
The Furbaby Biothane has a different design to the rest of the collars on this list. Instead of ballistic or rip-stop nylon, it's made with biothane coating – a type of polyester that seals the strong internal material.
Biothane is an interesting coating that provides a completely different style to nylon or leather. It doesn't just increase the strength and durability of the collar, but makes it easier to wipe clean. The collar also has nickel-plated hardware for extra durability.
One of the great things about this product is the wide range of colours. Options include teal, blue, green and pink, so there's something for everyone. The material is also comfortable for your dog to wear without compromising durability.
Is it as strong as one of the military-style collars though?
Probably not. Although if your dog is just a mild chewer – or you just love the style of the Furbaby Biothane – it could be an option to consider.
Why We Recommend It:
The Furbaby Biothane is a stylish option that's stronger than basic alternatives. It's probably not as chew-proof as a military-style collar though.
Key Features:
Material: BioThane Coating
Sizes: Small, Medium, Large, XL, XXL
Price Range: $$
Pros:
Coated to increase durability
Easy to wipe clean
Range of colours
Nickel-plated hardware
Cons:
Not as durable as other options
VIEW PRICE
Summary
It's important to find out why your dog is chewing his collar. Is he bored? Anxious? Or just hates wearing it? Addressing the underlying problem is the only way to prevent chewing in the long run.
In the meantime, it makes sense to buy a chew proof or indestructible dog collar. While no collar is truly indestructible – fabric is never going to withstand a determined dog – they are stronger than basic alternatives.
My top recommendation is the OneTigris Military Collar. It's a tough and durable collar that has padding for extra comfort. It's also built with metal hardware.
Do you have any questions about choosing an indestructible or chew proof dog collar? Or do you think I've missed a collar that should be on this list? Let me know in the comments section below.