Need a collar for your GSD? Here are five of the best German Shepherd collars, along with tips for choosing the right option for your dog.
For these reasons, it's important to choose a durable and properly fitted collar for your German Shepherd.
I still don't recommend walking your dog on a collar – harnesses are a safer choice – but collars are essential for identification and as a backup. If the collar tears or is pulled off on a walk, it'll be much harder for your dog to be identified.
Keep reading to find out how to choose a German Shepherd dog collar. I've also listed five of my top recommendations for this wonderful breed.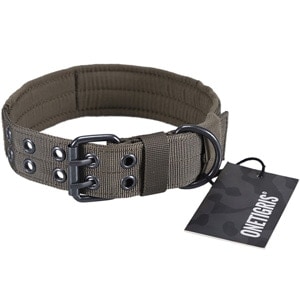 Our #1 Pick: OneTigris Military
Tough with a durable design
The OneTigris is a rugged dog collar with a dual-pin buckle, strong nylon material, and a hook and loop panel for identification. It also looks great when worn by a German Shepherd!
Why Use a Collar (And Why Harnesses Are Safer for Walking)
I always recommend walking a dog on a harness rather than a collar.
Harnesses are safer and more comfortable for your pet. They also provide more control – especially when walking large breeds.
The problem with attaching a leash to a collar is that pulling force is concentrated onto the delicate trachea. While it's true that German Shepherds have strong necks, pulling can still cause neck pain and even tracheal collapse.
Pulling on a collar can also strain neck muscles, damage the spinal column, and even cause eye glaucoma.
In contrast, harnesses spread force across the chest and shoulders, which protects the neck. They can also prevent choking.
Another issue with collars is that they can easily slip off. This is especially true for German Shepherds, who have thick necks and a relatively thin skull. The best German Shepherd harnesses are more secure.
Of course, these dangers are less likely for a well-trained GSD who doesn't pull. But you never know when a dog is going to become distracted and jerk the leash.
It's still important for your dog to wear a collar though. Collars are the best place to attach an ID tag, which is essential on walks. They can also be used as backup for a broken harness, so the one you choose should still be strong enough to walk your German Shepherd.
How to Choose a German Shepherd Collar
With hundreds of collars on the market, it can be hard to choose the right option for your pet. Fortunately, there are several ways to narrow down your choices.
For most German Shepherds, a simple nylon flat collar with a metal D-Ring is all you need. Make sure the collar also has a place for an ID tag showing your contact details.
Measuring GSD Neck Size
Choosing the right size is essential. Too big, and the collar is likely to slip off your German Shepherd's muscular neck. Too small, and it'll be uncomfortable or even dangerous.
You should measure your GSD's neck approximately equal distance from the top of the shoulders to the back of the head. Then compare this measurement to the manufacturer's size chart. Each manufacturer has a slightly different process, so check whether you need to add a small amount to get the right fit.
Once fitted, you should be able to slide two fingers between the collar and your dog's skin.
Tip: If your pet falls between two sizes, it's usually best to choose the larger option.
Material
Nylon is the best material for a dog collar. It's strong, relatively cheap, and doesn't tend to stretch over time.
Some nylon collars also have a reflective design. If you walk in low-light conditions, reflective material can improve your dog's visibility to vehicles.
Leather is also popular. It's more expensive than nylon, although many people like the style. A downside is that leather dog collars often stretch and lose their shape over time.
On a related note, I recommend wide collars for German Shepherds. Look for a width of at least 0.75″, although 1″-1.5″ is better. The wider the material, the less likely it is to slip off or break.
Other Considerations
Some other factors to consider when buying a high-quality German Shepherd dog collar include:
ID Tag. All collars should have a secure attachment for an ID tag. While every dog should be microchipped, an easy-to-read ID tag can make it much more likely that a lost dog is recovered by its owner.
Buckle Type. Quick-release buckles are the most convenient. Pin buckles, especially those with dual pins, are more durable.
Adjustable. Most collars can be adjusted to your dog's neck. Some can be threaded to the right size, while others have a belt design with multiple holes.
Style. There are a variety of collar styles. Standard nylon collars are available in a range of colors, so there's an option for every preference. Some can even be customised with your dog's name. Tactical collars, with a military style, are also popular.
The good news is that there are many excellent collars on the market. Whether you want bright pink, military camouflage, personalization or a leather collar, there's almost certainly an option for your dog.
5 Best Collars for German Shepherds (Including Mini Reviews)
Listed below are five of the best collars for German Shepherds. Please read each review carefully to find the right option for your pet.
1. OneTigris Military
VIEW PRICE
The OneTigris is one of my favorite collars for big dog breeds. It's a rugged nylon collar that's strong, adjustable, and has cushioning to increase your dog's comfort.
One of the great things about the OneTigris Military is that it has a dual prong buckle. This increases strength and security compared to quick-release or single-prong buckles.
The collar is also relatively wide (1.49″) and available in two sizes. I don't recommend walking a German Shepherd on a collar, but the OneTigris is certainly strong enough to do so in an emergency.
Other features of the OneTigris include a stylish military appearance, strap cushioning, and a metal D-Ring. It's also available in several colors, such as "Ranger Green" and black.
Why We Recommend It:
The OneTigris Military is a strong tactical dog collar with a dual-pin buckle and cushioned design. It's an excellent choice for large breeds.
Key Features:
Material: Nylon
Price Range: Price Range
Pros:
Strong collar with a 1.49 inch width
Cushion padding
Stylish
Cons:
Only available in tactical colors
VIEW PRICE
2. GoTags Personalized Reflective
VIEW PRICE
The tactical collar style isn't for everyone – and the GoTags Personalized is a great alternative if you prefer a fun design. It's available in a range of colors and has personalized stitching for easy identification.
Aside from having your name and number stitched into the material, the GoTags is a relatively simple flat collar. It has a quick-release clip, strong nylon construction, and an adjustable strap. It's also made with reflective material for added safety in low light conditions.
It's not as thick as some of the other collars on this list though. The "Large" is 1″ wide, but if you need a smaller option the "Medium" is only 0.75″ wide.
Note: If you don't walk your dog at night or in low-light conditions, GoTags also produces a non-reflective version of their personalized collar.
Why We Recommend It:
The GoTags Personalized Dog Collar is a great choice if you prefer bright colors to a military style design. It's a strong nylon collar with personalized name/number stitching, quick-release buckle, and a variety of color options.
Key Features:
Material: Nylon
Price Range: $$
Pros:
Personalized stitching
Quick-release buckle
Adjustable and reflective design
Cons:
Not the most durable collar
VIEW PRICE
3. Tuff Pupper Heavy Duty
VIEW PRICE
The Tuff Pupper Heavy Duty Dog Collar is a strong option that's an excellent choice for German Shepherds.
It's made with strong ballistic nylon and stainless steel hardware, so it's a truly heavy duty collar. Tuff Pupper also sells it in several different colors, so it's a good choice if you want a durable collar without a tactical style.
Other features include reflective stitching, padded soft neoprene material, and a stylish design. It only has a single pin buckle though. While this is reasonably strong, it can't match a dual pin design.
The integrated bungee handle is an interesting feature. I don't think this should be used regularly, as it could put additional strain on a dog's neck. It could be useful if you need quick control in an emergency – although most harnesses have stronger and safer handles.
Why We Recommend It:
The Tuff Pupper Heavy Duty collar is made with a combination of strong nylon and softer neoprene padding. It's a great choice for German Shepherds, although the single pin buckle means it's not as durable as dual pin alternatives.
Key Features:
Material: Nylon
Price Range: $$
Pros:
Strong and rugged
Several colors
Neoprene inner padding
Cons:
Single pin buckle isn't as strong as dual pins
VIEW PRICE
4. LupinePet 3/4 Inch Adjustable
VIEW PRICE
If you want a simple dog collar that's available in a range of fun colors, the LupinePet is a great choice – especially as it's guaranteed against chewing.
The LupinePet is made with tough nylon webbing and a quick-release buckle. The buckles are plastic, but the D-Ring is metal for added security. It's also available in three sizes and eight colors.
A downside is that it's only 0.75″ wide. If you plan to walk on the collar, a thin design can cause more pressure on a small area. This isn't an issue if you're just using the collar for identification though.
It's also not the strongest on the market. I don't recommend attaching a leash to it, especially when walking a German Shepherd. It's a good choice for identification and German Shepherd puppies though.
Tip: Is your dog a chewer? You may want to read my guide to the best chew-proof dog collars.
Why We Recommend It:
The LupinePet is a simple adjustable dog collar. It's not as strong or tough as some of the others on this list, but is a decent option for a reasonable price. It also comes with a guarantee that includes chewing.
Key Features:
Material: Nylon
Price Range: $
Pros:
Inexpensive collar
Adjustable and quick-release buckle
8 colors
Chewing is covered by the guarantee
Cons:
Not the strongest
0.75 inches wide
VIEW PRICE
5. EXCELLENT ELITE SPANKER Nylon Tactical
VIEW PRICE
The Excellent Elite Spanker is another highly-durable tactical dog collar. It's available in five colors, is built with metal hardware, and has a padded lining for extra comfort.
Like the OneTigris Military, this collar has a double pin buckle. This increases the strength and durability of the collar, while also allowing you to choose from five adjustment points.
There's also the option of attaching a sticker to the ID panel. This is useful for identification, or if you want to display labels such as "Therapy Dog."
Why We Recommend It:
The Excellent Elite Spanker is a tactical dog collar with a dual-pin buckle. It's stylish, has five adjustment options, and inner padding for added comfort.
Key Features:
Material: Nylon
Price Range: $$
Pros:
Dual pin buckle is great for large dogs
Sticker ID panel
Five adjustment options
Cons:
Only available in tactical styles
VIEW PRICE
Frequently Asked Questions
Which Collar Should I Buy for a German Shepherd Puppy?
Like adult dogs, I recommend walking puppies on a properly fitted harness. Harnesses protect a puppy's delicate throat and developing spine, while also making walks more comfortable. Combining a simple collar (like the GoTags Personalized) with a safe harness is probably the best choice.
Keep in mind that German Shepherd puppies grow fast! Check the collar size regularly and be prepared to buy a new one when your pup outgrows it.
What About Shock, Prong, Choke or Other Aversive Collars?
At The Dog Clinic, we don't agree with the use of aversive training tools. These include shock collars, prong collars, and choke chains.
Aside from being cruel, any tool that causes pain can lead to behavioral problems. Studies have also shown no evidence that punishment-based training is more effective than positive methods – and may be less effective.
Aversive collars can also be dangerous to your dog's throat. Choke chains, for example, have been linked to crushed windpipes and spinal injuries.
Instead, use a harness to protect your dog's neck and a simple flat collar for identification. Then use positive dog training methods to teach your dog how to walk politely on a leash.
Summary
It's not always easy to choose German Shepherd dog collars. There are hundreds on the market, each with different features, materials, styles and designs.
My top pick for a German Shepherd collar is the excellent OneTigris Military. It's a wide and strong option that looks great on GSDs. If you want something a little more lighthearted, the GoTags Personalized is a good alternative.
Do you have any questions about choosing a German Shepherd collar? Please let me know in the comments section below.