Wondering what size dog door you need for your canine companion? Here's how to appropriately size a door for any dog.
It's vital to install the right size door though. Too big, and you're cutting a larger hole than necessary and potentially compromising the security of your home. Too small, and your pet can't comfortably move in and out. Here's how to size your dog door so it's just right.
Basic Dog Door Size Chart
There are three crucial dimensions when buying a dog door: flap height, flap width and step over (see the illustration below). The following sections will show you how to measure each of these to get the right size door for your pet.
Some door manufacturers provide sizing charts based on weight. While these can be useful as a quick guideline, I don't recommend relying on them alone. Dogs of the same weight can vary greatly in body shape depending on the breed.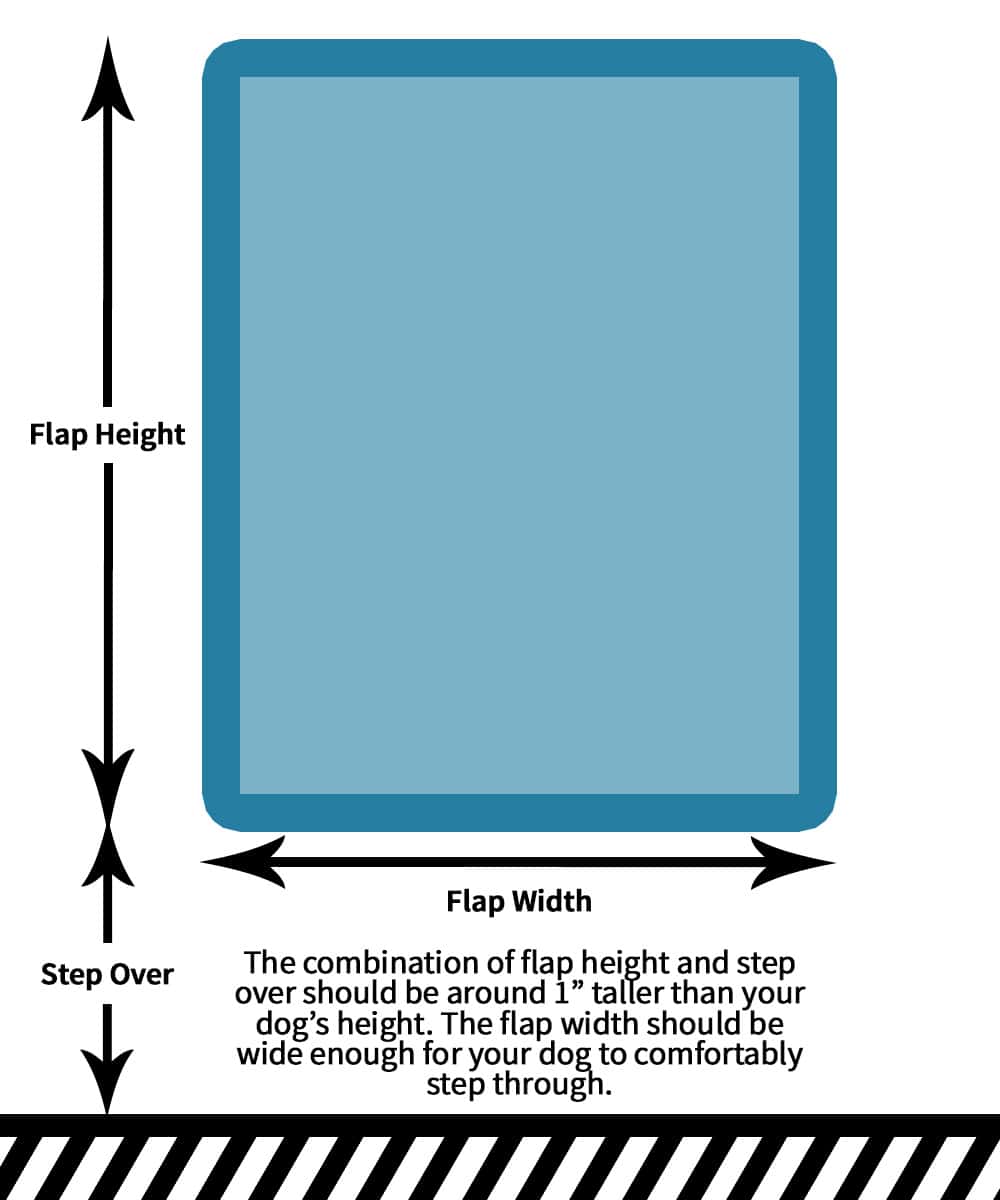 Step 1: Measuring the Width of Your Dog Door
First, you need to figure out the width of the door flap. This can be done by measuring your dog across the shoulders horizontally, and then adding a few inches for safety. You don't want to oversize the door, but it's also important that your pet's fur doesn't catch on the frame.
When taking your dog's width, make sure you measure their body…not their coat! Measuring for your dog's coat can leave you with a much wider door than you really need.
Alternatively, partially open an existing door and measure how wide it needs to be for your pet to walk through without squeezing.
Step 2: Measuring the Height of Your Dog Door
Next, you'll want to measure the height of your dog. This should be from the floor to the shoulder or "withers" – not the head. Then, add approximately two inches for safe and easy movement, and you have the height of your door flap.
Remember, this is the height of the opening from the bottom to top edge, not the actual height of the opening from the floor. The overall height of the dog door will need to include the "step-over" or rise of the door.
Step 3: Measuring the Rise of Your Dog Door
The rise or "step over" is the distance between the floor and bottom of the flap. This is, as the name implies, the height your dog will need to step over to get into or out of the house.
The bottom line here is that the height of the door flap plus the height of the step over should be around 1″ taller than the total height of your dog (from step 1). The step over should also be comfortable for your pet to walk over without hurting his joints, forcing an unnatural body position or causing him to crouch too low.
There is no precise way to measure the step over. Most dogs are comfortable with a three to five inch step-over, but this varies depending on age, size and health issues. The best way to nail this down is to test the size of your opening with cardboard or scrap wood and make sure your dog can go through it.
Also, remember that stepping over something high will get harder as your pet ages, so you may want to go lower in preparation for that time in their life. If your dog has arthritis or other joint issues, the step over will also need to be lower.
Step 4: Other Things to Keep in Mind
Before you start cutting holes in your house, it's probably a good idea to check your measurements by mocking up a test version out of cardboard and tape. Your pet must be able to get in and out easily, without a whole lot of extra space.
Remember, you can put the door in a wall instead of the door, but you'll need some sort of barrier to seal up the space between each side of the wall. There's also the option of putting the door in a glass door – although you may need professional help for this.
Finally, don't overlook modern locking mechanisms, particularly RFID ones that respond to your pet's collar. The last thing you want is a human intruder, neighbor's pet or even a wild animal coming through the door that's supposed to be just for your dog.

Choosing a Door is Just the Beginning
Once you've installed a dog door, the next step is teaching your pet how to use it. Confident dogs may walk straight through, but others will need help and encouragement.
Don't force your dog to use the door before they are ready. Instead, practice luring him through with treats and praise, until he's comfortable using it.
Summary
There's a lot that goes into choosing the perfect size doggie door. If you follow these steps, you should be able to get a door that's the right size for both your pet and home.
Think you've got a good handle on choosing the right size? Or is there something else you need clarification on? Let me know in the comments!