Does your dog need support for his rear legs? In this article, we review five of the best dog harnesses for supporting back legs – along with tips for choosing the right harness for your pet.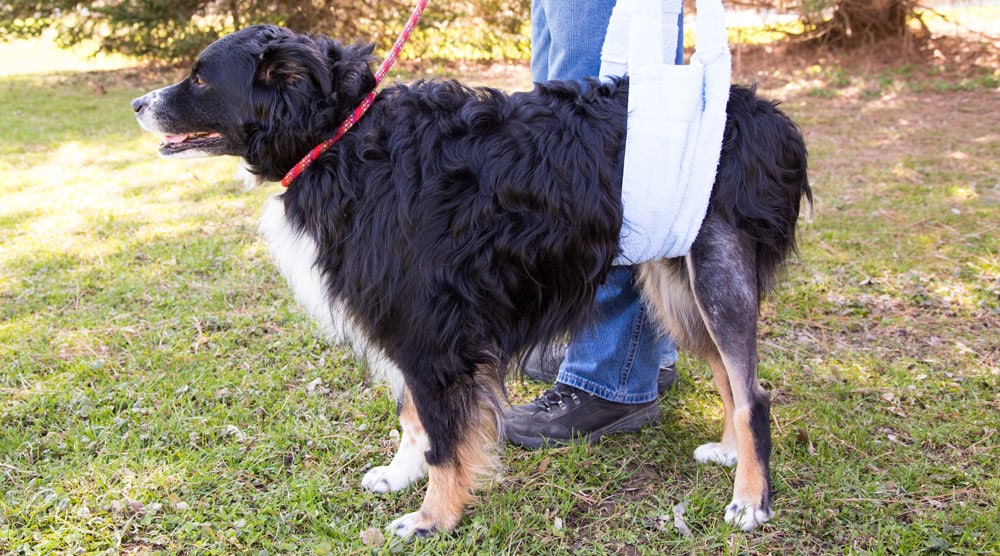 There are many reasons a dog might lose back leg mobility. Old age, surgery, traumatic injury, arthritis and diseases such as degenerative myelopathy can cause anything from mild weakness to full paralysis.
Dogs with a rear-leg disability still need to stay mobile though, which is why support harnesses are such a vital tool.
These harnesses allow you to support some (or all) of your dog's rear weight, so he can walk with less strain. The best products are comfortable for both you and your pet, yet don't cost a fortune.
Until a few years ago, it was difficult to find a rear lift harness without going to a vet. Fortunately, there are now plenty that are sold direct to the general public. In this article, I've listed five of the best lift harnesses for rear legs.
Disclaimer: You should always discuss your dog's medical requirements with your vet. The information in this article is not written by a veterinarian and is not professional advice. The right type of harness for your pet depends on his medical condition, so you should only use a sling or harness under your vet's instruction.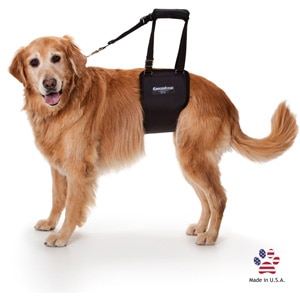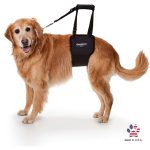 Our #1 Pick: GingerLead Support Harness
Comfortable and strong sling harness
My top pick for a sling harness is the GingerLead Support Harness. It's strong, comfortable, less likely to bunch than other slings, easy to use and machine-washable. The built-in leash is also a nice touch.
Why Might a Dog Need a Rear Lift Harness?
Sadly, there are many medical reasons why a pet might need a dog rear lift harness. While these conditions are more likely in senior dogs, they can happen at any age. Some of the most common include:
Hip Dysplasia. This is a skeletal condition caused by a deformity in the hip joint. It's usually a genetic condition that's most common in large breeds, such as Labradors, Golden Retrievers and Great Danes – although any breed can suffer from it. Not all dogs with hip dysplasia need a supportive harness, but a harness can sometimes relieve pain by reducing pressure through the hips.
Degenerative Myelopathy (DM). DM causes progressive paralysis in the hind legs, due to its degenerative effect on the spinal cord. It often starts with the dog suffering from a lack of coordination, but progresses to weakness and difficulty standing. Eventually, the dog is unable to walk without help, which is why a lift harness is a common tool for maintaining quality of life.
Arthritis. There are two types of canine arthritis: rheumatoid and osteoarthritis. Rheumatoid arthritis is an autoimmune disease that causes inflammation in the joints, while osteoarthritis is degeneration of the joint cartilage. In severe cases, both types can make it difficult to walk without discomfort. A sling can help relieve pressure on the joints.
Luxating Patella. This is a condition where the kneecap "pops" out of its normal groove. This causes pain, cartilage degeneration, and may prevent the dog properly extending his knee joint. Surgery is often recommended for severe cases – particularly when the kneecap is permanently luxated – but a sling may make your dog feel more confident if the patella only occasionally luxates.
Weakness Due to Old Age or Other Medical Condition. Dogs naturally lose mobility as they get older. If the hind legs become weak, either due to age or another medical condition, a rear harness can keep your pet mobile.
Recovering from Surgery. A sling can be a big help when a dog is recovering from surgery. They allow your pet to maintain mobility and some level of muscle tone, without putting too much stress on the healing site. Your vet should advise you about which type of harness to use after surgery.
Recovering from Injury. Injuries ranging from a pulled muscle to bone fractures can affect your dog's back leg strength. In some cases, a sling or back leg harness can allow your dog to remain mobile while allowing his injury to heal – although this should be discussed with your vet.
How Do Rear Lift Slings and Harnesses Work?
Rear lift harnesses are simple devices that allow you to support your dogs hind legs by holding a handle.
They are great for helping your pet perform simple tasks, such as going up stairs, toilet breaks, and getting into the car. Rear lift harnesses may also make it possible for your dog to go on short walks, despite a rear leg weakness or disability.
The amount of support a dog needs depends on his medical condition. A minor injury may only require you to support a small amount of weight – just enough to relieve pain and prevent re-injury. A dog with full rear-leg paralysis will obviously require you to support his entire rear weight.
Your pet's condition also determines the best type of rear support harness. The three most common are:
Rear-End Harness. This is a fitted harness for the hips. It's usually the best style of support harness if your dog has severe rear-leg weakness or paralysis, as it allows you to fully support your dog's legs and prevent them dragging along the floor.
Lifting Mobility Sling. Mobility slings hold up the dog's mid-section so that it's easier to walk. They are the most common type of disability harness, and are suitable for dogs that can walk independently with some help.
Complete Support Harness. A full lift harness supports both the shoulders and hips. It's useful for dogs that have had surgery or suffer from severe joint pain. We won't be covering complete support harnesses in this article, as we're focusing on rear-leg harnesses, but the Help 'Em Up is a great option.
Unfortunately, many manufacturers aren't consistent about how they name their products. You'll see harnesses referred to as slings, and vice versa. It's usually obvious from the product appearance what type it is though.

Teaching Your Pet to Wear a Rear Lifting Harness
Don't be surprised if your dog finds a rear support harness a strange concept – especially the first time he wears it! It's important not to rush the introduction process, as this can cause anxiety.
Start by creating a positive association with the harness. Let your dog sniff it and give praise or treats, so he realises it isn't something to fear. Once he's relaxed around the harness, you can progress to gently fitting it while giving lots of his favourite treats.
When you feel that your dog is comfortable and happy wearing the harness, you can start to apply a small amount of upward pressure. Many dogs don't like their hind-end being lifted at first, so continue giving treats and take it slowly. Gradually increase the amount of weight you lift, until he's able to walk a few steps. Keep each session short and always finish on a positive note.
A partner can help with this process. One of you lifts, while the other gives treats and praise.
What to Look for in a Dog Harness for Weak Back Legs
Lift harnesses are simple products. Many have similar designs and are available for relatively cheap prices. There are a few things to consider when choosing though:
Does the handle make it easy for you to support your dog's weight? The handle should be comfortable to hold. The straps should also be long enough for you to support your dog's weight without hunching or leaning over.
Is the material soft and comfortable? Harsh materials or tough edges can cause chafing or even pressure sores. The area between the legs is especially vulnerable. Look for a soft harness that's comfortable for your dog to wear.
Does the harness fit correctly? Each manufacturer has a different idea of what makes a "small" or "large" dog. Double check the sizing chart of a harness before you buy to ensure you're getting the right fit. Harnesses also have maximum weights, which is something to keep in mind for giant breeds.
Can the dog pee while wearing the harness? This is a vital consideration when choosing a rear support harness. Some harnesses come in both male and female versions.
Is the harness machine washable? While lift harnesses don't suffer from as much wear-and-tear as regular harnesses, they are still likely to get dirty or soiled. A machine-washable design can make maintenance much easier.
If you're buying a sling, is it likely to bunch up? A common issue with slings is that they quickly become bunched up. This is uncomfortable for the dog, as the pressure is concentrated on a smaller area. Some of the better slings are made with material that stops this happening.
5 Best Rear Lift Harnesses for Dogs
Now you know what to look for in a dog rear leg harness, here are five of the best choices. Make sure you read each mini-review carefully, and consult your vet before deciding the right type of lift harness for your pet.
| Rank | Name | Rating | Key Features | Price |
| --- | --- | --- | --- | --- |
| #1 | GingerLead Support Harness | | Our #1 sling harness. Strong and comfortable sling harness with a non-bunching design. | $$$ |
| #2 | PetSafe Solvit CareLift | | Our #1 rear-end harness. Rear-end harness that provides outstanding support for a great price. | $ |
| #3 | Labra K9 Sling | | Solid sling with a soft lining. Cheaper alternative to the GingerLead. | $$ |
| #4 | Fur E. Frenz Harness Sling | | Lifting sling that's designed for big dogs. Adjustable straps and wide 8" surface. | $$ |
| #5 | Love Pets Love Dog Lift | | Another option for big dogs with a fleece inner lining. No adjustable handle length though. | $$ |
1. GingerLead Support Harness (Best Lifting Sling)
VIEW PRICE
The GingerLead Support and Rehabilitation harness is an excellent choice if you're looking for a canine sling. It has a padded design, integrated leash and is available in several sizes.
An interesting feature of the GingerLead is the combination of soft corduroy interior and durable nylon exterior. The softer surface is in contact with your dog's skin, so it's more comfortable to wear. The nylon is strong and durable, while preventing the sling bunching up (a common problem with cheaper slings).
There are two versions depending on whether you have a male or female dog. The male version has a cutaway section to allow your dog to pee, whereas the female version has a straight edge. In reality, the male version is unisex, but the female version should only be used on female dogs.
Unlike many slings, the GingerLead has a built-in leash. This attaches to the handle, so you can keep control of your dog without needing to hold a separate leash. There's the option of detaching this if you prefer your own leash, although the built-in one prevents the sling slipping backwards.
Other features include a machine-washable design, adjustable strap and five size options – including a "tall" option for slim dogs. Make sure you use GingerLead's sizing guide to get the right size for your pet.
The biggest drawback is the price. It's much more expensive than the other options on this list. I also would have liked the handle to be more adjustable, although having some flexibility is better than none.
On the plus side, the high-quality padding, non-bunching design and adjustable height go a long way to justifying the extra cost. It also doesn't slip like many cheaper slings and feels sturdy when in use.
Overall, the GingerLead Support Harness is an excellent choice for dogs that have a rear-leg weakness, injury or medical condition. It's strong, easy to fit, and perfect for dogs that need extra help when walking or going to the toilet.
Why We Recommend It:
The GingerLead Support and Rehabilitation Harness is our top pick for a lift sling. It has comfortable padding and a non-bunching design, along with a built-in leash.
Key Features:
Type: Lifting Sling
Sizes: X-Small, Small, Medium-Large, Tall
Price Range: $$$
Pros:
Machine washable
Non-bunching design
Built-in leash
Comfortable padding
Cons:
VIEW PRICE
2. PetSafe Solvit CareLift Rear Harness (Best Rear-Only Lifting Harness)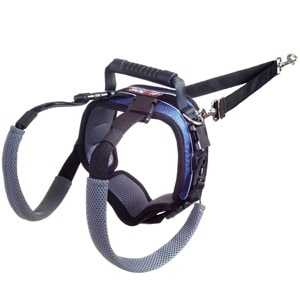 VIEW PRICE
If you're looking for a rear-end harness, the PetSafe Solvit CareLift is one of the best options. It's not perfect, but comes with a rubberised handle and a male protector piece for added comfort – plus it's available for a great price.
The CareLift is designed to spread your pet's weight across the abdomen and hips. This reduces pressure on a single part of your dog's body and can help prevent soreness. It's also easy to adjust to your dog's body.
I wish it had some extra padding around the straps though. While it shouldn't rub if properly fitted, check the inner legs regularly for any signs of pressure sores. Also, if you're not using the belly strap protector, be aware that the dog's weight is placed entirely on the hips. This isn't a problem for some medical conditions, but certainly isn't a good thing if your dog has hip dysplasia or arthritis.
Unlike the GingerLead, there's only one version of the CareLift for both male and female dogs. Instead of a different design, Solvit has included a protector piece for males that can be removed when urinating or for females. The liner is also made from breathable mesh so your pet doesn't overheat.
Most of the harness is machine washable – including the leg straps and belly band – but you'll need to wash the male protector piece by hand. This isn't a major downside, but makes the CareLift fiddlier to maintain than other harnesses.
Note: There are also front and dual versions of this harness available.
Why We Recommend It:
The Solvit CareLift is a rear-end harness that's great for providing support to disabled or injured dogs. It does a good job of supporting the hind legs, spreading pressure, is easy to adjust, and is suitable for both male and female dogs.
Key Features:
Type: Rear-End Harness
Sizes: :Small, Medium, Large
Price Range: $
Pros:
Excellent price
Male protector piece
Breathable mesh liner
Cons:
Not as much padding as we would like
Male protector must be hand washed
VIEW PRICE
3. Labra Veterinarian Approved Dog Canine K9 Sling
VIEW PRICE
The Labra K9 Sling is a cheaper alternative to the GingerLead harness. With adjustable straps, soft lining and four sizes, it's good enough to meet many dog's needs.
One of the great things about the Labra is the price. It's a simple sling with a relatively low price to match, so it's a good option if you need to support your dog's rear end on a budget.
There are four sizes available: Medium, Large, Extra Large and XXL. Despite being called "Medium," the smallest option is suitable for dogs weighing as little as 20lbs, such as pugs or dachshunds. It might not be the best choice for tiny breeds though.
I like the soft fleece lining, as this reduces the chance of chafing. This padding, combined with the simple design, makes the Labra brilliant for dogs that need a bit of help to get outside or up stairs. It's not quite as good at preventing slipping or bunching as other materials though.
The Labra doesn't have different versions for male and female dogs. For male dogs who need help going outside to the toilet, you'll need to place the harness further forward.
A downside is that there isn't a proper handle – you just hold a strap to support the rear legs. This is fine for small breeds, but might be uncomfortable for heavy dogs.
Why We Recommend It:
The Labra K9 Sling is a simple harness that provides great value for money. It also has a soft fleece lining and is available in four sizes.
Key Features:
Type: Lifting Sling
Sizes: Medium, Large, Extra Large, XXL
Price Range: $$
Pros:
Great price
Soft lining
Easy to use
Cons:
More prone to bunching than some other harnesses
Straps instead of a handle
VIEW PRICE
4. Fur E. Frenz Lift Harness Sling
VIEW PRICE
If you have a big dog that needs a tough sling, the Fur E. Frenz Lift Harness is a solid choice. It's great for dogs that suffer from injury, hip dysplasia, or other rear-leg disabilities.
The Fur E. Frenz is specifically designed for the biggest breeds, with a maximum weight of 200lbs. If you have a German Shepherd, Newfoundland, Rottweiler or similar size breed, it's one of the best slings on the market.
Unlike many sling harnesses in this price range, the Fur E. Frenz has adjustable straps to make it more ergonomic. It's also machine washable and has an "anti-slip" design. The surface isn't quite as wide as the Love Pets Love (see below) – 8″ compared to 10″ – but the option of changing the strap length can make a big difference to your comfort.
It's hard to find many faults with this product, as it provides great value for money. I would like to have had more padding, especially as its aimed at heavy dogs, but this is offset by the wide support which reduces the risk of pressure points.
Why We Recommend It:
The Fur E. Frenz Dog Lift Sling is a great choice for big dogs, as it's suitable for pets weighing up to 200lbs. It's also secure, has a relatively wide surface, and come with adjustable straps.
Key Features:
Type: Lifting Sling
Sizes: X-Large
Price Range: $$
Pros:
Wide 8 inch surface
Suitable for heavy dogs
Great price
Adjustable straps
Cons:
VIEW PRICE
5. Love Pets Love Vet Approved Dog Lift
VIEW PRICE
The Love Pets Love Dog Lift is another excellent sling for large pups who struggle to use their back legs.
Like the Fur E. Frenz, the Love Pets Love is specifically designed for bigger dogs. It's made with strong and durable materials, along with a wide 10″ surface to reduce pressure on the abdomen. The inner lining is also made from soft fleece for added comfort.
As with most slings, be careful when using on a male dog to avoid covering his genitals. Your pet should have no trouble urinating while using it though, as long as it's positioned correctly.
For quick trips outside to the toilet, the Love Pets Love does a great job. The Velcro strap won't prevent it slipping completely, but it should be fine for toilet breaks or short walks. If your dog is likely to need a sling for the long-term, however, it might be worth paying more to get one with more padding.
The biggest drawback to this model is that the handles aren't adjustable. While this won't be a problem for most people, it may force you to hold the handle at an uncomfortable height.
Note: Check the sizing guide before you buy this harness. If your dog weighs under 45lbs or doesn't meet the minimum size requirements, choose one of the other lifting slings on this list.
Why We Recommend It:
The Love Pets Love Dog Lift is a simple sling harness that's aimed at larger dogs. The biggest drawback is that you can't adjust the handle length, although the soft fleece lining is a bonus.
Key Features:
Type: Lifting Sling
Sizes: Large, X-Large
Price Range: $$
Pros:
Great for big dogs
Fleece inner lining
Available in three colours (red, black, blue)
Cons:
Handle length isn't adjustable
Not much padding
VIEW PRICE
Summary
It can be heart-breaking if your dog struggles to walk due to weak back legs, illness, injury or some other medical condition. The best dog harnesses for supporting back legs can allow your pet to maintain some of his mobility, even if that just means going outside to the bathroom or walking upstairs.
My top pick for a sling harness for the back legs is the GingerLead Support Harness. It's an excellent harness with a machine washable design, built-in leash and comfy padding. It's also less likely to slip or bunch compared to other slings.
Do you have any questions about buying a dog harness to support the back legs? Or do you want to share a story about your dog and how these harnesses have helped? Let us know in the comments section below.