Don't risk your dog getting stranded in the pool! Here are four of the best dog pool ramps to help keep your pet safe in water.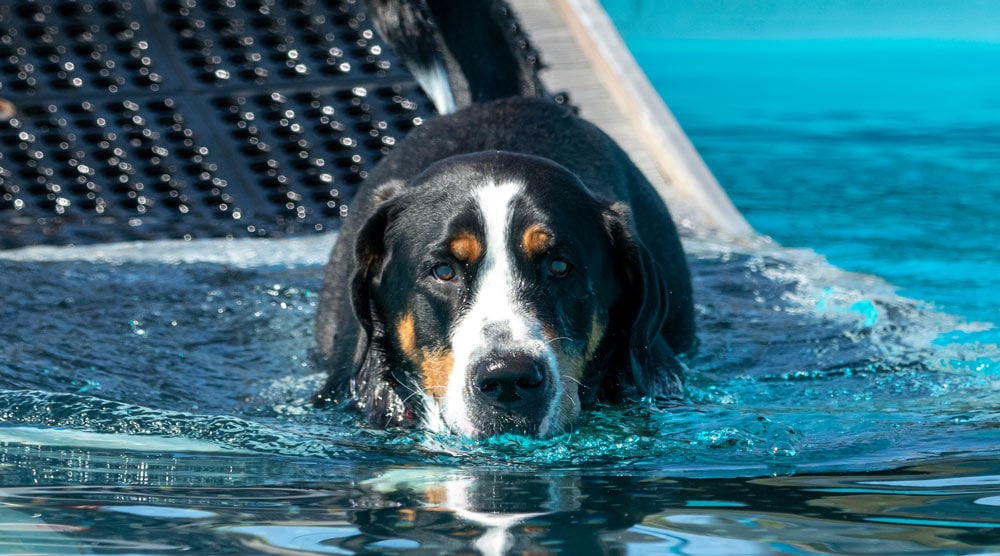 While many dogs love splashing around in a pool – especially on hot days – it's getting out that can be difficult.
Dogs can't grip regular pool ladders, which is often the only exit point. They also lack the upper body strength to easily pull themselves out of water.
For this reason, a pool ramp for a dog is essential for your pet's safety. In this article, I'll discuss how to choose the right ladder or ramp, before reviewing four of my top picks.
Note: This article is about ramps and ladders to help your dog exit a pool. If you have an above-ground pool without a surrounding decking, you may need another ramp for entry.
Our #1 Pick: Super Skamper Ramp
Durable ramp that's available in two sizes
My top pick for a dog pool ramp is the Skamper Ramp. It's a durable model that's simple to attach, has a UV-resistant exterior, and makes it easy for your dog to exit the pool.
Why Buy a Pool Ramp for Your Canine Companion?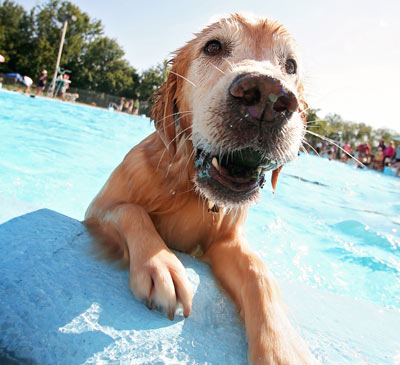 Swimming is a hazardous activity for any dog. A pool ramp, combined with a dog life jacket and supervision whenever your pet is near water, can make a tragic accident much less likely.
While some canines are natural swimmers, others struggle to stay above water – particularly those with short legs. Even strong swimmers get tired after a relatively short time in the water.
This makes a swimming pool a dangerous and potentially deadly place. If your pet struggles to swim, or falls in and can't climb out, there's a severe risk of drowning.
Of course, some dogs are capable of getting out of a pool without assistance.
This doesn't mean it's safe or comfortable though. In fact, the effort of pulling their body out of water is a common cause of muscle injury for dogs. It's also tiring and can make swimming less appealing – especially for elderly dogs or those with joint pain.
How to Choose a Dog Ramp for a Swimming Pool
There are many dog ramps on the market, but most aren't suitable for swimming pools. Here are some of the most important considerations:
Type of Pool. Pool ramps have a variety of installation processes. Some are designed for above-ground pools, while others need to be drilled into a weight bearing lip. Make sure the ramp is suitable before you buy. In particular, check the deck or patio around the pool has enough space for installation, as many ramps have specific requirements.
Stairs or Ramps. Ramps are easier for a dog to walk up, but are often more difficult to grip. Floating ramps also move around when a dog uses them, which could be worrying for some dogs – especially those with balance issues or vision loss. Stairs have horizontal steps, so slipping is less likely, but can be uncomfortable for small dogs or those with joint pain. Some dogs are also scared of stairs.
Maximum Dog Weight. All dog ramps have a maximum weight capacity. Most dog breeds are likely to be far lighter than this maximum, but giant breeds could exceed the limit. If you have a big dog, always check the maximum capacity, as heavier dogs could cause excessive flexing or even collapse.
Dimensions. The ramp or stairs should be wide enough for your dog to comfortably walk up, without taking up too much space. If you're not sure which size to buy, measure the width of your dog's gait and then add some extra width.
High Traction Surface. It's important for your dog to feel secure when climbing out of the pool, otherwise he may avoid using the ramp. Look for ramps with non-slip surfaces, including rubber coating, steps, and ridges.
Safe and Smooth. Pool ramps and ladders are partially hidden underwater. Dogs are also clumsy in water, and don't always know exactly where their limbs are flailing. To keep your pet safe, make sure the ramp has smooth surfaces and no sharp points.
4 Best Pool Safety Ramps for Dogs
Listed below are four of the best dog pool ladders and ramps. Make sure you choose an option that's suitable for both your pool and pet.
Keep in mind that a pool ramp is just one aspect of canine water safety. You should always supervise your pet when near water. A canine life jacket is also essential for swimming – even in a shallow pool.
1. Super Skamper Ramp (Top Pick)
VIEW PRICE
My top pick for a pool safety ramp is the Super Skamper. It's a simple plastic ramp that can be attached to the side of an in-ground pool via two included ropes, making it easier for your dog to climb out.
The ramp itself is strong and UV resistant. It shouldn't discolour over time, which is a common problem with ramps left in pools throughout the summer. It's also available in two sizes – although I think the bigger option is better for most dogs.
It's also available for a relatively low price compared to many other dog pool ramps.
I do have some complaints about this product though. While the plastic is ribbed for extra traction, it doesn't provide as much grip as I would like. A potential solution is to thread lightweight nylon rope through the holes, although it's a shame the Super Skamper doesn't include this as standard.
Another issue is the floating design. While this is fine for small breeds, the end can sink too much when used by large dogs. For this reason, I only recommend the Super Skamper for small or medium-sized breeds.
Note: The Super Skamper isn't suitable for vinyl or above-ground pools.
Why We Recommend It:
The Super Skamper is a solid plastic ramp that's easy to install and great for in-ground pools. It's also UV resistant and available in two sizes.
Key Features:
Type: Ramp
Size: Standard, Large
Price Range: $$
Pros:
Strong plastic design
Straightforward installation process
UV resistant
Cons:
Ribbed plastic doesn't provide much traction
May become too steep when used by large dogs
Not suitable for above ground or vinyl pools
VIEW PRICE
2. Paws Aboard PoolPup Steps (Best Pool Steps)
VIEW PRICE
If you want something more solid than a floating pool ramp, the Paws Aboard PoolPup steps could be a great alternative. They are a solid set of stairs, making them more stable than a floating ramp, plus they are relatively small and discreet.
The PoolPup steps are made with strong plastic with a UV-resistant finish. They also have slip-proof strips – although I would have liked more high-traction material for extra grip.
One of the great things about these steps is that they are suitable for almost any pool. They are typically used for in-ground pools, but can be attached to decking surrounding an above-ground pool. They also won't damage vinyl liners – assuming they are installed correctly.
Other features include an easy-to-install design, 150lbs maximum weight capacity, and a design that's easy to remove for winter storage. As the first step is underwater, your dog can swim up to them, rather than needing to clamber out of the water.
The biggest drawback to the PoolPup steps is their durability. While the plastic is strong, the construction could certainly be improved. For this reason, the steps are best for small or medium breeds. You may also want to replace the plastic screws with metal.
Why We Recommend It:
The Paws Aboard PoolPup is a great alternative to a pool ramp. The stair design makes it suitable for almost any pool, plus it's easy to install.
Key Features:
Type: Stairs
Stairs: Standard
Price Range: $$$
Pros:
More stable than a ramp
Easy to install
Suitable for a wide variety of pools
Cons:
Not the most durable product
Would benefit from more traction
Plastic screws
VIEW PRICE
3. WaterDog Adventure Gear Wag Boarding Steps (Best Above Ground Pool Steps)
VIEW PRICE
The WaterDog Wag Boarding Steps are one of the best options for above-ground pools. They are designed for mounting on a deck, making them suitable for pools with lips that aren't weight bearing.
Unlike many pool steps for dogs, the Wag Boarding feels solid and well-built. Each step is 4″ deep and has a non-slip design, so your pet should feel comfortable climbing them. The steps are also only 4″ high, making them suitable for small dog breeds.
Other features include a "Pivot Out" feature for storing the steps, a highly visible design, and a maximum user capacity of 130lbs. The steps also shouldn't touch the edge of the pool, if installed correctly, making them a good choice for vinyl sides.
The biggest drawback to the Wag Boarding Steps is the price. They are far more expensive than the other options on this list. The steps also don't come with bolts for securing to a deck, so you'll need to purchase these separately.
When it comes to construction quality, durability and stability, however, the WaterDog is hard to beat.
Note: The WaterDog Wag Boarding Steps are also suitable for most in-ground swimming pools.
Why We Recommend It:
he WaterDog Wag Boarding Steps aren't cheap, but provide a solid and stable stairs for your dog to exit a pool. They also have a pivoting design and excellent built quality.
Key Features:
Type: Stairs
Sizes: Standard
Price Range: $$$$
Pros:
Great for above-ground pools
Non-slip steps are suitable for most breeds
Durable construction
Cons:
VIEW PRICE
4. PetSTEP Original Folding Pet Ramp
VIEW PRICE
The PetSTEP Original isn't designed for pools. Its non-slip rubberized surface and plastic material makes it suitable for some larger pools though. The 500lbs maximum capacity also means it's one of the only options for heavy or giant breeds.
With a folding design and non-slip grip, the PetSTEP can be used in most non-vinyl pools – as long as the lip is suitable for weight bearing. The heavy design means it's relatively stable in most pools. You'll need to buy the separate PetSTEP Swimming Pool Legs Kit when using this ramp though, otherwise it may lack stability.
As you would expect from a ramp that isn't designed for pools, it's not the most stable in water. Despite the heavy construction, it may move around, especially when used by a large dog.
I also don't think it's suitable as a permanent ramp, as the material may start to become damaged if left in water for long periods. Instead, it's a versatile option for moving between your car, van and pool depending on where it's most needed. Additionally, I don't recommend it for vinyl pools, as it may tear the lining.
Why We Recommend It:
The PetStep Original isn't designed for pools, but is suitable as a temporary ramp – especially if you buy the separate Swimming Pool Legs Kit. With a huge weight limit of 500lbs, it's also one of the only options for large dog breeds.
Key Features:
Type: Ramp
Sizes: Standard
Price Range: $$$
Pros:
500lbs maximum capacity
Rubberized grip
Easy to use
Cons:
Not as stable as true pool ramps
Not suitable for vinyl pools
VIEW PRICE
Other Swimming Pool Safety Tips for Dogs
Pool ramps for dogs are just one way to keep your pet safe. Here are some other tips for canine pool safety:
Don't assume your dog knows how to swim. While most canines have a natural "doggie paddle," it takes practice for many to feel confident in water. Keep in mind that some dogs never enjoy swimming. If your pet likes to paddle but avoids swimming, he might enjoy a shallow plastic dog pool.
Your pup should always wear a life jacket around water. This is true even if your pet doesn't usually swim, as you never know when he might fall in.
Provide clean drinking water. Chlorinated water isn't good for your dog. Small amounts probably won't have a negative effect, but provide plenty of clean and safe water so he's less tempted to drain your pool! It's also a good idea to shower your dog to remove any chemicals present in the water.
Always supervise your pup when he's near water. Again, this goes for whenever your pet is near a poolside, not just when he's swimming. It's frightening how quickly a seemingly confident dog can get tired or accidentally gulp in a large amount of water.
Fence off your pool. Many fatal accidents happen because a pet enters water when the owner isn't around. A ramp can reduce the risk of your pet not being able to get out, but a fence is the best way to stop your dog swimming when alone.
Be particularly vigilant when older dogs are swimming. Dogs with joint pain, vision loss, or other conditions are more vulnerable when swimming.
Learn Canine CPR. Taking a short class in dog CPR could save your pet's life, so it's always a worthwhile investment.
You also shouldn't assume that your dog knows how to use an escape ramp – especially if he's never used one before.
When you first install the stairs or ramp, teach him how to use it using praise and rewards. It shouldn't take long for your pet to feel comfortable climbing on a ramp whenever he wants to exit the pool.
Summary
There are many steps you should take to protect your pet around water, but a dog pool ramp is one of the most important. Providing a safe and secure way for your pet to exit the water can prevent a tragic accident.
The right ramp or stairs depends on both your pool and dog's requirements. My top pick for in-ground pools is the Super Skamper Ramp, which provides a strong platform that's suitable for most dogs. If you want a more stable platform, the Paws Aboard PoolPup Steps are an option to consider.
Do you have any questions about choosing a dog pool ramp? Or do you think I've missed a model from this list? Let me know in the comments section below.