While it's important not to bathe your dog too often, sometimes they need a little freshening up. Here's our guide to the best dog shampoos.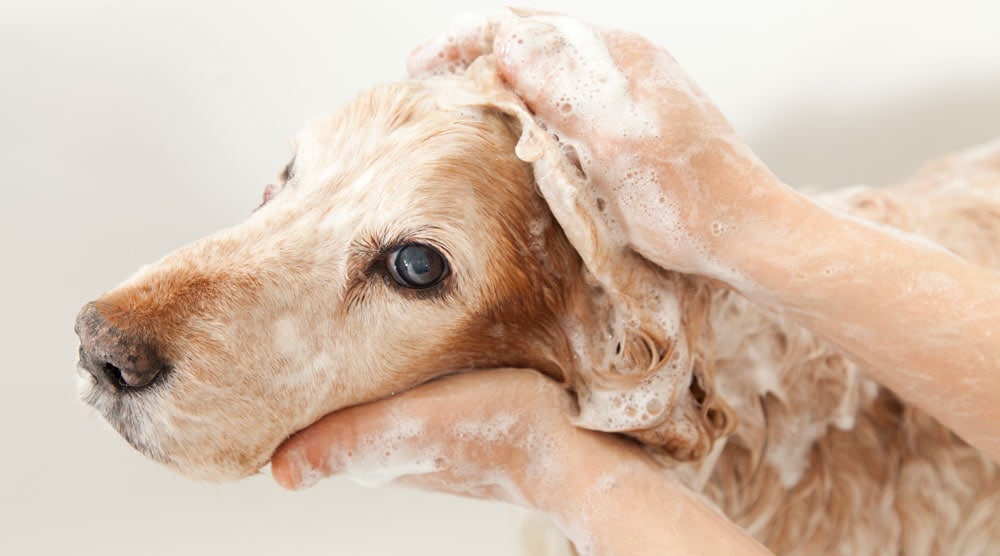 Knowing which shampoo to choose can be overwhelming though. By the end of this guide, you'll know how often to bathe your dog, what to look for in a good shampoo, and ten of the best dog shampoos for your pet.
Note: Some dogs have skin conditions or allergies that need medicated shampoos, such as antifungal shampoos. Choosing the best medicated shampoo may require allergy testing, skin scrapes or other tests, so you should always get advice from your vet.
Our #1 Pick: 4-Legger Organic Oatmeal Dog Shampoo
Gentle and natural
My top pick for a dog shampoo is the 4-Legger Oatmeal. It's an all-natural and vegan-friendly shampoo that has oatmeal as a primary ingredient, so it's great for moisturizing your dog's coat.
How to Choose the Right Shampoo for Your Dog
Dogs have a wide variety of coat types, so there isn't a 'best' option. Instead, you need to pick a shampoo that's right for your dog's coat, skin, and other requirements.
Step 1: Assess Your Dog's Medical Requirements
If your dog has flaky skin, dandruff, a dull coat, sensitive skin, or is prone to hot spots, you should seek veterinary advice. These symptoms could be caused by a variety of health problems, such as allergies, skin infections, and excessive licking, and may require a medicated shampoo or other treatment.
If your dog is just a bit smelly, likes to roll in mud, or suffers from mild skin dryness, an over-the-counter shampoo is probably all you need.
Step 2: Understand Your Dog's Coat Requirements
The best dog shampoo varies depending on your dog's coat. Some of the most important factors include:
Coat length and density. Breeds with a thin coat may not need such a deep cleaning formula as those with dense double coats. A Chihuahua or a Greyhound, for example, could do well with a milder formula shampoo than a Golden Retriever. Medium density coats, such as Poodles or Cavalier King Charles Spaniels, can benefit from a shampoo that's easy to lather. Breeds with long, thin hair, such as Shih Tzus, need a shampoo that moisturizes and protects.
Coat color. Some shampoos are specifically formulated for certain coat colors. Whitening shampoos, for example, have stain removing and brightening properties for breeds like the Bichon Frise. A downside is that whitening dog shampoos often contain harsh ingredients.
Shedding. Anti-shedding dog shampoos can be useful for breeds that shed a lot, such as Huskies. Of course, a shedding shampoo won't replace regular brushing with a high-quality brush, but it can help keep hair under control.
Smellier Breeds. Some dogs have a naturally smelly coat. Breeds like Labradors, with their oily skin and water-resistant coats, tend to be a bit more whiffy by the time bath time comes around. Picking a shampoo with deodorizing properties can keep them smelling fresh for longer.
Step 3: Know Which Ingredients to Avoid
Always check the ingredients before you buy a shampoo for your dog. All dog shampoos should be safe, but some ingredients are harsher than others.
Avoid harsh chemicals and additives. Picking a natural dog shampoo that minimises chemicals is generally recommended. Artificial colorings are a good example of additives that don't benefit your dog, but increase the quantity of harsh ingredients. Other common chemical ingredients to avoid include parabens, propylene glycol, bromopol, cocamide-MEA and isopropyl alcohol. A harsh soap recipe can also have a negative impact on your dog's coat.
Avoid overly strong fragrances. While a gentle fragrance can give your dog a fresh smell, avoid shampoos with strong scents or fragrances created using harsh chemicals. Remember, dogs have a much more sensitive sense of smell than humans – and they don't tend to like the same scents! An ingredient listed as simply 'fragrance' can be worrying, as you don't know what this contains.
Watch out for an intense lather. We often think that more lather and bubbles mean a better clean. This isn't the case, and sometimes excessive lather can indicate the shampoo has a lot of harsh chemicals, particularly sulfates. Watch out for these listed on the labels and steer clear of them, as they can be irritants and strip the coat of natural oils.
The more natural the better. A certified organic shampoo is more likely to be free of harsh artificial ingredients. Look for natural shampoo ingredients such as oatmeal, coconut oil, shea butter and citrus oil.
Other Considerations
There are a few other things you might want to consider when buying a dog shampoo.
The first is whether you want to get waterless or regular shampoos. While dry shampoos can be handy for a quick clean or washing a small area, they don't cleanse the coat like a proper bath and shampoo. Dry shampoos also often contain harsh ingredients.
Puppies and elderly dogs generally benefit from a shampoo with a gentle formula. They have more sensitive skin and their coats tend to be thinner than an adult dog. Don't forget to fully dry off your pup or senior dog too, as they feel the cold more.
Also, just like human cosmetics, some dog shampoos are more ethical than others. You may want to look for a product that isn't tested on animals, that contains organic and ethically sourced ingredients (no palm oil, for example), and recyclable containers. Some shampoos are also certified as vegan.
Don't be tempted to buy a huge bottle of shampoo to save money, unless you have a multi-dog household. The ingredients can degrade over time, which impacts the shampoo's effectiveness and safety.

Symptoms of an Allergic Reaction to Shampoo
Some dogs have allergies or sensitivities to a specific ingredient – even if the shampoo is natural, organic and certified as safe for a dog.
It's a good idea to test a new shampoo on a small part of your dog's body. Check for a rash, irritated skin, or hot spots, before using it on a larger area.
Ingesting shampoo can also cause a reaction. If you see your pet drooling, vomiting or even shaking, contact a vet. Always thoroughly rinse shampoo from your dog's coat.
10 Best Pet Shampoos for Dogs
To help you choose the right product for your pet, we've reviewed ten of the best shampoos for dogs. These are broken down into categories to make it easier to decide.
While a lot of the products in these reviews contain ingredients that can soothe and moisturize the skin, they are not medical shampoos. You should always seek advice to understand what's causing a skin problem, so you can provide long-term relief.
Best Natural and Organic Dog Shampoo
1. 4-Legger USDA Certified Organic Dog Shampoo
VIEW PRICE
The 4-Legger Oatmeal Dog Shampoo is a gentle shampoo that's our top pick. It's also great for ethical consumers, as the shampoo is USDA certified organic, vegan approved, and contains all-natural ingredients.
Oatmeal is one of the primary ingredients in this shampoo. Studies have shown that oatmeal has anti-inflammatory and moisturizing properties, while also helping to soothe itchy skin. This makes the shampoo a good choice for rinsing down dogs that suffer from environmental allergies or skin dryness. The lavender essential oil can also reduce skin irritation.
4-Legger has a herbal scent that's initially a little too strong for my tastes, but this dries to a less intense fresh smell. It's also easy to rinse off your dog and leaves a smooth, silky finish.
While it's not the cheapest oatmeal shampoo, a little goes a long way. Just be sure to soak your dog thoroughly with water to generate a good lather.
VIEW PRICE
2. Earthbath All Natural Pet Shampoo
VIEW PRICE
The Earthbath pet shampoo is a budget-friendly option with a simple set of all-natural ingredients.
It contains soothing and moisturizing oatmeal and aloe vera, which can help prevent flaky and dry skin. The Earthbath is also soap-free and doesn't have an overpowering smell.
This shampoo isn't as concentrated as some of the others on this list, however, so you might need to use more to generate a good lather.
VIEW PRICE
Best Shampoos for Dry or Itchy Skin
3. Wahl Dry Skin & Itch Relief Pet Shampoo for Dogs
VIEW PRICE
This is a popular shampoo from Wahl – a company well-known for their grooming products. It provides great value for money and has a pleasant smell that isn't too overpowering
The shampoo contains a combination oatmeal, aloe vera and other plant-based ingredients that are formulated to help soothe dry and itchy skin. The shampoo can also contribute to a healthy coat and reduce shedding.
While it doesn't contain parabens or alcohol, the shampoo lists 'fragrance' as an ingredient, rather than outlining what this contains. Wahl claims the shampoos is 100% natural though.
VIEW PRICE
4. Burt's Bees Natural Itch Soothing Shampoo
VIEW PRICE
This natural dog shampoo from Burt's Bees offers good value for money, but still contains ingredients like oatmeal and honeysuckle to soothe skin irritations. The honey in this product can also moisturize and cleanse your dog's coat.
Burt's Bees dog shampoo is listed as cruelty-free, so it'll appeal to ethical shoppers. Although, the fact that it contains Beeswax will mean that vegan shoppers won't want to select this shampoo.
The Burt's Bees Shampoo doesn't have a particularly strong fragrance, so for those owners that want their dogs to be smelling of the shampoo for a while after their bath, this may not be a preferred choice.
VIEW PRICE
Best Shampoo for Odor
5. Nature's Miracle Supreme Odor Control Dog Shampoo
VIEW PRICE
This is one of the best-value dog shampoos that we've reviewed. It's also brilliant for dogs that have a bit of a smelly coat!
Compared to other brands, the Nature's Miracle shampoo scent holds its honey sage fragrance in the dog's coat very well. It's also great at getting rid of offensive odors, so it's a good choice for pups with a naturally whiffy coat or those that like to roll in smelly things.
Like the Wahl shampoo, this lists "fragrance" as an ingredient, so it's not the best choice if you're looking for a fully transparent formula.
VIEW PRICE
Best for Shedders
6. FURminator deShedding Premium Shampoo
VIEW PRICE
The FURminator deShedding is a decent mid-range shampoo. It's not 100% natural, but doesn't contain any parabens or chemical dyes.
As the name suggests, the FURminator is great for dogs that shed. You still have to give your dog a thorough rake after they're dried off, but it reduces the number of hairs you'll find around the house between grooming sessions.
The FURminator also provides excellent value for money. If you need a shampoo for shedding, it's one of our top picks.
VIEW PRICE
Best Hypoallergenic Shampoo
7. 4-Legger Unscented Hypoallergenic Dog Shampoo
VIEW PRICE
If your dog suffers from allergies or sensitive skin, this shampoo from 4Legger may appeal. It's an organic and hypoallergenic shampoo that has minimal ingredients, so there's less chance of irritation or a reaction. It's also better for dogs with allergies than the standard 4Legger formula.
This version of 4Legger dog shampoo contains several natural ingredients. Examples include coconut oil, for its moisturising properties, and aloe vera to reduce skin inflammation. This makes it brilliant for soothing your dog's skin. It also contains jojoba oil to improve coat health.
Another advantage of 4Legger shampoo is that it's unscented. While your dog may not have a pleasant smell after washing, the lack of fragrance reduces the quantity of ingredients that could cause a reaction.
Note: While a gentle hypoallergenic shampoo can be useful for providing relief when it comes to itchy skin or hotspots, there's no such thing as a truly hypoallergenic shampoo. It, of course, depends on what your dog may have allergies or intolerances towards. Don't expect a hypoallergenic product to be a miracle cure for your dog and always consult a vet.
VIEW PRICE
Best Shampoo for Fleas
Flea shampoos can be useful for killing fleas that currently inhabit your dog's coat.
They're not a long-term solution to the problem though. If your dog has an infestation, there are likely to be more fleas around the house, including in your pet's bedding and on other animals. These will re-infest your dog, so shampooing is just one part of preventing fleas.
8. Vet's Best Advanced Strength Flea Shampoo
VIEW PRICE
Some flea shampoos contain harsh chemicals to kill off the fleas. These can irritate your dog's skin or cause a reaction.
The Vet's Best Formula is an essential oil alternative that is still effective at killing fleas. It takes a few minutes to work, but does a great job at eliminating these annoying parasites. Ticks aren't immune to the formula either.
Not everyone will like the rosemary and peppermint scent though. This is surprisingly strong, so be aware of this before you use it.
VIEW PRICE
Best Waterless Dog Shampoo
9. Bodhi Dog Oatmeal Waterless Dog Shampoo
VIEW PRICE
As already explained, even the best waterless dog shampoos can't clean as effectively as a normal shampoo. They can be useful for emergencies or between bathing though.
The Bodhi Dog waterless dog shampoo contains all-natural ingredients, which is rare for waterless shampoos. It's great for quick cleans, while the colloidal oatmeal does a great job of soothing and moisturizing the skin.
Other benefits include the apple extract, which provides a light natural fragrance, and coconut-derived ingredients. It's also made in the USA and is less likely to leave a heavy residue than other waterless shampoos.
It can be tricky to spray on your dog's undercarriage, however, as using the bottle upside-down affects its spray qualities. This is a small issue for an otherwise excellent shampoo though.
VIEW PRICE
Best for Puppies
10. Earthbath Ultra-Mild Puppy Shampoo
VIEW PRICE
If you need a puppy shampoo, the Earthbath Ultra-Mild is our top pick. This dog shampoo uses all-natural and gentle ingredients, including aloe vera and vitamin E, making it a good choice for puppies with sensitive skin.
An added bonus is that it doesn't have an overpowering scent. Puppies have sensitive noses, so you don't want to make bath time unpleasant with a strong smell they might not like.
While the Earthbath is formulated to be gentler than other shampoos, you should still avoid it going into your pup's eyes – this is not a tearless puppy shampoo. Like other Earthbath products, it's vegan friendly and made in the USA.
VIEW PRICE
How Often Should Dogs be Bathed?
The short answer is that "it depends." Some dogs may only need a bath a few times a year, while others need more frequent washing.
Unless the dog has a medical condition, a full shampoo around once a month is a sensible place to start.
Shampooing too frequently can strip natural oils and dry the skin. This can make the coat look dull and cause skin irritation.
Here are a few other factors that might affect how often to bathe your pet.
Personality and Lifestyle
Some dogs are mud magnets! They gravitate towards every puddle and like to roll in the smelliest things they can find. These pups are going to need more regular bathing than a dog who tiptoes around muddy spots.
Breed Type
Your dog's breed affects how frequently they need to be washed.
Some breeds, like Labrador Retrievers, have naturally oily and water-repellent coats. Bathing too often strips these oils, so their coat won't be as water-resistant when they next go for a swim.
The same goes for the thick double-coats of northern breed types, like Huskies and Malamutes. These coats lose their insulating properties if shampooed too much.
Some dogs need fewer baths because their coat traps less dirt and odors. This is common for short-haired breeds, such as Greyhounds.
Skin Conditions and Allergies
If your dog has a particular skin condition or allergy, they may require more frequent bathing.
For dogs with pollen allergies, for example, rinsing them off after a walk can reduce irritation. It doesn't need to be a bath with shampoo though – a rinse down with warm water is often enough.
Some dogs have skin conditions that necessitate frequent bathing with a medicated shampoo. These are commonly used to treat bacterial or yeast skin infections, allergies, mites and other parasitic conditions, like Mange. You vet will prescribe a shampoo and provide instructions on how often to use it.
Don't Forget to Make Bathing Fun…
Dogs naturally dislike baths, so it's important to make bathing a fun and positive experience. Here's an overview of how to do this:
It's a good idea to use a slip-proof mat when washing your pet. Most dogs won't stay still, so it's important they don't lose their balance.
Additionally, avoid washing the face and head area with shampoo. Most dogs hate this type of washing and even gentle shampoos can sting the eyes. A wet head also often triggers a "shake" reaction which can result in you getting very wet!
When it's time to dry off, keep your pet in a warm area so he doesn't get cold.
Why You Should Never Use Human Shampoos on a Dog
If you get caught on the hop, it can be tempting to use your own shampoo when bathing your dog. Unfortunately, this risks causing skin irritation and, if you use human shampoo regularly, it can cause long term damage.
Human skin is naturally more acidic than canines. This means shampoos developed for humans are more acidic to maintain a good pH balance.
Using these shampoos on a dog, with more alkaline skin, may cause the skin to dry out and disrupt pH balance. In extreme cases, it could even make them more susceptible to picking up viruses, bacteria and parasites, because the skin surface can become compromised.
There's also the chance that the product could contain chemicals or other ingredients that are safe for humans but toxic for dogs.
Shampoos for humans have also been developed for frequent use, so they are less effective when cleaning a filthy dog. They're also designed to soften hair, and this isn't necessarily a good thing for certain breeds.
In contrast, dog shampoos are specifically developed for infrequent use and to maintain a dog's natural pH balance. They can also help with things like shedding, odor prevention, and even whitening a coat.
In an emergency, a natural human shampoo is unlikely to cause your dog harm. Make sure you thoroughly rinse the shampoo though.
What About Conditioners?
While conditioners may seem like a gimmick when it comes to bathing your dog, they can sometimes be beneficial – especially for making tangles easier to manage.
If you have to bathe your dog more regularly, a conditioner can also add more moisture back into the skin and give the coat a shinier appearance. However, just like shampoos, you should never use a human conditioner on your dog.
To learn more, check out our list of the best dog conditioners. You may also want to read our guide to dog detanglers, which you can find here.
Summary & Our Choice for the Best Dog Shampoo
Picking an appropriate shampoo for your dog's coat isn't always easy. While shampoos can help maintain a healthy coat, it's important to avoid harsh chemicals and overbathing, as this can strip essential oils.
Our top pick is the 4Legger Oatmeal Dog Shampoo. This excellent formula is free from harsh chemicals, contains soothing oatmeal, and is certified organic.
I hope this article has helped you choose the best dog shampoo for your pet. If you have any further questions about dog shampoos, please use our comments form to get in touch.