Snuffle mats stimulate your pup's senses and keep them entertained. In this article, we review five of the best snuffle mats, along with tips for choosing the right option for your dog.
central to their health and wellbeing
.
In the wild, dogs rely on their sense of smell to forage for food and locate prey. Your pup may have their dinner served up every day, but their raw instincts still compel them to follow their nose to a hard-earned meal.
So, how can you encourage your dog to use their sense of smell when eating? That's easy. Get them a snuffle mat!
Designed to mimic dense grass, snuffle mats enable your pup to satisfy their natural instincts by sniffing out their favorite food and treats. Much more engaging than eating from a bowl, snuffle mats make mealtimes a challenge.
In this guide, I recommend five of the best snuffle mats for dogs. I'll also give you some other fun nosework games, so mealtimes are always engaging.
Our #1 Pick: PAW5 Wooly Feeding Mat
Grass-like mat that provides a fun challenge
The PAW5 is our top pick for a dog snuffle mat. It's designed to mimic grass, which forces your dog to forage through the fibres to find treats or kibble. It's also machine-washable and made with non-toxic materials.
What is a Snuffle Mat?
A snuffle mat is a type of food puzzle toy that's designed to recreate the look and texture of grass or other interesting outdoor areas. They force your dog to use his nose to find kibble or treats, rather than just eating from a bowl.
Snuffle mats are available in a range of shapes, sizes and fun designs. They usually consist of densely-packed and ruffled strands of soft fabric (often fleece strips) that replicate the look and feel of grass.
Some mats also include pockets and fabric tubes that mimic hidey holes in the ground for an extra dimension of fun.
How to Use a Snuffle Mat
Snuffle mats can be stuffed with your pup's favorite treats for an enriching game of hide and seek, or used with their main meal to slow down a fast eater. Only use dry food though!
Preparing your dog's snuffle mat is easy. Simply sprinkle treats or kibble over the mat and gently rub your hands over the fibers. This will help the food slip into the crevices between and beneath the fabric for your pup to sniff out.
You could also give the mat a gentle shake or push some food deeper into the ruffles to increase the challenge.
Some mats feature other hidey holes like pockets, flaps and tubes that add an extra dimension to your pup's foraging. It's a good idea to start with easier tasks first, then build up to more complicated games once they're confident.
Of course, some dogs learn to cheat by picking up the mat and shaking all the goodies onto the floor. A few snuffle mats have weighted edges to prevent this, but you can always place heavy items around the outside yourself.
It should come as no surprise that, as they're stuffed with dog food, snuffle mats can quickly become dirty. Thankfully, most models are machine washable, so you can simply throw it in with your laundry and it will look (and smell) as good as new.
Note: Snuffle mats are not chew toys and should always be used under supervision. Never leave your dog unattended with their snuffle mat.
What Are The Benefits of a Dog Snuffle Mat?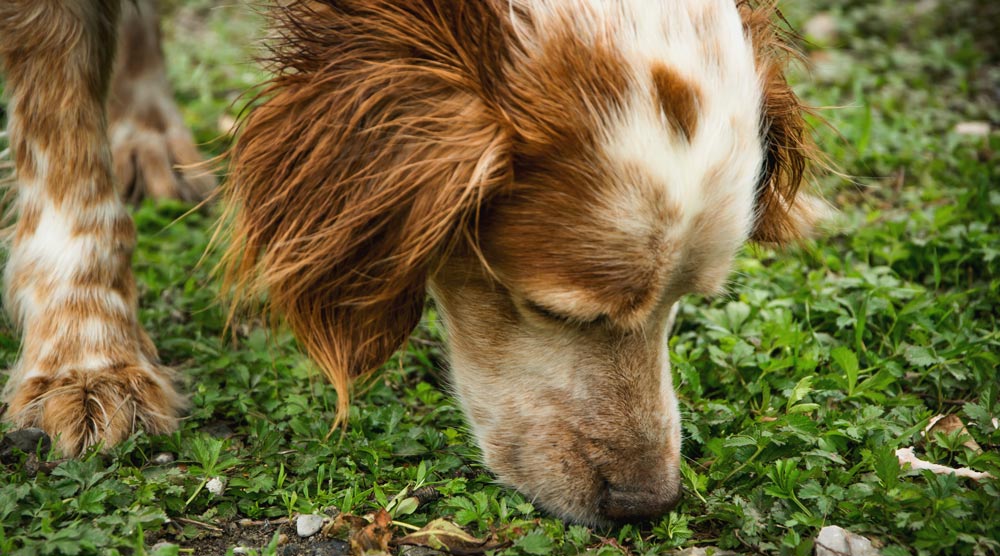 A dog's sniffing power is due to the huge number of sensory chemical receptors in their nasal cavity and brain. With just one sniff, your pup can tell if another dog is male or female, whether they're in a good mood, and even if they're healthy.
The canine sense of smell is so advanced, that by simply sniffing a lamppost, they can tell how many other dogs live nearby. And, when you come home from a day out, your dog will know who you've been with and whether those people have any pets of their own!
Therefore, your dog's sense of smell is incredibly important to them. Dogs rely on their noses to interpret and navigate the world around them, and using a snuffle mat is a great way to enrich their lives and keep them entertained.
Here are some of the benefits of getting a snuffle mat for your pup:
Satisfies their natural instincts – Your dog is programmed to use their nose to forage for food. Eating from a dog bowl is boring and doesn't fulfil their natural drive to sniff out their dinner. Using a snuffle mat will give your dog the opportunity to satisfy their foraging instincts and use their nose.
Mental stimulation is tiring – Sniffing is hard work you know! When your pup uses their nose to locate food, large areas of the brain are working to analyze all the information that comes through their nostrils. Snuffle mats are a great way to exercise an energetic pup's brain cells and keep them engaged. This is also why it's vital that dogs are given the chance to sniff when on walks.
Reduces boredom – Snuffle mats are excellent for reducing boredom. Giving your dog a foraging challenge that exercises their sniffing power is the perfect way to keep them entertained and stimulated.
Encourages a positive emotional state – A recent study of 20 dogs found that, by satisfying a dog's natural instinct to sniff, nose work can reduce stress, anxiety and encourage a more positive and optimistic emotional state. It's not just all in their mind, either. Another experiment by Dog Field Study found that sniffing significantly reduces a dogs' heart rate. This proves that sniffing has physiological benefits that can make your pup feel more relaxed.
Aids digestion – Dogs that gobble their food too quickly can unintentionally ingest air and suffer from stomach pains, vomiting and other gastric issues. If you have a pup who eats too fast or has problems with their digestion, using a snuffle mat is a great way to slow down mealtimes and make them more fun.
Helps manage problem behaviors – If your dog has some problem behaviors, such as carpet scratching, chewing furniture or barking, a snuffle mat can be a useful management tool. Mats help to distract your pup and give them something fun and rewarding to focus on instead.
It's clear to see why snuffle mats are one of the best puzzle games for dogs. Pups of all ages, breeds and training levels can take part in nose work – but you'll need to be extra careful if you have a puppy or a determined chewer who may try to rip the mat.
Always supervise your dog when they are using a snuffle mat to reduce the risk of choking or ingestion.
5 Best Snuffle Mats for Dogs
Ready to get your furry friend their own snuffle mat? Listed below are five of the best snuffle mats for dogs. We've reviewed a range of models with a variety of difficulty levels, so you're sure to find the perfect match for your pup.
1. PAW5 Wooly Snuffle Dog Feeding Mat
VIEW PRICE
Our favorite snuffle mat is the PAW5 Wooly Snuffle Mat.
This snuffle mat is made with non-toxic materials, so it's both safe and entertaining for your inquisitive pup. With its dense and fluffy design that mimics the texture of long grass, it's great for concealing all sorts of treats for your dog to discover.
At 18-inches long, 12-inches wide and 3-inches in depth, it's not the biggest snuffle mat on the market. However, it's suitable for all dog sizes, and your pet will love the challenge of hunting through the fibers to find their favorite snacks.
The soft polyester and cotton materials are sustainably sourced from Ghana and Thailand, so it's gentle on your dog's nose as well as the environment. Don't be fooled by its plush design, though – this mat is highly durable and tough enough to withstand your pup's excitable foraging.
Just be sure to use it under supervision in case any of the fibers get torn off.
The only minor downside is that the density of the fibers means it can get dirty fast. But since it's machine washable, you can simply put it in the wash with your laundry to keep it looking and smelling good as new.
Why We Recommend It:
The PAW5 snuffle mat is our top pick. The long fibres mimic grass, making meals a fun challenge for your pet. The mat is also made from sustainably sourced materials and can be machine washed. Highly recommended!
Key Features:
Machine Washable: Yes
Size: 12 x 18 x 3 inches
Pros:
Mimics long grass
Great value
Made from sustainably sourced materials
Cons:
VIEW PRICE
2. Stellaire Chern Nosework Snuffle Mat for Dogs
VIEW PRICE
If you're looking for a varied challenge, the Stellaire Chern Nosework Snuffle Mat could be just what you're looking for.
Available in two sizes, medium (23.6" x 39.4") and large (39.4" x 39.4"), this interactive snuffle mat offers a range of fun challenges to get your pup's brain firing. The mat is separated into multiple areas, each with its own task for your dog to get his nose stuck into.
On one side, grass-like fibers mimic foraging through the undergrowth for a tasty morsel, while the other side features holes and hidden pockets to keep your pup interested. The Stellaire Chern Nosework Snuffle Mat is suitable for all breeds and ages and the non-slip backing will keep the mat steady on hard floors.
Made from soft polar fleece, we like that this mat is gentle on your dog's face. As an added bonus, the materials are upcycled for an eco-friendly product that's good for the planet as well as your pup.
This mat is great for easily-bored dogs that need something to keep them engaged, but it may be a little too flimsy for large and strong dogs who like to chew. Snuffle mats should always be used under supervision anyway, but this mat may not last long if you have a keen canine destroyer at home.
On the upside, this mat can be rolled up for easy transport or storage when not in use. You can also wash it in the machine to keep it clean and fresh for next time.
Why We Recommend It:
The Stellaire is a great choice if you want a more varied snuffle mat than the PAW5. While it has a "grass" section, there are also pockets and holes to hide treats. It's also machine washable and made from upcycled materials.
Key Features:
Machine Washable: Yes
Size: Medium – 23.6" x 39.4", Large – 39.4" x 39.4"
Pros:
Provides a varied challenge
Upcycled materials
Made with soft fleece
Cons:
Not the most durable mat on the market
VIEW PRICE
3. AWOOF Feeding Mat
VIEW PRICE
Styled like an open flower in bright shades of green and orange, the AWOOF Feeding Mat is a vibrant choice that's a great challenge for your dog.
With 4-layers of "petals" in which to hide treats, this snuffle mat is sure to keep your pup entertained. The outer edge of the flower is covered in dense, grass-like fibers for extra stimulation, while the addition of fabric pockets, tubes, bells, and a squeaker in the center helps to engage bored dogs.
With a generous size of 28.7 x 28.7 inches, this mat is large enough for bigger breeds while giving smaller pups plenty to explore. If your dog learns to flip the mat over, you can use the attached quick-release buckles to secure it in an upright position.
One downside of this mat is its lack of a non-slip base. This makes it a little difficult for your dog to keep the mat in place when foraging over hard floors. It may also be unnerving for anxious pups if the mat suddenly slides beneath them as they're trying to eat.
That said, we like how this mat is made from non-toxic polar fleece and soft Oxford cloth, so you can be sure it's safe and gentle on your dog's nose. The materials have good durability against tears, but you should still take care if your dog is an avid chewer.
Once playtime is over, the mat can be folded up and secured with the included buckled straps for easy storage and transportation. And if it has gotten a little smelly, you can throw it in the washing machine for effortless cleaning.
Why We Recommend It:
The AWOOF has an interesting shape and provides a tough challenge for your dog. It's also relatively large and has buckles to prevent it being flipped. It doesn't have a non-slip base though, which could be an issue for nervous dogs.
Key Features:
Machine Washable: Yes
Size: 28.7 x 28.7 inches
Pros:
Flower shape
Varied challenge
Can be secured using buckles
Cons:
VIEW PRICE
4. iDig Digging Toy by iFetch
VIEW PRICE
Next on our list is the iDig Digging Toy by iFetch. It's not exactly a snuffle mat like others on our list, but offers a great way to get your dog engaged in digging and snuffling for treats.
Shaped like a bowl with a flat ring around the base, the iDig is made from soft fabric with a plastic inner to keep its shape. Inside the bowl there are three flaps for hiding treats, which are then loosely covered by the fabric lid.
Once you've loaded it with your pup's favorite snacks, their challenge is to locate and dig them out! Great for all breeds who love to dig and scratch, this toy will keep your pooch mentally stimulated and help prevent boredom.
This product isn't machine washable, so you'll need to clean it by hand. However, as it features fewer nooks and crannies than a snuffle mat, you're unlikely to need to clean it as often.
We like that the iDig Digging Toy is fully collapsible, so you can easily pack it away in storage or take it away with you on vacation to keep your dog entertained.
The only real downside is the price. It's pretty expensive when compared to the snuffle mats we have seen so far. But if your pup loves to dig, we think you'll struggle to find a more fitting nose work toy.
Why We Recommend It:
The iDig isn't really a snuffle mat, but provides a similar challenge. Your dog must locate treats underneath the fabric lid and dig them out, which is great for mental stimulation. It's an expensive option compared to regular snuffle mats though.
Key Features:
Machine Washable: No
Size: 42 x 42 x 4.5 inches
Pros:
A unique challenge
Can be wiped clean
Fully collapsible
Cons:
Expensive
Not machine washable
VIEW PRICE
5. SNiFFiz SmellyMatty Snuffle Mat for Dogs
VIEW PRICE
The SNiFFiz SmellyMatty Snuffle Mat is another fantastic option to help your pup de-stress, beat boredom and feel more fulfilled.
Suitable for dogs of all ages and sizes, this interactive snuffle mat comes with heaps of challenges to stimulate your pups' senses. The brightly colored mat is shaped like a flower and loaded with densely-packed grass-like strips of Oxford fleece that are perfect for stashing tasty treats.
This 32-inch mat also comes with a selection of five additional food maze puzzles for extra foraging fun. Featuring pockets and hidden flaps, these puzzles will help your dog to stay engaged if they tend to lose interest in toys quickly.
We like how the puzzles range in difficulty from "fool" to "smarty pants" (even if we're not so keen on the anthropomorphised names,) so you can keep them challenged day after day. This is especially useful for intelligent breeds that often get bored when repeating simple tasks.
Inside the mat are four black poles that maintain the mats' shape. If you have a dog that is smart, this design makes it difficult for them to cheat by flipping the mat over and scattering the food across the floor!
The non-slip base is also great for hard floors and nervous pups that get frightened by toys that move unexpectedly. Both the mat and the additional puzzles are machine washable for easy cleaning – just make sure you remove the poles first.
Why We Recommend It:
The SNiFFiz is another snuffle mat that's provide a variety of challenges. It's a decent size and has puzzles that range in difficulty. This mat also has a non-slip base, making it a good option for nervous dogs.
Key Features:
Machine Washable: Yes
Size: 32 inches x 32 inches
Pros:
Non-slip base
Lots of different challenges
Cons:
VIEW PRICE
Other Nose Work Activities
Snuffle mats are a great tool, but they're not the only way to enjoy nose work games with your dog.
Why not mix things up and try some of the following challenges to keep them entertained?
Hide & Seek Treat Games – Basic hide & seek games are a great way to introduce your dog to the joys of nose work. No special equipment is needed to play this game, a few cardboard boxes or plastic cups will do. Arrange your chosen vessels around the room, and hide a treat inside one of them for your pup to find. Use a voice cue like "find it!" to signal to your pup that the game is on and watch them rush from place to place to sniff out the hidden treat. Once your dog has got good at this game, you can increase the challenge by hiding treats in more difficult to find places.
Mantrailing – As the name suggests, "Mantrailing" is a nose work game that requires your pup to track down a person using their scent. While you can take your dog to special Mantrailing training classes, this game is easy to recreate at home and in the yard. To start with, the person to be tracked must get your dog's attention and then drop a piece of their clothing as they run away to hide. Lead your dog to the clothing and give them the cue to "find it!" using the person's scent. Be sure to reward them with treats once they catch their quarry!
Which Hand? – The "which hand" game is probably the easiest game to begin nose work with your dog. While your dog watches, simply take a treat or some of their favorite food in your hand and make two fists. Hold your fists out in front of you and ask your dog to "find it!" If your pup signals the correct hand, give them the treat and lots of praise. If they choose the wrong hand, show them where the treat is, but don't give it to them. They'll get it right next time!
Competitive Nose Work – If you have a smart pup who learns fast, then competitive nose work is a great option to keep them on their toes. Instead of hidden treats, competitive nose work uses dog-safe essential oils to stimulate your pup's senses. Much like hide and seek, competitive nose work moves up in levels of difficulty. To begin with, your pup must locate a scent among a number of containers placed on the floor. Once they have got the hang of this, the next levels include seeking out the scent within a room, somewhere outside and then locating the scent on or inside a particular vehicle. You can replicate this game at home, but be sure to only use dog-safe oils and keep undiluted essential oils well out of your dog's reach, as many oils are toxic to dogs.
Summary
Dogs are instinctively driven to use their noses to navigate the world around them.
Not only does sniffing and foraging for food stimulate their minds and bust boredom, but it can also foster relaxation, give a greater sense of wellbeing and increase their confidence.
Snuffle mats are a fantastic way to enrich your pup's senses in the comfort of your own home. Any of the products we've reviewed make great options to keep your pooch entertained, but our overall favorite is the PAW5 Wooly Snuffle Feeding Mat.
We love that this snuffle mat is made from sustainably sourced materials that are soft on your pup's nose as they forage for hidden treasures. The grass-like fibers are densely-packed for an exciting challenge, while also being durable against rips and tears.
On the other hand, if your pup is crazy about digging, the iDig Digging Toy by iFetch could be their perfect match. Cleverly designed like a bowl with three hidden treat flaps inside, the iDig will keep your pup stimulated as they sniff out and dig up their favorite snacks.
What do you think? Will you be buying your dog a snuffle mat? Be sure to let us know in the comments below!