No dog toy is truly indestructible, but some are much tougher than others. This guide looks at what makes a toy "tough," why Kevlar isn't a good option, and some of the safest and most durable options.
toy
that's marketed as 'indestructible'…yet within 30 minutes your dog has ripped it apart? Not only is this frustrating, but it can be dangerous if your dog ingests the broken pieces.
While no dog toy is entirely chew-proof, selecting a sturdy toy is essential for aggressive chewers. Dogs like labs, bully breeds and terriers are known for their strong jaws and desire to chew, but they aren't the only ones who need tough toys.
Before we get started, a quick word about kevlar dog toys. While kevlar is highly durable, it's not suitable for dog toys. Thankfully, there are lots of alternatives that can withstand attention from (most) power chewers.
This guide will help you understand what to look for in a tough toy. I've also recommended 11 nearly indestructible dog toys that can keep many aggressive chewers happy.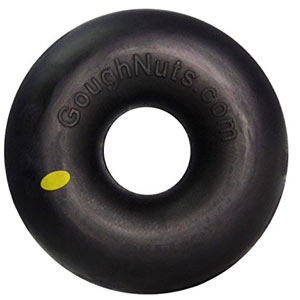 Our #1 Pick: Goughnuts Indestructible MAXX 50
A tough rubber toy that's great for chewers
My top pick for an (almost) chew proof dog toy is the Goughnuts MAXX 50. It's one of the toughest toys on the market, due to the extra-strong rubber design.
Why Isn't Kevlar Safe for Dog Toys?
Kevlar is one of the strongest synthetic materials. It's used for protective clothing, bulletproof vests, high impact sports equipment, and even car components. It may seem like the obvious choice for making a tough dog toy, but, on its own, kevlar isn't a safe option.
While kevlar threads may not break when chewed by a dog, they can unravel. These threads are a choking hazard and could cause intestinal blockages.
Fortunately, there are plenty of non-kevlar toys that are safer for dogs, yet still highly durable.
What Are Alternative Chew Proof Materials?
A word of warning: determined and powerful chewers can destroy any chew proof toy. There have been rare occasions when dogs have chewed through metal training crates, after all!
To guarantee indestructibility, the toy would need to be so stiff and hard that it would damage your dog's teeth. Also, without a little flex, it may not appeal to your dog in the first place.
With that said, some materials are a lot tougher than others. Although not indestructible, the strongest materials are unlikely to be damaged by all but the most determined and strong dogs.
Rubber. This is the most commonly used material for tough toys. Rubber toys are durable and can be manufactured at different densities, depending on the strength of the dog. They also have enough "give" to avoid causing injuries to your dog's teeth or gums.
Thick Rope. High-quality rope toys aren't as tough as rubber toys, but can be great for games like tug-of-war. Supervised play is important with rope toys though. If your dog manages to rip off threads, these could be dangerous if ingested.
Nylon or Plastic. Some toys are made from compressed nylon or hard plastic. While these can be tough, they don't have the flex of a rubber toy, so there may be a higher chance of teeth damage. They can also cause an injury if thrown and make a bit of a racket if played with on a hard floor.
Fire Hose Material. Fire hose material can't match rubber or plastic for durability, but is softer on your dog's teeth. These toys provide a middle ground between ultra-durable toys and soft toys, as they can include squeakers. They certainly aren't indestructible though.
Avoid Plush Toys. Some plush toys have reinforced stitching, stiff inner lining and other design features to enhance durability. Even the toughest plush toys, like the highly-regarded Tuffy range, are unlikely to last against aggressive chewers though. Similarly, latex toys probably won't survive strong jaws.
It's important to recognize that the toughest dog toys are not always as flexible, interactive or "fun" as a plush toy. Because of their rigidity, they also usually don't contain squeakers. You may need to work a bit harder to make them fun for your pet.

Safety Tips for Chew Toys
Dog toys are designed for supervised play and are not meant to be chewed for hours at a time. Short play sessions and a rotation of toys helps to keep your dog interested and avoids over-stimulation.
You should regularly inspect your dog's toys for damage. Once the outer layer is compromised, the toy should be replaced.
It's also important to pick the right size toy. Toys that are too small can be a choking hazard, plus it's easier for a dog to use the full force of their jaw on smaller items. If unsure, it's better to select bigger toys – even if it costs a few more bucks!
11 Nearly Indestructible Dog Toys That Are Almost as Strong as Kevlar
Listed below are five of the best "indestructible" dog toys on the market. I've put indestructible in quotation marks, as no toy is truly chewproof. These options are much tougher than most though.
1. Goughnuts Indestructible MAXX 50 Chew Toy
VIEW PRICE
The Goughnuts MAXX 50 is my top pick for the most aggressive chewers. All the Goughnuts range is incredibly durable, but their MAXX 50 toys, which have a yellow dot on them, are the toughest of the lot.
The MAXX 50 toys are a popular choice for dogs that have managed to chomp their way through other tough toys. They are great for power chewing breeds with strong jaws, like Pitbulls, Rottweilers and German Shepherds. If your dog likes a chewing challenge, the Goughnuts is a brilliant choice.
Made from dense rubber with little give, it's rare that a dog can even dent the MAXX 50. If your dog manages to damage it, the degradation is likely to be gradual and with less risk of a piece breaking off.
If you have a super chewer who manages to wear the toy down, there's a red inner layer of rubber. Once they get down to this level, the toy should be replaced, making it easy to judge when the toy is becoming unsafe. Goughnuts offer a guarantee and will replace the toy if your dog manages to chew down to the red layer.
These "virtually indestructible" toys won't work for every dog though. They're not very interactive, as there's no squeak and little "give" in the material. So, dogs that are not driven to chew without a squeaker may find them boring. They are also heavy and don't bounce much.
While the toys are available in both ring and stick form, there's only one size. This means they're really only suited to bigger breeds. They are also fairly pricey.
And, of course, they're still not 100% chew proof. The most extreme power chewers may still chew through the top layer surprisingly quickly. In these instances, the replacement guarantee isn't much use, as there's no point getting another one if your dog is capable of destroying it.
Compared to your average dog toy, however, they are ultra-strong and a great choice for aggressive chewers.
VIEW PRICE
2. West Paw Zogoflex Rumpus Chew Toy
VIEW PRICE
The West Paw Zogoflex Rumpus is a dense and strong toy, making it a good choice for aggressive chewers. It has three chew lobes and comes in two sizes, so is suitable for most breeds.
Unlike the MAXX 50, this has a good bounce. It also floats, so it's a good choice if your chewy dog likes to play fetch and is a fan of water.
The Zogoflex range are made in America, using FDA-compliant, safe materials and they can even be popped in the dishwasher to keep them clean.
While the Rumpus is pretty durable, I don't think it's as tough as the Goughnut MAXX 50. West Paw does, however, offer a one-time refund or replacement if you have an aggressive chewer that manages to destroy it.
Make sure you pick the right size for your dog as this minimizes the chance of them being able to chew pieces off.
VIEW PRICE
3. Kong Extreme Natural Rubber Dog Toy
VIEW PRICE
The classic-shaped Kong is one of the most popular and versatile dog toys around. The Extreme black variety is made of a denser rubber than the classic red option, so it's better suited to those power-chewing dogs in your life.
Interactive toys can keep your dog stimulated, engaged and entertained. They can be a good tool for reducing mild separation anxiety and helping settle a dog when crate training. If your dog is on restricted exercise, or if you want to slow down meals, they work well too.
Although they're designed to be stuffed with food, Kong's can make a great fetch toy. They have a good bounce and their shape means they move unpredictably. If your dog isn't a highly aggressive chewer and you select the correct size, these toys are also tough enough to be left with your dog for short periods.
For champion chewers, even the Extreme Kongs are not completely infallible, but picking the right size and supervising play can minimize any risk. Make sure you always opt for the larger one if you think your dog lands between two sizes.
VIEW PRICE
Tips for Using a Kong:
If you're stuffing a Kong, start easy with something super tasty to gain your dog's interest. Once they have the hang of it, you can stuff them full and even freeze them to make it more of a challenge. You can get inventive with your stuffing recipes too – just make sure you stick with healthy and safe ingredients.
If you want to use your dog's dry kibble, you can pop the Kong in a large bowl upside down, fill it with the food and then cover it in hot water. After it has cooled, the food will have expanded out to fill the Kong. You could always plug it with something tasty like peanut butter. Just be sure to stay away from any containing Xylitol, which is highly toxic for dogs.
After your dog has finished, chuck it in the dishwasher which will clean out the hard to reach tip. After a few washes, the strong rubber smell will start to fade too.
4. Nylabone Dental Dinosaur Dog Chew Toy
VIEW PRICE
The Nylabone Dental Dinosaur is a bone-style, non-edible toy that has been specifically designed for dogs with a passion for chewing.
Although not particularly interactive, it has a chicken flavouring and pimpled texture which will attract some dogs. The shape means your dog can get a good grip on it, allowing them to gnaw away comfortably.
The Nylabone chews are known for being tough and hold up well to intense biting. They're designed to be worn down gradually, so small pieces will be broken off rather than large pieces that present a choking or blockage hazard. This makes them a popular alternative to rawhide or other hard chews.
The chew is easy to keep clean. It can even help with dental hygiene, although nothing can replace the effectiveness of regular toothbrushing.
Let's be honest though – it's not the most stimulating toy. While Nylabones have an attractive flavor, they have little flexibility, no squeaker, don't bounce, and can't be stuffed with food or treats.
Because of how hard these chews are, there's a small chance they could cause a chip or fracture in your dog's teeth. This means that some dental vets are not advocates of these products. You'll also need to replace the chew toy when it starts to become damaged.
Note: The Nylabone Chew range is also only meant for adult dogs. For young dogs that still have their delicate puppy teeth, there are more flexible puppy-specific versions that may be a better choice.
VIEW PRICE
5. Jolly Pets Romp-n-Roll Rope and Ball Dog Toy
VIEW PRICE
Do you have a dog that loves playing with a soccer ball, but they always end up puncturing it? The durable, non-toxic Romp-n-Roll could be a better option. It's also a great choice for tug or fetch.
As the Romp-N-Roll is big (assuming you get the larger option,) many dogs can't easily get their teeth around it. It also floats and has a mild blueberry scent, which can make it more attractive to your pet – especially those with visual impairments who rely on their sense of smell.
It's not just a ball though. A high-quality rope is attached to the ball, making it easier for your dog to retrieve it. This is also great for tug-of-war.
Although it's a big ball, it's not too heavy and soft enough to kick. It's also available in three sizes, so is suitable for most dog breeds.
This toy is best suited to supervised play though. While the ball is strong, the rope is obviously not chew proof. Sometimes rough play can cause the rope to come away from the ball too.
The ball itself is much tougher than a standard ball, but not completely chew proof. It isn't designed to withstand aggressive chewing like the Kong Extreme or the Goughnuts toy. For most dogs, however, it's a strong choice that's more fun than simple rubber toys.
VIEW PRICE
6. Goughnuts Interactive Chew Toy Ball
VIEW PRICE
The Goughnuts Chew Toy Ball may be the toughest dog ball on the market. If your dog is an aggressive chewer who loves fetch, it's one of the best options.
These toys come in a variety of densities. The Black 50 is the toughest option, but there are softer alternatives if your dog prefers a bit more give.
This isn't a good toy for dogs to catch though. Goughnuts balls are heavy and have little flexibility, so could cause a tooth or jaw injury if caught. Rolling them along the ground is a more sensible choice.
They only come in one size too, so probably aren't the best toy for small breeds.
VIEW PRICE
7. Kong Extreme Goodie Bone
VIEW PRICE
If your dog enjoys the Extreme Kong, the Goodie Bone has similar strength but provides a different challenge.
The bone has hollow ends for hiding food or biscuits. You could also fill the ends with wet food, peanut butter or pieces of fruit or veg. For convenience, you could use the Kong Stuff'N Easy Treat Paste.
This toy has a decent and unpredictable bounce, so it could also work for playing fetch. It doesn't float though, so it's not one for dog's that love to retrieve from the water. The Zogoflex Rumpus might be a better option in this scenario.
Just like the classic Extreme Kong, this is one of the toughest dog toys around. It will work for most aggressive chewers, but those with the most powerful jaws and determination may still manage to chomp through it.
VIEW PRICE
8. Benebone Real Flavor Wishbone Dog Chew Toy
VIEW PRICE
The Benebone chews, like Nylabone, are made from dense, compressed nylon. This makes them a robust and non-edible chew option.
Each flavor comes from real food ingredients. Options include bacon, peanut butter or chicken flavor, so if your dog likes them, you can vary things up. There are also four sizes, making the bones suitable for most breeds.
Just like Nylabones, these chews are hard. The lack of flex means that there's a small risk they could crack or chip one of your dog's teeth.
The upside is that your dog is unlikely to break off a large piece. Normally, only small slivers come off as your dog chews, and these won't present a choking or blockage hazard. If your dog enjoys the bone and gnaws it right down, you should replace it before it becomes too small though.
When should you buy this instead of the Nylabone? It's really a matter of your dog's preference, as they are similar products. The Benebone has a strong scent and flavor, so some dogs prefer it over the Nylabone.
VIEW PRICE
9. Nylabone Dura Chew Textured
VIEW PRICE
If you have a big dog who enjoys Nylabone products, you could always try this textured Dura Chew.
The bone has a variety of different textures across the surface to help with teeth cleaning and to keep your dog interested. There are also several different flavors available, so you can mix it up to avoid boredom.
As with all Nylabone chews, you should be aware that their lack of flexibility presents a small risk of damage to the teeth.
The chew is designed to be gradually gnawed down and replaced once the knuckles have been worn away. It's important to supervise your pet, however, as if he chips off a large piece this could be a choking hazard.
VIEW PRICE
10. The Kong Flyer
VIEW PRICE
The Kong Flyer Frisbee isn't designed to be a chew toy. It's for interactive play with dogs that love to play fetch. The frisbee comes in two sizes, two strength options, and is available for a great price.
Kong rubber is much tougher than the material used for many frisbees, so it's a good choice for dogs with strong jaws. It can also work as a tug toy.
The Flyers have decent flexibility, so they are safer for your dog to catch than hard plastic frisbees. They can also fold up and are easy to wipe clean.
It's true that plastic-style frisbees have a more efficient flying style. But with a bit of practice and the right technique, the Kong Flyer can still go a fair distance.
Unlike Kong chew toys, the flyer probably won't withstand aggressive chewing for long. This is why it's best suited to interactive and supervised play only. Don't leave your power chewing dog alone with this toy if you want it to last.
VIEW PRICE
11. Mighty Angry Animals Breamly the Bear
VIEW PRICE
Soft toys are never going to be as durable as rubber or nylon options, but the Mighty Angry Breamly the Bear is stronger than most plush toys.
It has reinforced stitching and seams, sewn pockets for the squeakers, and a design that can withstand moderate chewing. The bear doesn't have hard edges either, which some dogs tend to target.
Unusually for a plush toy, the Angry Bear floats. This is perfect if your dog insists on taking their toy for a swim. They can also be machine washed.
With all that said, they're still a plush toy. If you have a prolific chewer, these won't last long. They're best suited to supervised, interactive play, or for dogs that like to have a soft toy as a comforter.
Despite being in sewn pockets, the squeakers could still present a choking hazard if your dog manages to rip them out. If you notice your dog is chewing a lot on this toy, or has managed to compromise a seam, it's best to take it away.
VIEW PRICE
Summary
Unfortunately, truly indestructible dog toys are still elusive. However, some options last a lot longer when faced with an aggressive chewer.
My top pick for an indestructible dog toy is the Goughnuts MAXX 50. These aren't the most exciting toy, but can withstand a battering from all but the most extreme chompers. They are also suitable for fetch and tug.
I hope this article has helped you find the best dog toy for your chewing dog. If you have any questions, please use the comments form below.