Dog tails range in size, from tiny corkscrew tails to long sickle tails. In this article, we've listed 13 dogs with long tails – including the breed with the current tail length world record!
But before we get started, The Dog Clinic never recommends choosing a breed based on physical characteristics, including tail length. Instead, think carefully about the breed's size, requirements, and potential health issues, before deciding whether it's a suitable choice for your lifestyle and living situation.
With that disclaimer out of the way, let's get to our list of dog breeds with long tails!
Dog Breeds With Long Tails
Irish Wolfhound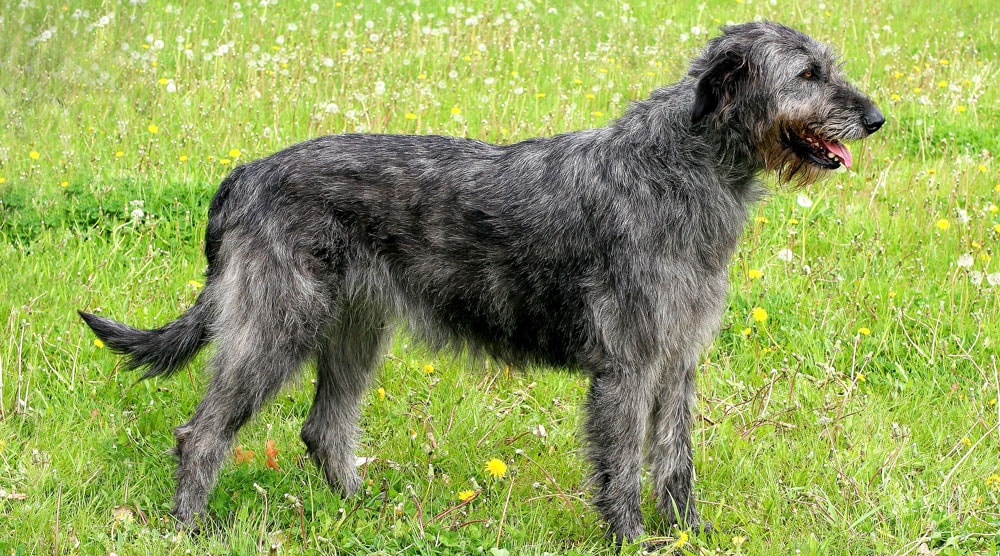 If you're looking for the biggest dog tail, then the Irish Wolfhound is the champion! This giant breed has a long tail with a slight curve and a low neutral position. The Irish Wolfhound's tail can grow to extraordinary length – the current world record is 30.2 inches (76.8cm) long!
Originating from Ireland, these dogs were bred for hunting boar and elk. They were even used for hunting wolves, which is why they have such impressive size and strength.
Poodle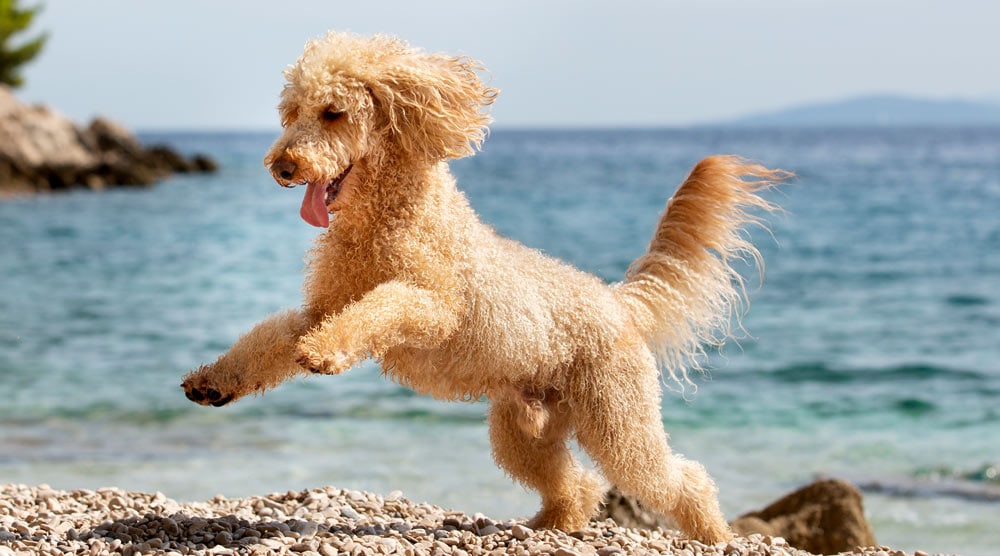 Poodles often have trimmed fur on their tails, which makes them look smaller than they actually are. However, the poodle tail is actually quite long relative to the breed's size.
Poodles come from Germany, but became popular in France. Initially, they were bred as water retrievers, although they are a versatile breed that could be used for a variety of purposes. Today, they come in three sizes – miniature, toy, and standard – with each having relatively long tails.
Alaskan Malamute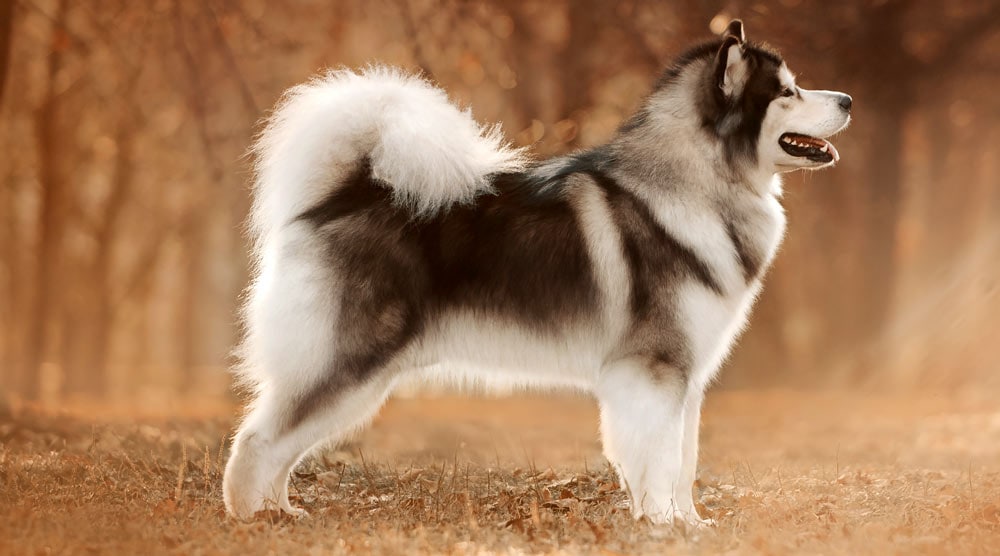 The Alaskan Malamute has a plume-like tail that arches over the back. This long and fluffy tail is a distinctive feature of the breed, adding to its majestic and large appearance.
Alaskan Malamutes come from Alaska and are one of the oldest sled dog breeds. They have a thick and waterproof coat, which is essential for living in harsh Alaskan conditions.
Finnish Spitz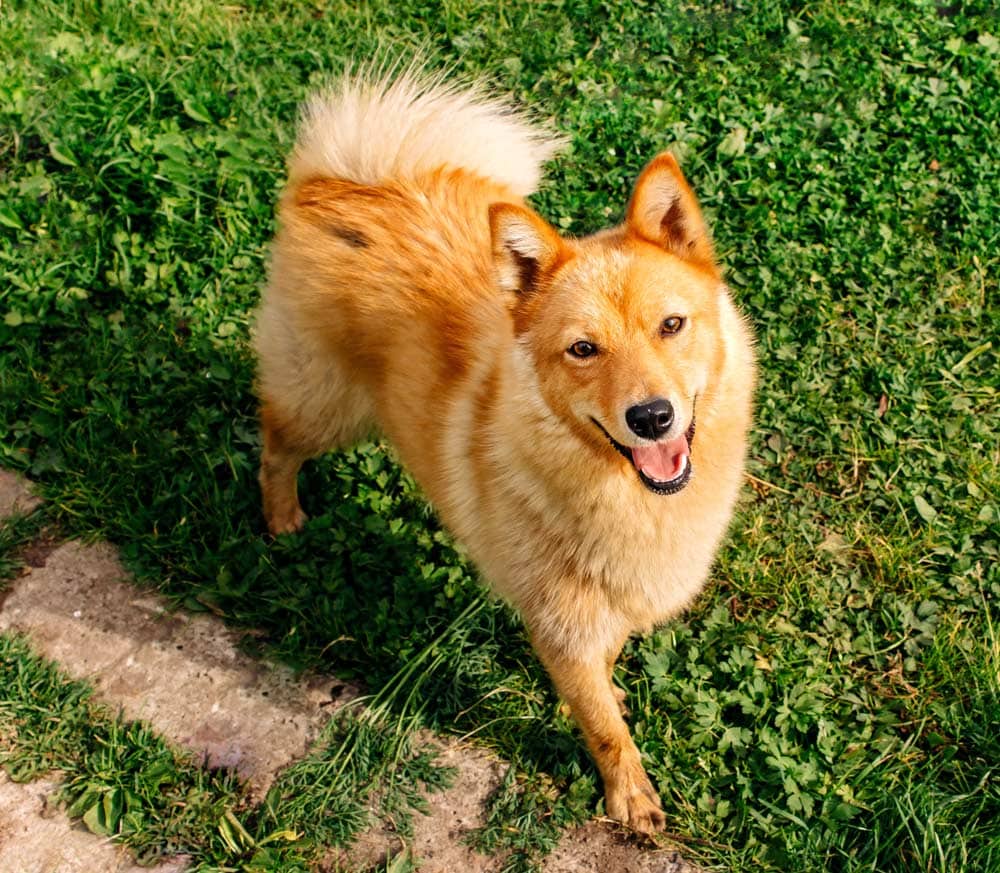 The Finnish Spitz has a plume tail that curls and rests on its back. The curl can make the tail seem short, but it's actually quite long compared to the spitz size. It also gives this breed its popular foxy appearance.
Originating in Finland, the Finnish Spitz was bred for hunting a wide variety of game. The breed is so loved in its native country that it has been declared the National Dog of Finland.
Akita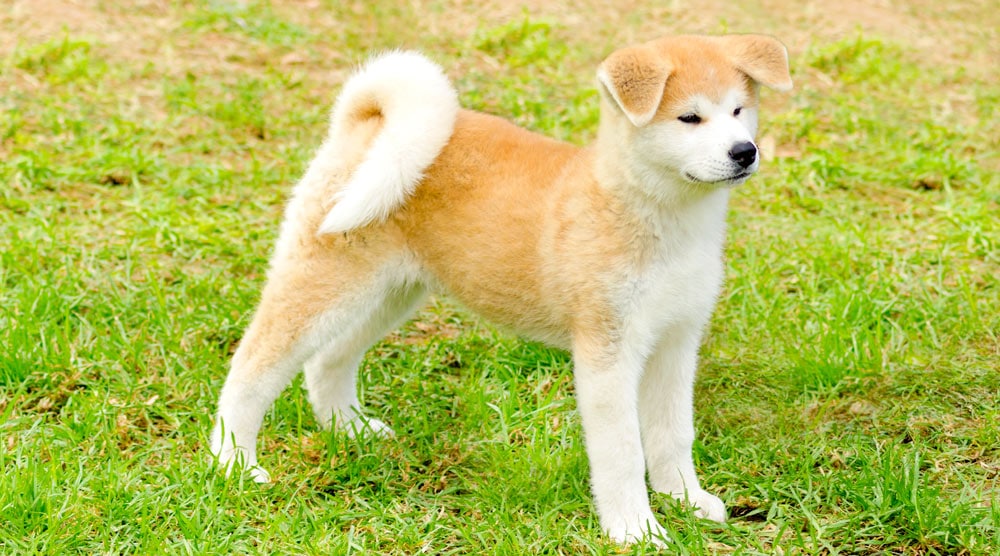 The Akita has a bushy tail that arches over its back. It's a long tail that often flops to one side, giving the Akita a distinctive appearance – but also disguising the true length of the tail.
Akitas are a strong and muscular breed from Japan's northern mountains. They were bred for hunting large game, and their thick coats and long tails helped them survive in the snow.
Leonberger
Leonbergers have a bushy tail that hangs down with a slight curve. It's a flowing tail that's an important part of this breed's appearance, and is long in proportion to the dog's body.
Leonbergers come from the town of Leonberg in Germany. They were bred to resemble the lion in the town's crest, hence the long tail and majestic appearance. This breed was used for a variety of tasks, including livestock herding, pulling carts, and family companionship.
German Shepherd
The German Shepherd has a bushy tail, which typically has a low neutral position with a small upwards curve. The tail is long, and instantly draws attention when held in an upright "alert" position (this is known as "flagging" and is one of the many ways dogs communicate meanings with their tails).
German Shepherds come from Germany, where they were originally bred for herding sheep. Today, they are used in a wide range of roles, from assistance dogs to search and rescue missions.
Irish Setter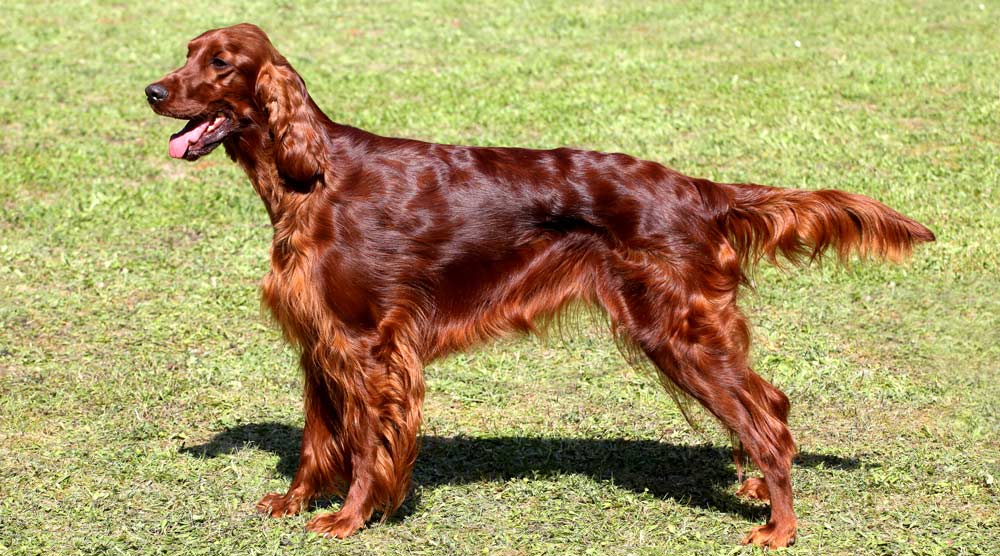 Irish Setters have a slightly feathered tail that tapers to a point. It is usually held parallel to the back or slightly below. The Irish Setter's tail is long, yet is still proportionate to the dog's body size.
The Irish Setter was bred in Ireland for bird retrieving. Their name is linked to their hunting style, which involved "setting" or crouching low when game birds were detected. Their long tail and rich coat give them a distinct appearance.
Siberian Husky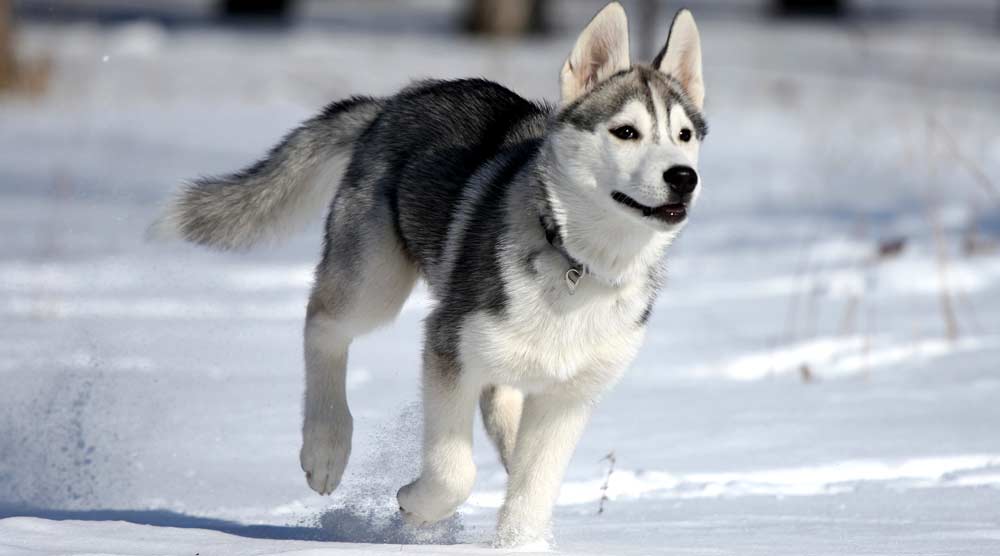 The Siberian Husky has a sickle tail (see our guide to tail types) that is typically carried over the back when alert, but can hang down when the dog is relaxed. This tail is long, adding to the breed's wolf-like appearance.
Siberian Huskies originated from Northeast Asia, where they were bred by the Chukchi people for sledge pulling. Their thick coats, endurance, and ability to survive in harsh climates make them suited for life in cold environments.
Chihuahua
Despite their small size, Chihuahuas have a relatively long tail that is often held high or curled over the back. Long-haired chihuahuas appear to have bigger tails than short-haired varieties, but this is due to the fur rather than a structural difference.
Chihuahuas are named after the Mexican state of Chihuahua. This tiny breed, with its long tail and cute appearance, has become a beloved companion worldwide.
Want to discover more breeds with similar tails to long-haired chihuahuas? Read our guide to 23 dogs with fluffy tails.
Whippet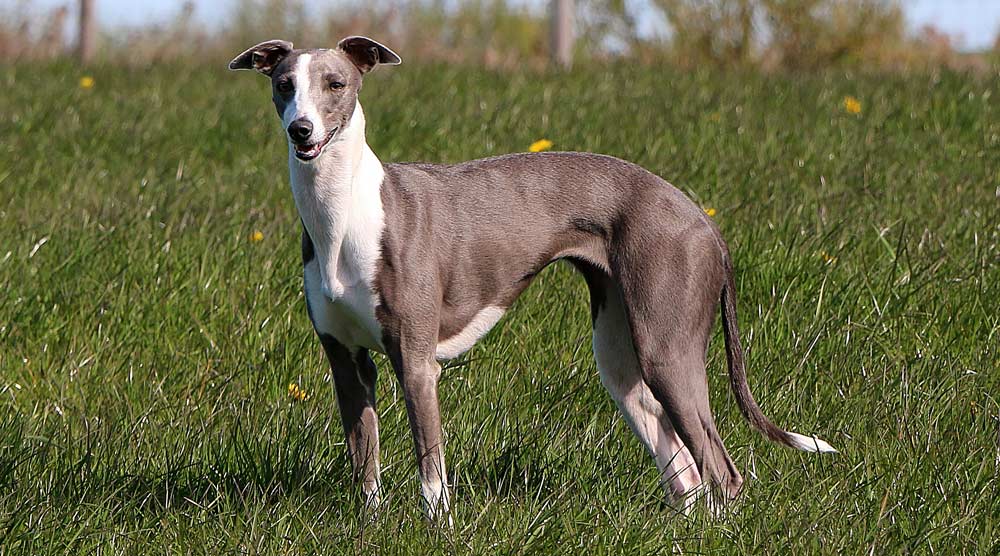 Whippets have a long, thin tail that's known as a "whip" tail. The tail hangs low when the dog is relaxed, but is used for balance when running.
Originating from England, Whippets were bred for coursing rabbits and as racing dogs. Their long tail and sleek body are essential for their rapid speed when running. Whippets aren't big tail waggers compared to many other breeds, but that doesn't mean they are any less happy!
Samoyed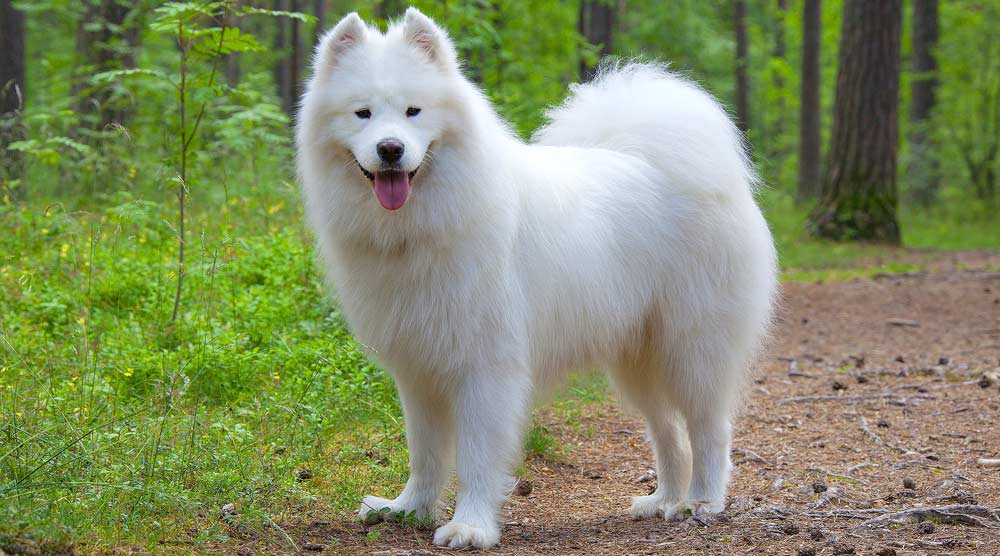 The Samoyed has a thick, feathered tail that curls over the back. Like the Akita, the Samoyed's tail often hangs to one side of the body. Although curved, the tail is long and a distinctive part of the breed's fluffy and bright appearance.
Samoyeds were originally bred by the nomadic Samoyedic people for herding reindeer and pulling sledges. Their thick coat and high endurance were crucial for survival in the harsh Siberian conditions.
St. Bernard
The St. Bernard has a long, thick tail that complements the breed's huge size. Males can grow to around 82kg (180lbs), making this breed one of the largest in the world. The tail may hang down when at rest, but is also often carried parallel to the back or slightly upward.
St. Bernards were bred by monks for rescue operations in the snowy passes of Switzerland and Italy. This led to their robust size and long, expressive tail.
Which Dog Breed Has The Longest Tail?
The current world record for the longest dog tail is held by an Irish Wolfhound. Keon, who is an Irish Wolfhound living in Belgium, was measured to have a tail of 30.2 inches (76.8cm) in 2017!
Importantly, the length was measured from the base to the tip of the tail, but did not include the hair. So, if you think your dog can beat Keon, make sure you're measuring the tail correctly!
Why Are Some Dog Tails Longer Than Others?
The length of a dog's tail is due to genetics. Some breeds naturally have longer tails than others, depending on which activities the dog was originally bred for.
Physically, the length of a tail depends on the number of caudal vertebrae, which give a tail its structure. There can be anything from 5 to 23 caudal vertebrae in a dog's tail, although the average is around 20.
Dog tails have a number of important functions. For example, tails are used for balance, particularly when changing direction. Tail wagging is also essential for canine communication, which is why breeds with very short tails may struggle to be understood when interacting with other dogs.
Summary
There are many dogs with long tails in comparison to their body. These range from the huge Irish Wolfhound to the tiny chihuahua.
Do you have any questions about dogs with long tails? Or do you think we've missed a breed from this list? Let us know in the comments section below!