Looking for a French bulldog harness? We've tested and reviewed some of the best harnesses on the market to find our top recommendations for Frenchies.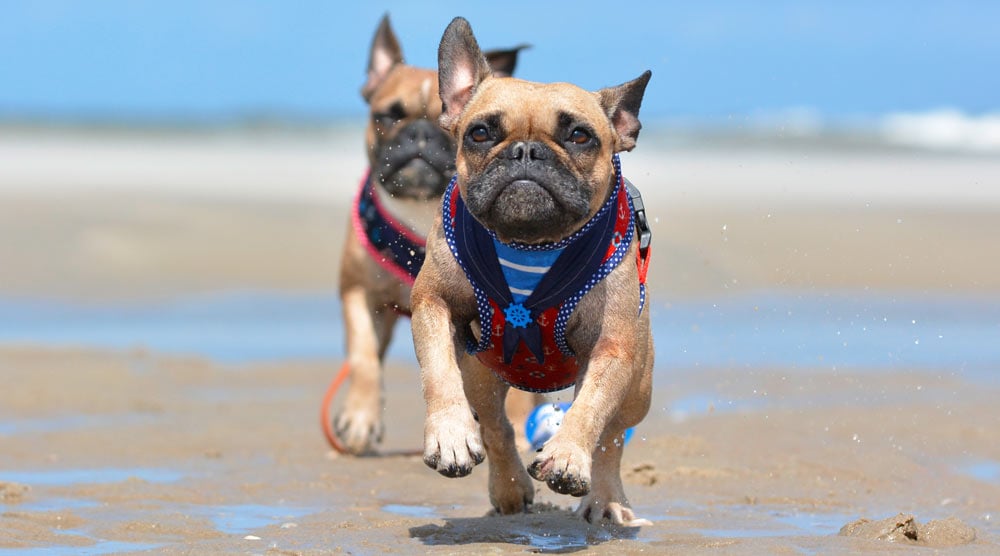 Despite the breed's popularity, it can be difficult to find a French bulldog harness that fits their unique shape. With a barrel chest, large head, and flat face, many dog harnesses are either too tight across the chest, difficult to fit over the head, or allow the Frenchie to slip free.
Our team of dog experts has plenty of experience with this breed, including which harnesses work best. So, to help you choose, we've listed five of the best French bulldog harnesses along with why we believe they are excellent choices.
If you're in a hurry, our top pick for a French bulldog harness is the Ruffwear Front Range. It's easy to adjust this harness to your Frenchie's unique body shape, and it has plenty of padding for extra comfort.
5 Best French Bulldog Harnesses
Listed below are five of the best dog harnesses for French Bulldogs. Make sure you read each mini-review carefully, as the right option depends on your dog's preferences.
Our #1 Frenchie Harness: Ruffwear Front Range
VIEW PRICE
We found that the Ruffwear Front Range is a strong, adjustable, and comfortable harness that's great for French Bulldogs. We like that it has a low neck, which protects the Frenchie's neck and airways. The Front Range also has padding on both the belly and chest, including under the arms, which prevents chafing and pressure points.
Importantly for Frenchies, the Ruffwear has four adjustment points. These make it easy to get a snug fit to prevent your dog from escaping, while also making the harness suitable for the Frenchie's barrel chest.
Another advantage of the Ruffwear is that it has dual leash attachments. The strong rear D-ring is the one we used the most, but the front attachment can (sometimes) discourage pulling without causing pain.
We found a few drawbacks to the Ruffwear though. The front attachment is only fabric rather than metal, so it's difficult to trust it when your dog is pulling. There's also no handle and the harness can't be machine-washed. Additionally, it's relatively expensive for a French Bulldog harness.
Why We Recommend It:
We think that the Ruffwear Front Range is the best harness for French Bulldogs. It's durable, comfortable and easy to adjust, making it a great choice for Frenchies. The only real downside is the price – but we think it's worth the money.
Key Features:
Attachments: Dual
Price Range: $$$
Pros:
Durable harness with plenty of padding
Easy to adjust to a Frenchie's body shape
Dual leash attachments
Cons:
More expensive than alternatives
Fabric front D-Ring
VIEW PRICE
Our #1 Step-In French Bulldog Harness: Voyager Step-in Air
VIEW PRICE
If your Frenchie's head is too big to comfortably fit harnesses like the Ruffwear Front Range, then the Voyager Step-In Air is one of our favorite alternatives. It's a step-in harness, making it much easier to fit on a French bulldog with a large head. We also found that it provides great value for money.
The Voyager Air harness is made with a simple mesh material. We found this to be soft, to prevent chafing, while also making the entire harness breathable. This is important for brachycephalic breeds like the French Bulldog, who are prone to overheating.
One of the great things about the Voyager Air is how easy it is to put on. You just step your dog's legs through the holes, then secure the hook-and-loop fastener to get a snug fit. We found that this simplicity makes it a great choice for dogs who are nervous about things going over their heads. Additionally, we like that there are double rear D-rings included with the Voyager, which adds extra peace of mind.
One thing to note about this harness is that we noticed it runs small when sizing. Considering even the largest size is only designed for medium-sized breeds, the Voyager may not be suitable for the biggest Frenchies. Also, while it's great that the Voyager has reflective bands, we found that these are small and can only be easily seen from certain angles.
Why We Recommend It:
The Voyager Air is our top pick for a step-in French Bulldog harness. We found it to be a great option if your dog doesn't like things being passed over their head, or if your Frenchie's head is too big for standard harnesses. It's also breathable and provides excellent value.
Key Features:
Attachments: Rear only
Price Range: $
Pros:
Step-in design which can be more convenient for Frenchies with large heads
Breathable and soft for added comfort
Available in a range of colors
Great value for money
Cons:
No front leash attachment
Large may be slightly too small for the biggest French bulldogs
Reflective bands are too small to be much use
VIEW PRICE
Our #1 Pick for Frenchie Puppies: Puppia RiteFit
VIEW PRICE
The original Puppia is one of the most popular soft harnesses in the world – but we think the RiteFit improves the design in a crucial way. Instead of a single adjustment strap, the RiteFit also has a neck adjustment, which is essential for French Bulldogs.
Another advantage is the harness doesn't need to be passed over the head, as the neck can be fully unstrapped. Aside from being more comfortable for dogs that get nervous, this is perfect for French Bulldogs with larger heads. If you're on a tight budget, the RiteFit is also less expensive than the other harnesses on this list.
We found that the Puppia RiteFit's lightweight padded design makes it a comfortable and cool harness for your pet. It's not as durable as more expensive harnesses, but it does a good job of distributing pressure across the dog's chest and shoulders.
It's certainly not the best choice for strong pullers, but for Frenchie puppies or calmer dogs, we think it's one of the best French Bulldog harnesses. The low price also makes it a solid option for puppies who will quickly outgrow their first harness.
Why We Recommend It:
The Puppia RiteFit might not be the most durable or feature-packed harness, but it's comfortable and has two adjustable straps. It's also the cheapest harness on this list, so it's probably the best dog harness for puppy French Bulldogs.
Key Features:
Attachments: Rear
Price Range: $
Pros:
Relatively cheap
Comfortable mesh design
Adjustable neck strap
Cons:
Not as durable as other harnesses
No front attachment
VIEW PRICE
Our Alternative Pick: Embark Adventure
VIEW PRICE
With a similar design to the Ruffwear Front Range, we found the Embark Adventure is a solid alternative Frenchie harness if you're looking for a slightly cheaper option than our #1 pick. It has plenty of padding, dual leash attachments, and a handle for when you need quick control.
Like the Ruffwear, there are four adjustment points on the Embark Adventure, along with quick-release buckles. We found that it's an easy harness to put on and adjust to your French Bulldog's shape and size. However, it's not a step-in harness, so go for the Voyager Air if your Frenchie has a large head or hates harnesses being pulled over the head.
We found that the Adventure is a relatively durable dog harness. Embark uses military-grade nylon when sewing the Adventure harness, so it's built to last. The padding on the chest and belly also makes it comfortable for your French Bulldog to wear, while both the front and rear leash attachments are metal.
There aren't many drawbacks to the Embark, especially for the price, but we found it to be quite a bulky harness. It could also be warm to wear during the summer months, which is something to keep in mind if your Frenchie often overheats. Additionally, while the front leash attachment is metal, we don't think the stitching is strong enough for determined pullers.
Why We Recommend It:
We think that the Embark Adventure provides great value for money. It's not the best harness on the market, but is durable, comfortable and costs less than others with similar features.
Key Features:
Leash Attachments: Dual
Price Range: $$
Pros:
Great price
Dual leash attachment
4 adjustment points
Durable nylon harness stitches
Cons:
Weak front leash attachment
Could be hot to wear in summer
VIEW PRICE
Our Alternative Step-In Pick: Jack & Bully No-Pull Dog Vest
VIEW PRICE
The Jack & Bully Dog Vest might not be as well-known as some of the other harnesses on this list, but we think it's an excellent choice for French Bulldogs. We like the low front strap and breathable mesh material – and a bonus is that it's available in a range of interesting designs.
The most important feature of this dog vest is the step-in design. You don't need to pull the harness over your dog's head, which we've found makes fitting the harness easier for breeds with larger heads. It's also made from neoprene, which is both soft and breathable, making it great for dogs who overheat.
We like that the harness has four adjustment options for getting a snug fit. This is important for French Bulldogs, who can be difficult to size with many harnesses.
Keep in mind that the harness isn't really "no pull", despite the name. It only has a rear leash attachment, so we're not sure why Jack & Pully think it prevents pulling. With that said, the wide shoulder pad and neoprene material help to distribute pulling force and keep it away from a Frenchie's delicate neck.
Why We Recommend It:
We found that the Jack & Bully Dog Vest is an excellent harness if you want a step-in design for your Frenchie. It's soft and doesn't restrict your dog's movement. We also think it also provides great value for money.
Key Features:
Attachments: Rear only
Price Range: $$
Pros:
Step-in design that's easy to adjust
Soft and breathable neoprene
Great value for money
Cons:
VIEW PRICE
How We Chose Our Top Picks
To choose our list of the best Frenchie harnesses, our priority was to make sure that each harness was suitable for this breed's unique body shape and abilities.
That means that the harness must be easily adjustable, not have a high neck strap, and be relatively lightweight. Like other brachycephalic breeds, Frenchies are also prone to overheating, which is why we prioritized harnesses with breathable mesh.
"For Frenchies, I recommend a padded harness, especially under the armpit where they have thin fur," says Rebecca Morello, IMDT dog trainer. "A Y-fronted and step-in design is also great, as these sit nicely across the chest without going over the head. A Frenchie should never wear a harness that sits across the neck or restricts the shoulders."
With those requirements in mind, we used a combination of our team's experience, buyer reviews, and harness testing to narrow down the options to our list of the five best harnesses.
Why Use a Dog Harness (And Not a Collar) for a Frenchie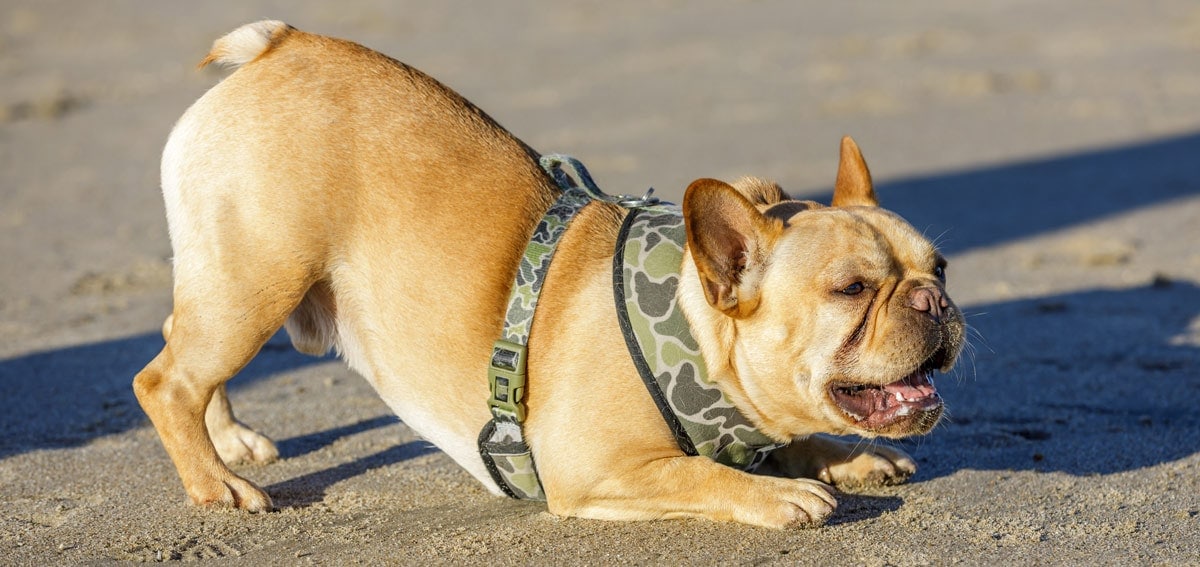 Harnesses are safer than collars for most dogs, but especially Frenchies.
French Bulldogs are a small breed with a reputation for pulling when excited. If your dog pulls on a collar, the force is placed directly onto the trachea (windpipe). This causes pain, difficulty breathing, and even injury.
Many French Bulldogs already find it hard to breathe when exercising. This is due to their flat faces, narrow nostrils, and palate that partially blocks airways. If a collar narrows the windpipe, getting enough air is a real struggle.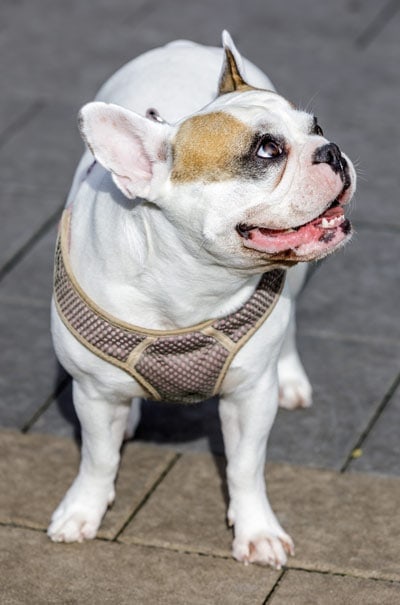 Not only that, but pulling on a collar forces the neck into an unnatural position. This puts pressure on the Frenchie's delicate spine.
For these reasons, a dog harness is a much safer option. The best harnesses spread force across the dog's muscular chest and shoulders. They also make it easier to control and train your dog.
This is true even if your dog is trained to walk calmly on a leash. You never know when a squirrel or cat is going to appear, and Frenchie's have a natural chasing instinct. These sudden jerks are often the most dangerous.
Not all harnesses are suitable for a French Bulldog though. "Although harnesses are safer and more comfortable for Frenchies than a collar, it's vital to buy the right types of harness," says Morello. "Always avoid harnesses that tighten if a dog pulls, which are a huge no-go for brachycephalic breeds. The harness should also not sit high up on their neck, as this could limit oxygen supply."
Of course, your French Bulldog should still wear a collar with an ID tag. But we don't recommend attaching the leash to it.
Note: Be aware that a French Bulldog may not be able to walk as far as a non-brachycephalic dog. Monitor your dog's breathing on a walk, as the breed's enthusiastic and loyal nature means they often try to keep up with their owner even if they are struggling.
The "Collars Prevent Pulling" Myth
"The most common myth I hear regarding harnesses is that they cause pulling, and you have more control with a collar," says dog trainer Rebecca Morello.
"If your dog pulls more on a harness than a collar, this is actually because they are back to walking at their natural pace. In other words, if a piece of equipment seems like a quick fix, it is more than likely because it's aversive and uncomfortable for your dog to walk in. Harnesses don't cause pulling, they just allow our dogs to move more freely."
"If pulling is an issue, train them with force-free methods or get the help of a positive professional," she adds.
How to Choose a French Bulldog Harness
The Frenchie's unusual body means it can be difficult to find a dog harness that fits. Here's what to look for when buying:
Harness Type – There are two broad types of dog harness: back-clip and dual-clip. Back-clip harnesses have a single lead attachment on the back, while dual-clips also have an attachment on the chest. Dual-clip harnesses are great for training, as they discourage pulling without causing pain. The dog is guided round in a circle when pulling, rather than getting to where they want to go.
Material – Many harnesses are made with strong mesh nylon. These provide a balance between durability and weight. Breathable mesh designs can also keep your dog cool, which is essential for Frenchies as they often overheat. It's best to avoid leather harnesses, as these lose shape over time.
Padding and Comfort – Cheap dog harnesses are often narrow and lack padding. This can cause similar problems to a collar. Instead, look for a padded design – especially around the underarms – and a thick design to spread force over a larger area.
Adjustable – Some Frenchies have a habit of slipping out of a harness. Choosing a model with multiple adjustable buckles allows you to get a snug fit without causing chafing.
Low Neckline – If the neckline of a dog harness is too high, it can place pressure on the trachea. Look for a low-necked harness when buying for a French Bulldog.
Machine Washable – A dog harness quickly gets dirty. Some can only be hand-washed, which makes cleaning less convenient. Others can be machine-washed on low temperatures. Beware white harnesses, as they are tricky to keep clean!
Value for Money – You don't need to spend hundreds on a luxury dog harness, but the cheapest models (less than $15) should usually be avoided. The $15-$45 price range is perfect for French Bulldogs.
Tip: Is your Frenchie going near water? If so, make sure you buy a lifejacket that's suitable for a French Bulldog.
Choosing Between Step-In Or Standard Harnesses
How can you decide whether to buy a standard harness, such as the Ruffwear Front Range, or a step-in harness? "The best choice depends on your dog's temperament and how they respond to handling," says Rebecca Morello, IMDT dog trainer.
"Most step-in harnesses involve some kind of handling to get their paws inside. Many dogs dislike this and will often try to avoid having it put on. However, over-the-head harnesses can be an issue because most French Bulldogs have such big heads compared to their body!"
"Personally, I like harnesses that clip around the neck and torso. This means there is no restraint involved and no further adjustments to make once it is over their head. But if your dog hates things going over their head, then a step-in can be a good alternative."
What Size Does Your Dog Need?
While the above criteria are all important, choosing the correct size is essential for your dog's safety.
Loose harnesses cause chafing and discomfort. They are also more likely to slip off, which can be terrifying if you're near a road or other dangerous situation.
On the other hand, a harness that's too tight can be uncomfortable to wear and restrict your dog's movement. A tight harness may also rub your dog's skin – especially if he is likely to pull.
Fortunately, most modern harnesses have excellent sizing guides. Make sure you follow these closely and take the time to accurately measure your dog's neck and chest girth.
If a harness relies on weight for sizing, it's probably best to avoid it. While weight can give a quick estimate of a dog's size, the Frenchie's unique shape means it's a poor way to judge a harness fit.

WARNING: Most Harnesses Are Not Crash-Safe for Cars
Many harnesses come with seat belt loops. Despite being advertised for cars, these are not crash-tested.
Most seat-belt loops are little more than a thin piece of fabric. As you can imagine, these often snap in even low speed collision, causing the dog to fly through the car. If you're going to be travelling with your pet, you should only use a crash-tested harness.
How to Teach Your Frenchie to Wear a Harness
Many dogs initially dislike wearing a harness, which is why they need to be introduced slowly and respectfully. French Bulldogs are even more intolerant of harnesses, as they often have issues with breathing, overheating, and sensitive skin.
Before you get your Frenchie to wear a harness, start by making it seem less scary. You can do this by:
Letting your dog sniff and explore the harness on the floor, while giving the occasional treat to create positive associations.
Next, practice opening and closing the buckles. Whenever the harness clicks, give a treat and praise.
Once your dog is less suspicious of the harness, start gently touching him with it and rewarding with a treat and praise.
This process can take time. Don't expect to desensitize your dog to the harness in a single session.
When your Frenchie is happy to be touched by the harness, you can progress to wearing it inside the home. Give plenty of praise and treats when doing this, and only get him to wear it for a short time. You can then gradually increase the time he spends wearing the harness until you feel ready to go on a walk.
Be aware that it can take several weeks of training for some dogs to be comfortable wearing a harness.
Frequently Asked Questions
The harnesses above can all be used for French Bulldog puppies, as long as you can find one that's the right size.

A puppy is likely to outgrow his harness quickly though. For this reason, it's a good idea to buy one of the cheaper options, such as the Puppia RiteFit, so it's less expensive to replace as your dog gets bigger. Once you're pup reaches full-size, you can shell out for a more durable French bulldog harness.
At The Dog Clinic, we don't recommend any products that cause a dog discomfort. While Halti-style harnesses are less painful than choke chains, they still rely on discomfort to discourage pulling.

While this is true for all breeds, we think this type of dog harness is even worse for brachycephalic breeds with breathing problems. If you want to discourage pulling, practice loose leash training while using a front-leash attachment.
If you're looking for a dog harness for an English Bulldog, we've written a complete guide here. There is a lot of overlap, but some differences between the two lists. We've also written about the best pug harnesses.
Summary
It's not always easy to find a harness for a French Bulldog. The Frenchie's unique body shape means many harnesses are either too tight or loose.
Fortunately, there are still some excellent French Bulldog harnesses on the market. Our top recommendation is the Ruffwear Front Range, as it's strong, durable, and has a dual leash attachments. If your Frenchie has a large head, then the step-in Voyager Air is a great alternative.
Do you have any questions about choosing the best French Bulldog harness? Or do you think we've missed a harness that should be on this list? Let us know in the comments section below.